'WandaVision:' Here's What Fans Learned About the Disney Plus Series From Elizabeth Olsen
Fans haven't seen the last of the Avengers: Infinity War heroes, Wanda and Vision. Thanks to Disney's streaming service, Disney Plus, the duo will star in their own spin-off television show, entitled WandaVision. The actress who plays Wanda Maximoff, Elizabeth Olsen, commented on the series during an interview with Buzzfeed News. Here's what fans learned about WandaVision and the streaming service, Disney Plus.
A new Marvel series is coming to Disney Plus, entitled 'WandaVision'
We love these characters 3000. After the events of Avengers: Endgame and Avengers: Infinity War, the relationship of Wanda and Vision looked a little broken, to say the least. Thankfully, Disney Plus is here to fill in the gaps, with a series premiering exclusively on the streaming platform. The series, entitled WandaVision, details the lives of The Scarlet Witch and Vision. The show will be available exclusively on the streaming platform and is directed by Matt Shakman and written predominately by Jac Schaeffer.
Being that WandaVision is still a few years away, not much has been revealed about this television series. However, actress Elizabeth Olsen discussed her character a little deeper during an interview with Buzzfeed News.
According to Elizabeth Olsen, 'WandaVision' will explore the character Scarlet Witch more
One of the actors from this upcoming series commented on her character during an interview. Elizabeth Olsen stated that this series would dive deeper into the character, The Scarlet Witch, who some fans already know from reading the comic books.
"They probably know Scarlet Witch from the comics and all of her powers and strengths and fears. I really feel like WandaVision does a beautiful job for our fans to really get to see how Wanda becomes the Scarlet Witch," she said during an interview with Buzzfeed News.
"We've never referred to her as 'the Scarlet Witch' on camera before. She's always just been Wanda," she said. "And this is that opportunity, and it's a big character deep dive. It's going to be really exciting and, I think, satisfying show for fans."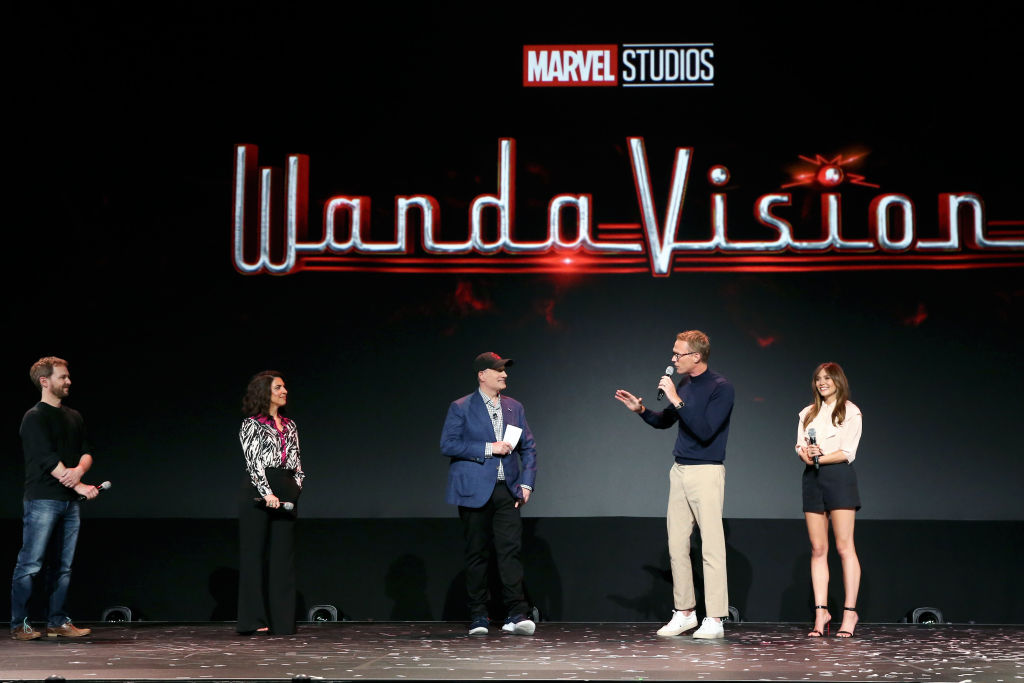 When will 'WandaVision' be available for streaming on Disney Plus?
We've got bad news for Scarlet Witch fans. WandaVision does not premiere on Disney Plus until 2021. The streaming platform itself, however, premieres in November 2019 and will house original Marvel content and beloved movies and television shows produced by Disney, Pixar, Lucasfilm, National Geographic, and Marvel. Additionally, Wandavision is not the only spin-off series debuting on the streaming platform.
Marvel announced shows like Loki, Hawkeye, and The Falcon and the Winter Soldier, all premiering on Disney Plus within the upcoming months. None of these series' will be available on the streaming platform's launch date. However, Marvel movies like Captain Marvel and Iron Man are listed among the "Day One" film library.
Disney Plus launches in the United States on Nov. 12, 2019.