Was Brody Jenner Blindsided By Ex-Wife Kaitlynn Carter's Relationship With Miley Cyrus?
The summer of 2019 will go down in history as one of the most infamous in celebrity breakup news. Miley Cyrus and Liam Hemsworth — the couple shared an on-again-off-again romance that lasted over the course of ten years — finally split for good in August.
Not only did their initial breakup make headlines, but the days following the split would result in a media frenzy, with a newly-single Cyrus spotted making out with Kaitlynn Carter, the ex-wife of Brody Jenner. Read on to untangle the web of celebrity breakups, hookups, and all the related drama.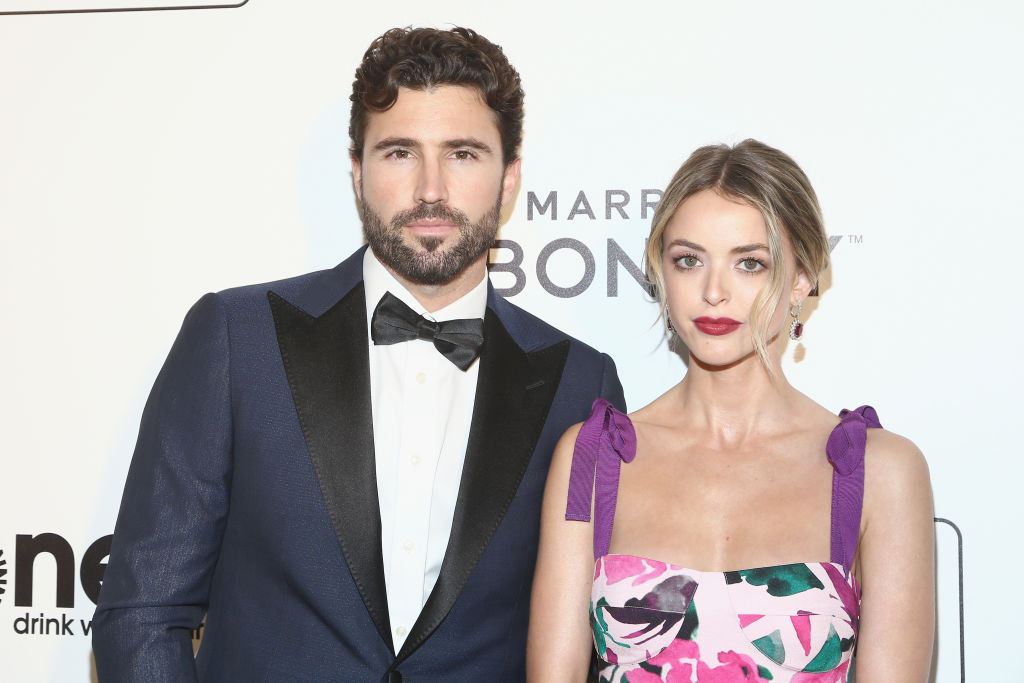 Why did Miley Cyrus and Liam Hemsworth break up?
Cyrus and Hemsworth started dating in 2009 after meeting on the set of their movie The Last Song. The young couple's relationship was anything but peaceful and they would enter a pattern of breaking up and making up that would last for the next ten years. Cyrus and Hemsworth got married in December 2018, but it wasn't to last long: In August 2019, they announced that they were separating.
While the exes didn't give any formal statement as to the reason for their breakup, some assumed that it is because the two had different priorities. Some reports claim that Hemsworth still liked to go out on the town and party, while Cyrus, contrary to her wild-child image, actually preferred to chill out at home. Still, other critics believe that it was Cyrus's habit of speaking out about her sexuality that contributed to the pair's demise. In July, Cyrus went on record to state that although she's married to a man, she is still very attracted to women.
Were Miley Cyrus and Kaitlynn Carter friends before the breakup?
The same day as Hemsworth and Cyrus announced their breakup, pictures surfaced of Cyrus kissing and cuddling with Carter. Not only was Cyrus newly single, but Carter had only recently announced her separation from Jenner. The two women seemed very close indeed and led many to wonder just how long they had known each other.
A recent report claims that Jenner actually knew that the two were hooking up long before the news broke to the rest of the world and had no problem with their relationship at all. According to the report, Cyrus and Carter have known each other for years but only recently started having romantic feelings for each other. Supposedly, Carter and Jenner discussed the new relationship prior to the photos of Carter and Cyrus going public, and that Jenner was nothing but supportive.
Whether or not Hemsworth knew of the nature of Cyrus' relationship with Carter is not known, since he has made only one statement to the press since the breakup, and it was to ask for privacy.
Are Miley Cyrus and Kaitlynn Carter dating?
While it is now assumed that Cyrus and Carter are romantically involved, neither of the women have actually confirmed that to the public or press. Regardless of the exact status of their relationship, there's no doubt that the two are spending a lot of time together. Recently, Cyrus and Carter even hung out with Cyrus's mother, Tish Cyrus, and People reports that the two women are "staying together."
The source for People also states that while the relationship between Miley Cyrus and Carter is romantic, it is also a deep friendship and that the two have been able to bond over their breakups with their respective husbands. Only time will tell if Cyrus and Carter decide to speak out to the press and clarify their relationship. But, for now, they are having fun and keeping quiet.