Was Cameron Diaz the Worst Actress of 2014?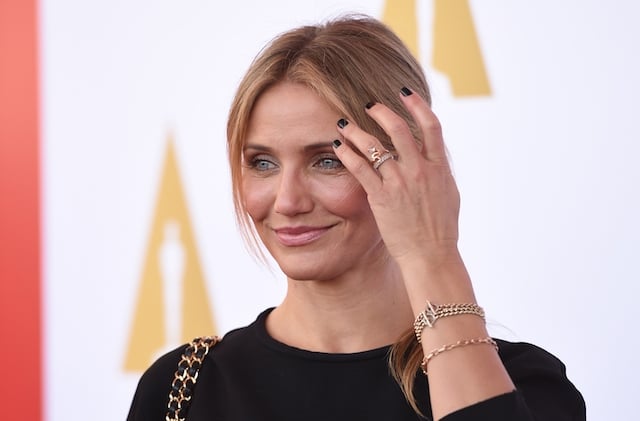 The Golden Raspberry Awards, or Razzies, take some time in the middle of Hollywood's self-congratulating awards season to point out the very worst movies Hollywood spit out over the last year. Just a day before Oscar nominations come out, the Razzies announced the nominations for the most awful movies and performances of 2014. Cameron Diaz earned nominations for three of her movies — Sex Tape, The Other Woman, and Annie — making her possibly the worst actress of 2014.
Diaz was nominated for worst actress for her performances in both Sex Tape and The Other Woman and was the only actress in the category to be nominated for two films. She picked up another nomination for worst supporting actress for her role in the musical Annie. Those projects were also nominated for other Razzie awards. Annie was nominated in the category of Worst Remake, Rip-off, or Sequel. Diaz and her Sex Tape co-star How I Met Your Mother's Jason Segel were nominated in the Worst Screen Combo category and that film also picked up a nod for worst screenplay.
The Razzies tend to honor big blockbusters and major flops, reminding Hollywood of its biggest mistakes at the time of year it spends honoring itself for all achievements, deserved or not. Movies like Michael Bay's box office smashes Transformers: Age of Extinction and Teenage Mutant Ninja Turtles received multiple nominations, as did the box office flops Blended and Tammy.
While Diaz was seemingly everywhere in 2014, making a big comeback after being a bit absent from the big screen for a couple years, none of the big-budget efforts she was in were good. Sex Tape, which sees Diaz and Segel playing a married couple whose attempt at making their own sex tape accidentally gets leaked online, got a 17% rating on review aggregator Rotten Tomatoes.
Critics said that the movie didn't fully embrace its racy premise or produce the chemistry needed between its lead actors to make it an enjoyable romantic comedy. "The subject matter sounds racy, but the film is as depressingly dreary as the couple's pre-tape sex life; for all its faux vulgarity, this is irritatingly coy, and the performances are just… well, irritating," said a review from The Guardian. Critics had more fun coming up with puns about impotence to put in their reviews of the film than they did actually watching Sex Tape.
The Other Woman didn't fare much better. The movie co-stars Leslie Mann and supermodel Kate Upton. Diaz and Upton play mistresses of Mann's husband. When the three women find out about each other, instead of becoming enemies they team up to take down the cheating guy. The movie got a 38% on Rotten Tomatoes, with critics saying the movie wasted its talented cast with cheap humor. "Still, you can't shake the feeling that in a just world, all these women — even Kate Upton — would have better material than this," said Vulture critic Bilge Ebiri.
Lastly Annie was meant to be Sony's big holiday blockbuster of a musical, but it was marred by bad reviews as well as the Sony hack, which resulted in it being leaked online. The film was meant to be a progressive update of the Broadway classic, but it missed the mark, getting a 27% on Rotten Tomatoes and slammed by critics for its cliche cuteness and materialism.
"Diaz's nasty, venomous interpretation of Hannigan is over-the-top in a really bad way. She screams; she falls down; she throws things. Her leering version of the song 'Little Girls' is the film's low moment," said Chicago Sun-Times critic Mary Houlihan.
The sad thing about the repeated fails for Diaz last year is she's shown herself to be a talented comedic actress. Her role as the girl next door in the 1998 comedy classic There's Something About Mary put her on the map as an actress who could hold her own against Ben Stiller at the top of his game. She played against type to great success in Spike Jonze's bizarre indie cult hit Being John Malkovich. She even got good reviews for her performance as a depraved teacher in 2011's Bad Teacher, though the film itself was not treated so kindly by critics. 2014 may have been a comeback year of sorts for Diaz, but she was also wasted in projects that featured bad writing, misused her comedic gifts, and made her the worst actress of the year.
Follow Jacqueline on Twitter @Jacqui_WSCS
More from Entertainment Cheat Sheet:
Want more great content like this? Sign up here to receive the best of Cheat Sheet delivered daily. No spam; just tailored content straight to your inbox.