Was This the Reason Behind Kelly Ripa and Regis Philbin's Fallout?
Once upon a time, someone other than Ryan Seacrest filled Kelly Ripa's co-host chair on Live With Ryan and Kelly. Regis Philbin, who championed the talk show alongside Kathie Lee Gifford, welcomed Ripa after Gifford's departure. The odd pairing set up over a decade of morning TV entertainment. However, there may be a reason as to why the two don't mention the other.
Kelly Ripa and Regis Philbin worked together for years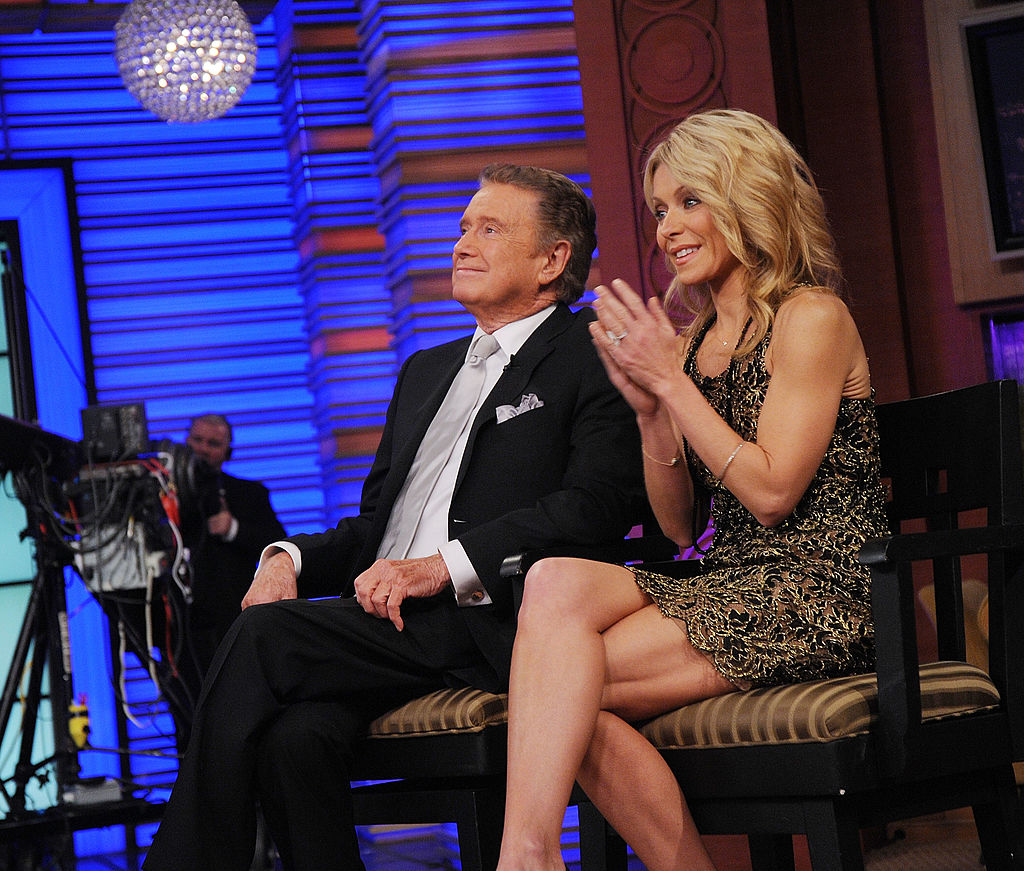 Regis Philbin and Kelly Ripa began working on the newly updated Live With Regis and Kelly in 2001. The two originally had great on-camera chemistry, despite their noticeable differences.
Their working relationship appeared seamless throughout their decade-long venture. Philbin, who'd been on the different iterations of the show for more than 28 years. His time contributed to the earned title of Guinness World Record holder for "Most Hours on Camera."
Ripa had been on the long-running daytime soap drama, All My Children, auditioned for, and won, Philbin's co-host chair.
"After all these years, it will be wonderful to play myself," Ripa previously told the Los Angeles Times. "My [All My Children] character is a recovering alcoholic with a split personality, and that surely is not me. But it is a really good job, so I like that too."
It all sounds like a lovely, albeit strange match. However, in 2017, Ripa disclosed a mandate in Philbin's working clause.
"Absolutely no talking off-camera," Ripa told the New York Times. "He had almost a superstition about it. You save it for the show. I'd be like, 'Good morning,' and he'd say, 'Save it for the air!'"
It's a stark contrast to Ripa's current co-host relationship with Seacrest, with whom she shares a close off-camera friendship.
Philbin's departure put a strain on their relationship
Over the last few years, many reports of Ripa and Philbin's strained relationship have made the rounds. In 2017, Philbin went on Larry King Now where he was asked if he and Ripa keep in touch.
"Not really, no," he said. "She got very offended when I left. She thought I was leaving because of her… I was leaving because I was getting older and that wasn't right for me anymore."
Philbin also said the show didn't invite him back, though President and General Manager for WABC, Dave Davis, cleared things up noting that Philbin had been invited "several times," but he declined. He added that Philbin returned for the 2015 Halloween special.
This could be the reason Philbin and Ripa aren't on speaking terms
It's unclear if Philbin and Ripa talk these days, but all signs point to "no." Years of tension may have severed those ties. However, plenty of pictures have circulated of Philbin and Gifford hanging out over the years. The two speak very highly of one another and remain close despite not working together for some time.
Philbin contributed to Gifford's emotional goodbye on the Today show, somehow complimenting Gifford while subtly insulting Ripa in one jab.
"Kathie Lee, you want to know the best part of … my TV life? Was in the 15 years I spent with you, from 1985 to 2000," he said. "We stayed friends through the entire game and it was a lot of fun." Ouch.
If you put it all together, Philbin's mandate, plus Ripa's frustration over him leaving, it'd be hard to stay friends. Top that off with Philbin's affection for Gifford and it's no wonder Ripa doesn't reference her former co-host. Again, ouch.