How Can You Watch Seasons 1-7 of 'Game of Thrones'?
HBO's Game of Thrones has been a sensation since the show first premiered back in 2011. The series — which is based on George R.R, Martin's fantasy series —A Song of Ice and Fire, follows several powerful families in Westeros who are all competing for the Iron Throne. Throughout the past seven seasons, we have seen bloodshed, magic, dragons, terrifying White Walkers, and everything in between.
Now, HBO is set to air the eighth and final season of Game of Thrones, and we're not sure we're ready to let it go. If you've forgotten what went down during past seasons, if you've never seen the show before, or if you just want to binge watch it again — this is how you can watch Seasons 1-7 of Game of Thrones.
How can you watch Seasons 1-7 of Game of Thrones?
There are a few ways to watch Seasons 1-7 of Game of Thrones. If you have HBO or if you have access to an HBO GO or HBO Now password, all you have to do is log-in or head to the ON DEMAND screen on your cable box and all 67 episodes of Game of Thrones will right there for you to stream. You can also download the episodes from iTunes or Amazon, but at $159.99 for all of the episodes, it's much pricier than a $15/monthly HBO GO subscription.
If you're a bit more old school, or if this is your first time visiting Winterfell and King's Landing, you might want to opt for the Games of Thrones DVD box set of Seasons 1-7. Amazon is currently selling the set for a reasonable $119.99 for the Blu-ray version or $99.96 for the regular DVDs. This way you don't have to worry about an internet connection. You will also have all of the episodes as well as the behind-the-scenes commentary with creators David Benioff and D. B. Weiss.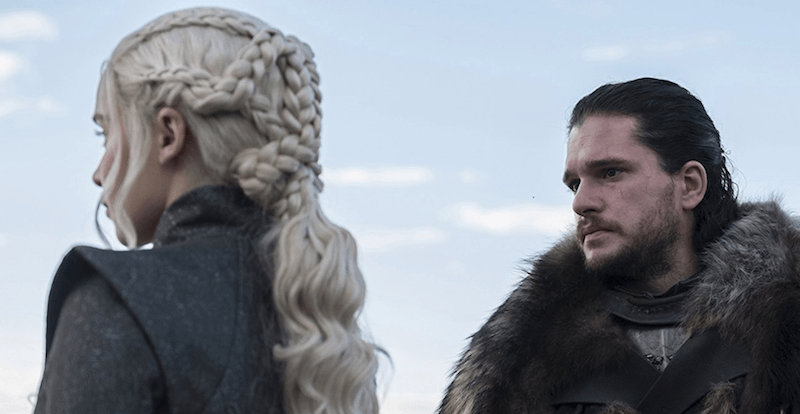 When does Season 8 of Game of Thrones premiere?
The eighth and final season of the fantasy epic is set to premiere on HBO –Sunday, April 14, 2019. Unfortunately, for us, this season will be super short. With just six episodes with an average run time of 90 minutes, the show will be over before we know it. However, we do know that the episodes will look gorgeous –they cost $15 million each to make, and they will draw us closer to the epic series finale.
When HBO debuted the first teaser trailer for Season 8 in December 2018, it showed, a direwolf, a dragon, and a lion. Each one symbolizes one of the houses vying for the throne –Stark, Targaryen, and Lannister. As the trailer continues, we watch them either freeze or become engulfed in flames. It's all foreshadowing that final battle that fans have been anticipating.
This is everything we've been waiting for so if you're behind, either hit up HBO GO or place your Amazon order so that you'll be ready when the theme song plays on April 14, 2019.
Check out The Cheat Sheet on Facebook!