Watch Jason Aldean Talk About Vegas Tragedy | Survivors in Attendance
Jason Aldean returned to the stage Thursday for his first concert since the deadly mass shooting in Las Vegas on Oct. 1. He appeared before a crowd in Tulsa, Okla., which included some survivors who were present at the Route 91 Harvest Festival.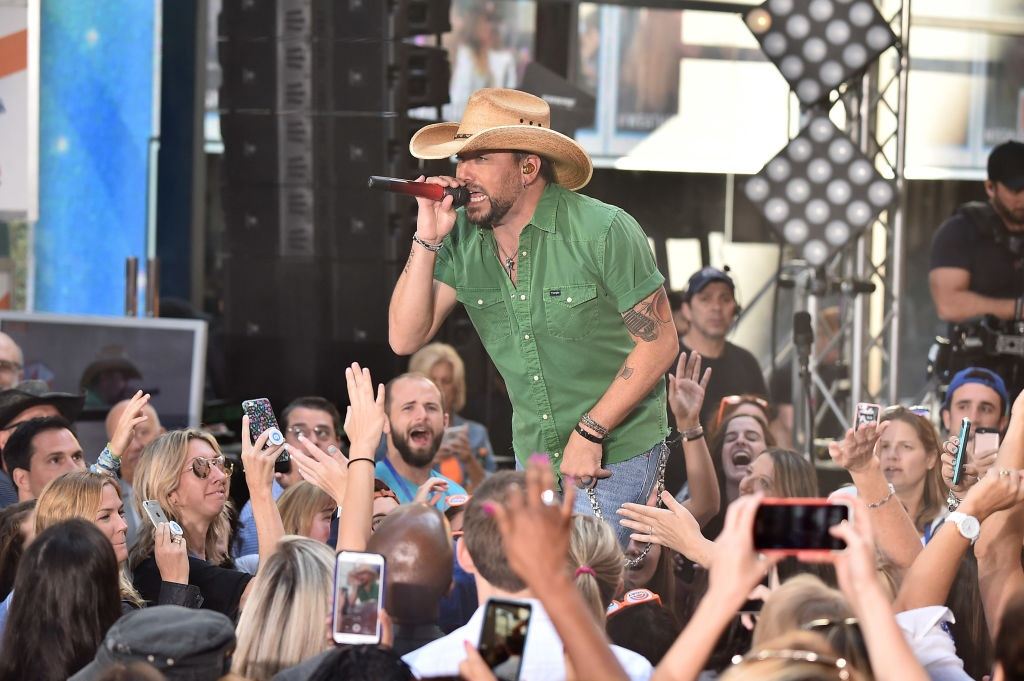 Three songs into the show, the stadium's lights turned on so Aldean could address fans. He spoke for about five minutes and honored the 58 people killed and 500 injured in the deadly mass shooting that started while he had been performing onstage.
As fans help up American flags, the country singer told his audience not to live in fear and to continue with the national show of unity which has surfaced since the attack.
"These people are going to continue to try to hold us down," Aldean said. "To those people that keep trying to do that, I say 'F**k you. We don't really care.'"
Aldean went on to say, "This country can be really divided. That's really unfortunate to see. It's been cool to see all the love and support that's been going on for the last 10 days. If we could do that on a daily basis the world would be a better place."
Aldean's show Thursday night was attended by two fans who survived the Las Vegas shooting and also helped to save a young girl's life, E! reported. Ryan Guay and Lynzee Freund, a couple who are residents of Las Vegas, received tickets to the Tulsa show from Tulsa radio station K95.5. The radio station posted a photo of the couple on its Facebook page:
Other Las Vegas shooting survivors in attendance Thursday night included friends Audra Miller, Lee Holstein and Amanda Zmak. The three traveled from Dallas and wore "Vegas Strong" T-shirts. "It was therapeutic and kind of like a cleansing all at the same time," she said. "We just wanted to represent family, friends, love and hope."