The Major Ways Prince Harry, Meghan Markle, Prince William, and Kate Middleton Have Changed the Monarchy
The royal family appears to be moving in a new direction and Prince Harry, Meghan Markle, Prince William, and Kate Middleton are being credited for the change. One source close to the Sussexes even believes that Prince Harry and Markle have "single-handedly modernized the monarchy."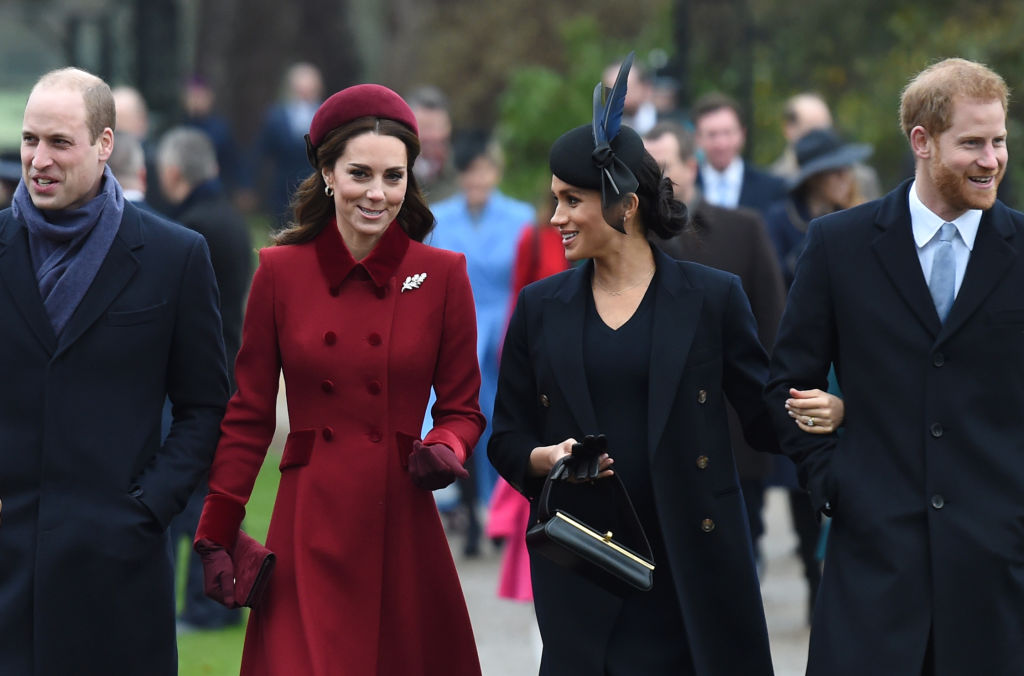 Prince Harry and Markle's emotional interviews humanized the monarchy
During the documentary Harry & Meghan: An African Journey, the Sussexes shared some of the emotional fallout of living in the spotlight.
Markle pointed to the unfair criticism from the press, while Prince Harry addressed rumors of a feud between himself and Prince William. The candid interviews humanized the monarchy in a way we don't usually see.
A source told CNN: "The institution around the British Royal Family is full of people afraid of and inexperienced at how to best help harness and deploy the value of the royal couple who have single-handedly modernized the monarchy."
Prince Harry and Markle won over their critics
Prince Harry and Markle's royal tour of Africa earned them rave reviews following a period of intense scrutiny. In an interview with Nine News Australia, royal expert Juliette Rieden shared: "After all those criticisms and jibes that we've been covering for weeks on end… here is Meghan and Harry doing what they both do best, which is meeting people, inspiring people, changing the face of the royal family, I think."
She continued, "They don't meet people with a handshake, we've seen that, they go in for the hug every time. And they love it, everybody loves it, everybody loves that personal contact."
Rieden further explained how it's evident that the Sussexes and Cambridges are making a huge splash, sharing: "There is no question that Harry and Meghan are very important members of the monarchy… They, along with William and Kate, are the young royals that are going to move the monarchy forward."
"Yes, they're doing it in their own way and, largely, the public like that," Rieden noted, adding, "They are so impressive when they're meeting people, they really do care, they really do listen, they really do want to interact and get involved and make a difference. It's not just handshakes, it's not just cutting ribbons with them."
Middleton uses a "clever" move that Princess Diana employed
Winning public support can be challenging, but Middleton has tapped into a method Princess Diana used. Royal commentator Neil Sean told Australia's Today Show how Middleton has taken a page from Diana, explaining: "She sort of made sure that William and Harry had normal lives if you like. There was a very famous picture of them queuing in McDonald's in Kensington and then there was the other picture of them at funfairs and amusement parks. Well, Kate has done the same thing, she has taken the same route."
He pointed to the way Middleton is seen in non-royal situations with the children, Prince George, Princess Charlotte, and Prince Louis, giving them a normal life which "endears" the Cambridges to the public and helps to "modernize" the royal family. This sense of normalcy makes it easier to identify with them.
Sean continued: "According to a royal source, she wants her children to experience the reality of life. There was actually a picture of Kate shopping for Halloween treats with George and Charlotte in a local supermarket near to where they were staying. This really endears people not just to William and Catherine but to the Royal Family in general."
He added: "Although people weren't allowed to take pictures, you've got to appreciate — and I think Kate is very clever at this — that the Royal Family has to modernize. By that, they have to get within the people, and I think that's a good trade Diana has given to William who passed it on to Catherine."
A royal insider told The Sun that Princess Diana "was very unstuffy and wanted William and Harry to fit in with their school friends and experience normality. That's the baton she handed to Kate."