We Can't Stop Laughing at Joe Jonas and Sophie Turner's Custom Beer Bottles
One of the most talked about weddings of the year happened for the second time in all its glory. Joe Jonas followed through on a big promise for his second wedding to Sophie Turner: a steady amount of Coors Light.
The Jonas Brothers recently gave an interview on the Zach Sang Show where Joe revealed that the one thing he needed for his wedding was Coors Light. And the two gave out custom beer bottles to boot. 
The Jonas Brothers love Coors Light
Joe and his brothers dished about how they ran out of Coors Light at Nick's wedding, and because of this, a large amount of the brothers' favorite beer was a necessity for Joe and Sophie's wedding.
"I mean, we are getting married in France, so a lot of Coors Light is necessary," he said. "Not hard, really, to get that, but we needed to make sure that was going to happen."
Coors Light is a family favorite
It isn't known exactly how much Coors Light made its way to the wedding, or whether is was supplied in bottles as well as kegs, but there was plenty to go around.
"Coors Light has always been mine and my brothers' favorite beer. The fact that they made a customized bottle for me as a wedding gift is incredible," said Joe in a press release.
Joe Jonas and Sophie Turner married for the second time
The pair said their nuptials in a second ceremony in southern France. A source told E! News that the ceremony was complete with white elegant flowers and glass candles. The reception was held at Château de Tourreau.
Joe and Sophie had already married previously in Las Vegas on May 1. The couple went to A Little White Chapel after the 2019 Billboard Music Awards. Joe's brothers were in attendance, as well as Priyanka Chopra and Danielle Jonas. The country duo Dan + Shay sang "Speechless" during the ceremony.
Joe and Sophie had custom beer bottles at the reception
In a new photo from the wedding, Joe is showing off a custom bottle of Coors. They provided these for all the guests via Coors as a wedding gift. The bottles are decorated with their faces and with a label reading "Joe + Sophie 2019."
They tied the knot in Vegas first for legal purposes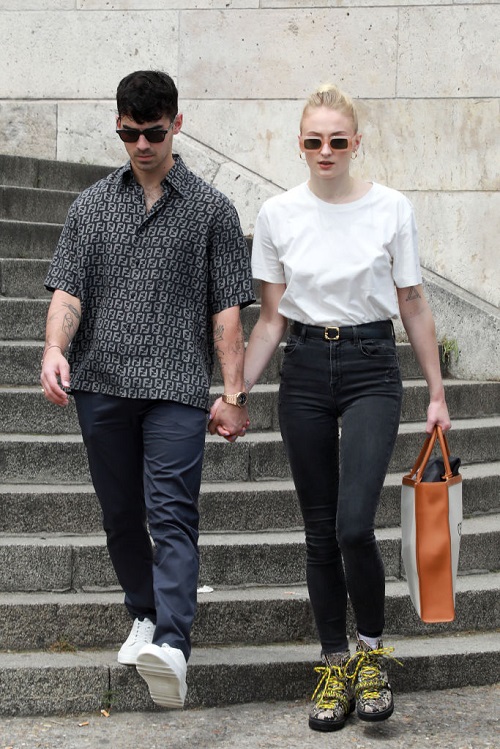 Joe told BAZAAR.com that "We had to do a legal marriage before we did a real big one. It was either the courthouse, or our version, and I preferred our version. Friends, Elvis, and Ring Pops."
A source had previously told People that the couple "had to get married in the States to make it legal, but the wedding is still in Europe."
Turner's Game of Thrones co-star, Maisie Williams, was one of her two bridesmaids. Nick and Kevin Jonas were Joe's groomsmen. Priyanka Chopra, Turner's sister-in-law, was there as well and wore a traditional Indian dress in a lovely pink color.
Apparently, the couple's dog Porky was also in attendance complete with his own mini dog tuxedo. How adorable is that?