We Have a Pretty Good Idea What Khloé Kardashian's House Looks Like — See the Photos
There are some celebrities who value their privacy over everything — and then there are the Kardashians. Even if you didn't want to keep up with the Kar-Jenner clan, it's almost impossible to avoid them in today's information-obsessed culture. We know way too many details about their intimate lives.
Khloé Kardashian may not be the richest Kardashian sister, but she is still managing to live large with her 1-year-old daughter, True. The mom and daughter duo live together in the ritzy Calabasas section of Los Angeles in a 9,214 square foot Mediterranean escape that used to belong to Justin Bieber.
Perceptive fans who have been following Khloé Kardashian over the years probably noticed a few details of her private home. Here's what it looks like on the inside.
Khloé Kardashian tried to create a 'blissful retreat'
She may be known for inspiring drama, but that's the exact opposite of what Khloé prefers in her home. Instead, she drew inspiration from Moroccan and Middle Eastern design themes to create her own personal oasis in the city.
Both Khloé and her around-the-corner neighbor Kourtney enlisted the help of decorator Martyn Lawrence Bullard to help achieve their design visions. "Khloé's house was a giant play palace built for a boisterous young man [Bieber]," Bullard explained. "We decided to give it some romance, bringing it back to its Mediterranean roots."
Khloé was very involved in the design
Though she did hire a professional, Khloé had plenty of opinions of her own when it came to creating her home's look. And what she wanted wasn't exactly typical.
"Khloé wasn't interested in a traditional take on Moroccan style, so we cleaned up the lines and gave it a more vibrant, contemporary feel," Bullard said.
"I was very hands-on in the design process. I'm obsessed with details, so I can be a bit controlling, but it's only because I'm genuinely curious," Khloé said of her contributions.
She particularly loves her bedroom
When it comes to relaxing, there's nowhere quite like the bedroom. Khloé described her master retreat as one of her favorite rooms in her house.
"I don't get a lot of alone time, so when I have a chance to relax in bed I really savor it," she says. "It's like being in a Champagne heaven. Who doesn't want that?" she said.
And her closet? As expected, it's an absolute masterpiece, complete with rows on rows of designer duds, bags, and a stunning shoe collection worthy of Kardashian royalty. Her workout clothing even has its own separate section.
Her fridge is insanely organized
Khloé Kardashian's fridge and pantry are what Type A personality dreams are made of. The level of organization and color-coding comes courtesy of The Home Edit, a company that specializes in that sort of thing. Forget moldy mystery leftovers and freezer-burned hamburgers — Even Khloé's candy drawer (yes, seriously) is neatly put together and perfect.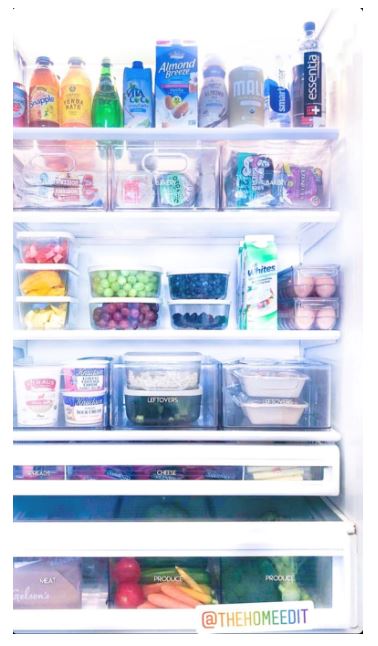 Every part of her home is unique
From her daughter's bedroom to her impressive closet, Khloé has managed to put her personal touch on every corner of her home. And that's just how she likes it.