Wendy Williams Just Did Something Super Embarrassing on Live TV — And Handled It Like a Pro
Even Wendy Williams makes mistakes.
Wendy Williams knows how to handle live television. She's been hosting The Wendy Williams Show since 2008, and she has built a massive television presence for herself. Williams was recently honored with a star on the Hollywood Walk of Fame, but even celebrities can do embarrassing things every now and then. And Williams just had a moment of embarrassment on her show — but handled it like any professional would.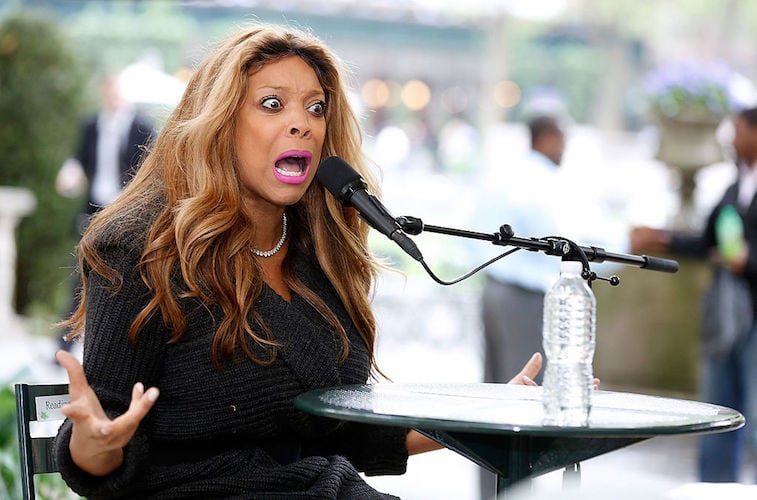 Williams has continued to host her show despite everything she's been through recently
Over the past year, Williams has gone through a lot — and she's been brutally honest with her fans and supporters about everything that's come her way. In March 2019, Williams told her fans the emotional story that she has been living in a sober house after seeking treatment for addiction. She has continued to tape her show, but after the tapings, she spends time talking with others who are also recovering from addiction. Williams has admitted to struggling with cocaine use in the past.
To make things worse, Williams also announced her divorce from Kevin Hunter right around the same time, to whom she was married for 22 years. Hunter reportedly fathered a child with his mistress, who he had supposedly been cheating with for many years. But Williams has been handling the divorce well, saying that she and Hunter will always be family since they share a teenage son together, Kevin Hunter Jr.
She appears to act 100% like herself on live TV
The most captivating thing about Williams' show (besides that she's always kept a brave face) is that she has always stayed true to herself while hosting. At the beginning of the show, she comes out to the audience cheering and immediately takes a seat in her chair, where she converses with the audience members as though they've been her forever friends. She then dives into breaking celebrity news, often some kind of controversy, and gives her true thoughts on the matter. She doesn't hold back from what she's thinking or feeling and has always been very honest with her audience. And toward the end of the show, Williams answers questions from various members of the audience who are seeking her advice. She has always treated her fans like family, which is likely what has kept her show in such good standing for so many years.
Williams accidentally burped mid-sentence on a recent show — but recovered with ease
Though Williams has seemingly mastered live television, that doesn't mean she can't make mistakes every now and then. On her October 21 show, Williams was mid-sentence when she accidentally let out a burp. Of course, anyone speaking in front of a live audience might be extremely embarrassed if this happened, but Williams handled it like a professional. She jokingly rolled her at eyes at herself once it happened, and the audience let out a laugh. But then she continued her sentence like it didn't even happen; she didn't give people time to dwell on the mistake. Though burping during a live show is definitely not the best way to start the week, she proved that even the most successful professionals in the industry can still make mistakes.