Wendy Williams or Ellen DeGeneres: Which Talk Show Host is Worth More?
The world of daytime television has greatly expanded through the years. And it seems like anyone who's anyone tries their hand at having a talk show. However, not everybody succeeds when it comes to appealing to a wide audience just through being yourself. But Wendy Williams and Ellen DeGeneres are two women who have seemed to crack the code for keeping audiences coming back for more. But which talk show how has the higher net worth?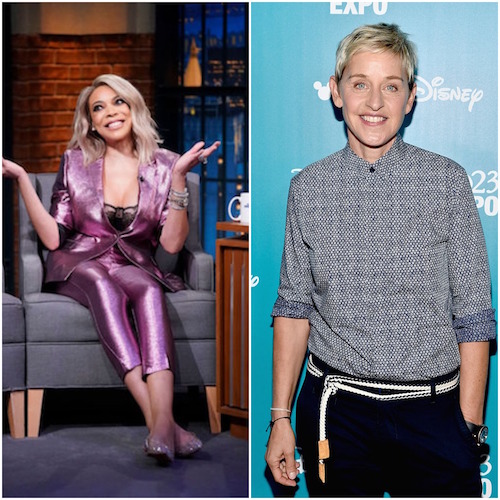 Wendy Williams' career got its start when she was still in college
Williams was born in Asbury Park, New Jersey, and attended school in Ocean Township, New Jersey. After graduating high school, she went on to attend Northeastern University, where she majored in communications and volunteered as a DJ for her college radio station. She continued working in radio up until she was asked to do a talk show in 2008. Williams signed on for a six-week talk show trial that year, and Fox loved the response it received. 11 years later, Williams' show is still going strong.
Today, the talk show host is worth an estimated $40 million
Now that Williams has been on the air for more than a decade, she's earned a reputation as one of the most entertaining talk show hosts around. "How you doin'?" has become her catch phrase, and she enters the studio to the crowd chanting, "Ooh ooh!" every morning. All of these signature styles have earned Williams a net worth of right around $40 million. This year has been particularly difficult for Williams personally, between admitting she was living in a sober house to announcing her divorce earlier this year. However, through it all, she has continued to be dedicated to her fans and audience.
Ellen DeGeneres' career got its start through stand-up comedy
Ellen DeGeneres took a bit of a different route from Williams when it came to pursuing fame. She was born in Louisiana, and though she moved to Texas for a while, she ended up attending college in her home state. But DeGeneres dropped out of school after one semester, and eventually, she began pursuing stand-up comedy. She then tried her hand at acting and landed several roles in the 1980s and 1990s. In 2003, her career as a talk show host began with The Ellen DeGeneres Show. And in an age where daytime television shows were the "in" thing, DeGeneres found more success than others in the industry. Now, 16 years later, she's still captivating audiences with her hilarious, witty humor.
Today, DeGeneres is worth somewhere between $350 and $490 million
DeGeneres broke barriers when she came out as gay back on her sitcom in the late 1990s, but since then, she's continued to become one of the highest paid talk show hosts of all time. DeGeneres' actual net worth varies depending on the source, with Forbes suggesting she's worth $330 million and Celebrity Net Worth valuing her worth at $490 million.
Both Williams and DeGeneres have become major faces of daytime television, and it's clear both women have found tremendous success in their own way.