Wendy Williams Calls Lori Loughlin's Daughter Olivia Jade 'Stupid' and 'Entitled'
Wendy Williams is a talk show host who always speaks her mind. She's built the reputation of having a lot of opinions, which is part of the reason her show has been so successful through the years. And each day, she sits down to discuss "Hot Topics" in the entertainment news sphere. It typically consists of Williams telling the audience what is going on and sharing her opinion on the matter. And on her December 2, show, she had some choice words to describe Lori Loughlin's daughter, Olivia Jade.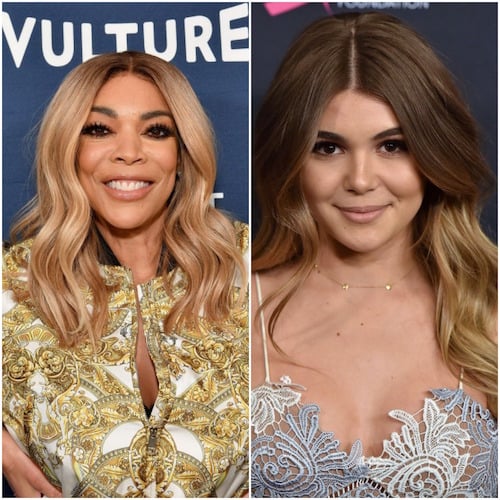 Williams' fans love how much she speaks her mind
One of the main reasons Williams has had such a successful career is because she isn't afraid of anybody. The talk show host always speaks her mind, even if it means that not all of her fans agree with her. But her willingness to be herself is what has earned her so many fans through the years. Over the past decade of The Wendy Williams Show, Williams has never changed who she is: Someone who entertains. And each day on her "Hot Topics" segment, William discusses entertainment news with her fans and gives her opinion on the matter. She never hides her opinions, whether she's talking about a B-list celeb or the royal family — and that's just what people want to see.
Lori Loughlin and her daughter have been at the center of the college admissions scandal
Earlier this year, news broke that dozens of parents had reportedly paid certain administrators, coaches, or collegiate employees to help get their children into a specific school. It became referred to as the college admissions scandal, and at the forefront of those accused was actress Lori Loughlin, who had allegedly paid $500,000 to get her daughter, Olivia Jade, into University of Southern California. Felicity Huffman was also involved, though she pled guilty and went to jail for less than two weeks. Loughlin and her husband, designer Mossimo Giannulli, pled not guilty and are still in the thick of the case.
Williams referred to Olivia Jade as 'stupid' and 'entitled' on her December 2 show
On Williams' December 2 show, she discussed how Olivia Jade had recently returned to social media. Loughlin's daughter posted a short video to YouTube where she expressed how much she had missed her fans and also noted how terrified she was to return to the spotlight. Though some people forgave her, others, including Williams, felt it was too soon for her to return. Her parents' case has not yet seen a verdict. But Williams also threw in some other harsh words; she described Olivia Jade as "stupid" and "entitled" upon introducing the topic.
Williams appeared to instantly retract her words, and moments later she said, "I don't mean to call her stupid," and followed it with saying that she only made the insult because she doesn't "care" about the situation.
Fans have mixed feelings about Olivia Jade's return to social media
When Olivia Jade returned to YouTube, she was greeted with mixed reviews, which was probably what she expected. Some of her most loyal fans forgave her and left positive thoughts in the comments, while others felt it was too soon for her to return and that she never fully apologized. It's unclear whether the beauty influencer will continue to post videos or take a step back based on the feedback, but it probably won't be the last people see of her regardless.