What 10 Hollywood Actors Looked Like in High School
You should really hang on to your high school yearbook because you never know if one of your classmates will be famous. Many celebrities have had their yearbook photos come out to show just how awkward or amazing they looked before. So which celebrities looked different or the same back in high school? Here are 10 yearbook photos of Hollywood actors that might blow your mind.
1. Tina Fey
The comedian was the first female head writer of Saturday Night Live. She then went on to win multiple Emmys and Golden Globes for her show, 30 Rock. Due to the success she is also pretty glamorous although self-deprecating about her looks. Back in the day, though, she rocked a shorter hair cut. The actress went to Upper Darby High School and admitted to being a bit of a mean girl.
"I was [the Mean Girl], I admit it openly," she told The Edit. "That was a disease that had to be conquered. It's another coping mechanism – it's a bad coping mechanism – but when you feel less than (in high school, everyone feels less than everyone else for different reasons), in your mind it's a way of leveling the playing field. Though of course it's not."

2. Eminem
The rapper was born Marshall Bruce Mathers III and was raised in Detroit. He went to Lincoln High School, but he dropped out at 17. He still pretty much has the same face, but had longer hair when he was younger. The rapper went on to win 15 Grammys and one Academy Award for his song, "Lose Yourself."
3. Amy Poehler
The comedian and actress looked very much the same in high school, but had much bigger hair. She went to Burlington High School and graduated in 1989. It sounds like Amy was also more of one of the social and popular girls back then. "I threw a couple of parties, they weren't ragers," Poehler told HipHollywood. "A few things happened but nothing too major."
4. Jerry Seinfeld
The actor had the same face as a teen, but a much longer hairstyle. He was born Jerome Allen Seinfeld and attended Massapequa High School in 1972 in Long Island. He went on to being the highest paid actor in Hollywood thanks to creating and starring in Seinfeld. He also won an Emmy and Golden Globe for his work on the show.
5. Jennifer Hudson
The singer went to Dunbar Vocational High and rocked a braided hairstyle. She later auditioned for American Idol in Season 3, but became a break out star from the movie Dreamgirls. She won an Oscar for her role and has since continued singing and acting.
6. Kathy Bates
The actress went to White Station High School in 1948 and had a really polished look for her photo. She went on to win an Oscar for Misery and has been nominated two more times. The actress has also been in many classic movies including Titanic and kills it on television in shows like American Horror Story.
7. Adam Sandler
The comedian went to Central High School in New Hampshire and rocked a really curly hair style. He has since gone back to give speech for their high school graduates. He got his first acting gig on the Cosby Show, but his big break was on Saturday Night Live. He is now enjoying being one of the highest paid actors in Hollywood.
8. Jamie Foxx
The actor and singer attended Terrell High School in Texas where he played basketball and football. He also rocked a gap in his teeth and what looks like a Jheri curl. He went on to become a television star then movie star. He won an Oscar for his role in Ray. 
9. Bradley Cooper
The actor is now a handsome movie star and was deemed the "sexiest man alive." But it looks like back then he had a different smile. He attended Germantown Academy in Fort Washington, Pa. Although he became a big movie star nominated for four Oscars, he still remembers his roots. When his 20-year high school reunion came about he actually went to join his class of '93.
10. Kim Kardashian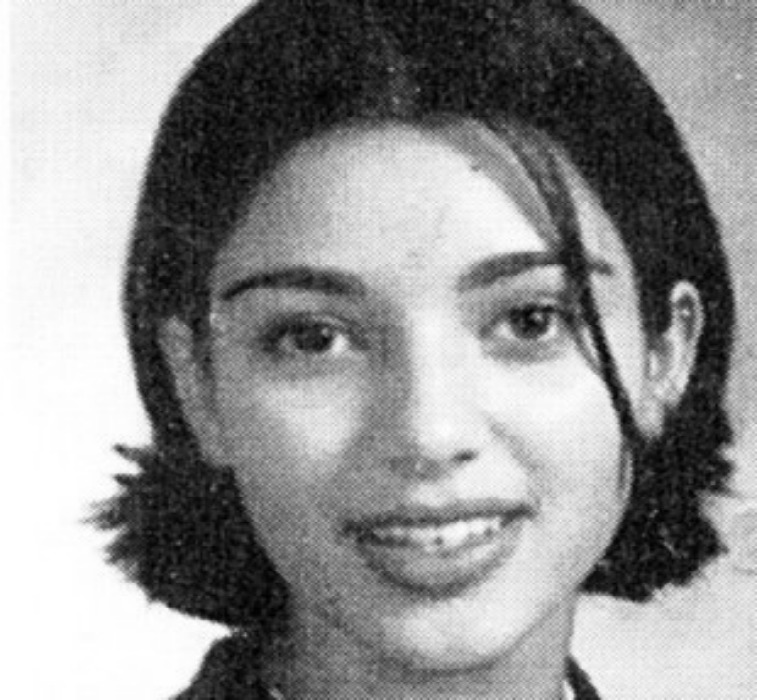 Before she became a brand, reality star, and actress, she attended an all-girls Catholic school called Marymount High School. She also rocked a shorter haircut and a somewhat different face back then. Her friends at the time have since released a lot more photos of young Kim. "Kim was studious," childhood friend Nikki Lund told The Mirror. "She wanted to be a good student. She worked hard at school. She didn't get straight A's, but the teachers liked her. She'd never bunk off school."
Follow Nicole Weaver on Twitter @nikkibernice
More from Entertainment Cheat Sheet: