What are Kourtney Kardashian's Skin and Beauty Secrets?
Kourtney Kardashian recently rolled out her lifestyle and wellness website Poosh, which includes (among other categories) a section about beauty — and now you can learn the secrets of Kardashian's radiant skin. Kardashian recorded a video for Vogue titled 'Kourtney Kardashian's Guide to Natural-ish Masking and Makeup' where she reveals some of her trusted beauty secrets.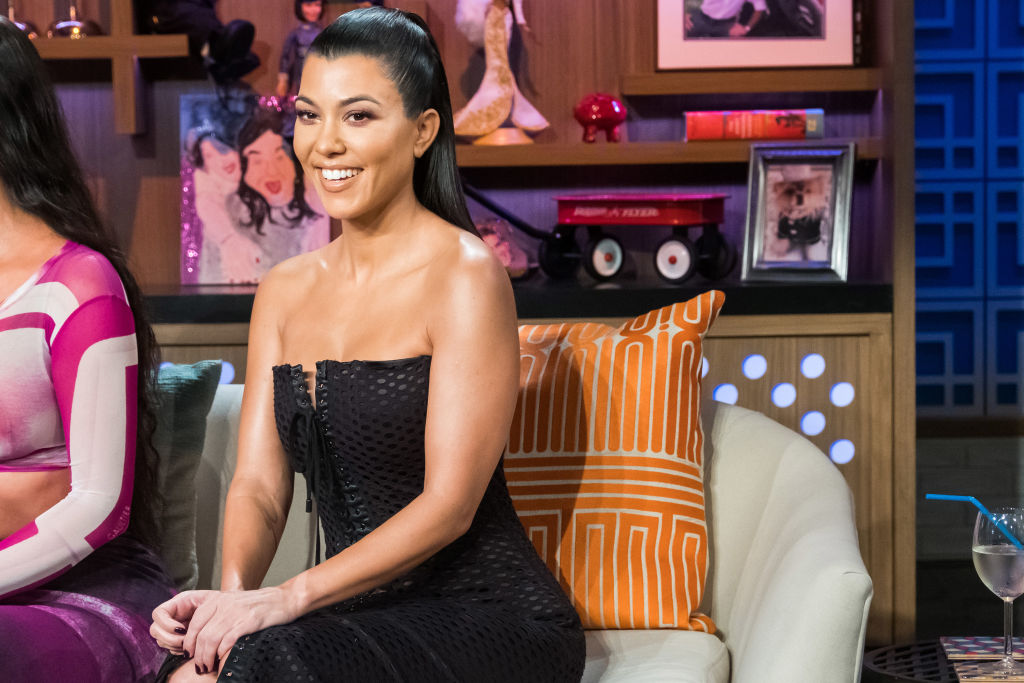 Kardashian takes fans through her process
In the video, Kardashian invites fans in to see a step-by-step look at her morning beauty regimen, both skincare and makeup application. It's all around informative, fun, and helpful to see some of the products she uses, including Kylie Cosmetics lip liner and KKW Beauty Cream Contour.
Over on Poosh, she posted a companion article to the video, providing a buying guide with links to everything she used in the tutorial. Thanks, Poosh!
Kardashian's skincare routine includes a homemade scrub
While Kardashian certainly has the means to buy very high-end skincare products, it's refreshing to see her throw a little DIY scrub into the mix. She started her routine with Root Science Clarifying Mask, which she mixed with honey, with her website noting that it's "rich in antioxidants and has antibacterial properties, equaling an even deeper detox treatment."
She removed the mask with a muslin cloth, with the Poosh site explaining that "it doesn't tug skin, it gently exfoliates and removes impurities. Plus, the open-weave design dries quickly, which prevents bacteria from growing."
The DIY scrub she uses on her lips involves just three ingredients: coconut oil, honey, and organic brown sugar in the raw (bonus, it's edible!). The scrub is great to use before applying matte lipstick to prevent color bleeding.
Kardashian also used a face wash by K-beauty brand Peach & Lily as well as Christy Kidd Face Wipes. She sprayed Caudalie's Face Mist Elixir and used Barbara Sturm's Hyaluronic Serum and Pai Rosehip BioRegenerate Oil. Of course, she topped it all off with a sunscreen.
Get Kourtney Kardashian's natural makeup look
For fans in search of an easy everyday look, Kardashian shared her makeup tips for achieving a natural glow. She started with mixing two Oxygenetix Foundation colors and applying that to her face, then used a BeautyBlender with a mist of Caudalie Grape Water to apply concealer.
Kardashian then dabbed KKW Beauty Cream Contour on her hand, then used a brush to apply the contour for a more natural look, followed by Tarte Amazonian Clay Waterproof Bronzer in Park Avenue Princess, applying a little extra in place of blush, and RMS Living Luminizer in Champagne Rose to achieve her glow.
Kardashian used Lancôme Grandiose Mascara on her lashes and Kylie Cosmetics Lip Liner in Dolce K with RMS Lipstick in Magic Hour on her lips before setting the whole look with Laura Mercier Translucent Loose Powder.
She explained how she makes use of her sisters' makeup lines, noting: "I use Kim and Kylie's lines for different things. I think it's amazing how they've both come up with different products. They're both serving my different makeup needs."