What Are the Odds of Meghan Markle and Kate Middleton Having More Babies Soon?
The year 2020 could potentially be huge for Meghan Markle, Kate Middleton, and all fans of the ever-growing royal family. Buzz has been intensifying around the rumors that the royals could welcome not one, but two royal babies by the end of 2020. And, the odds are better than you might think.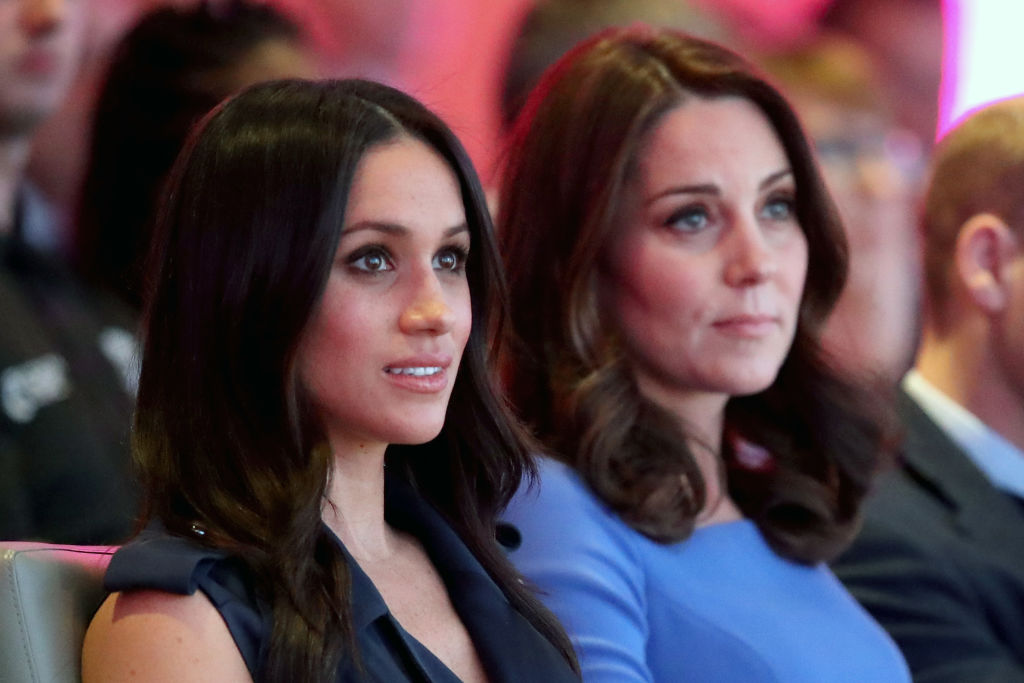 Adding fuel to the fire are Prince Harry's recent comments about the number of children he wants to have. Even though nothing has yet been announced, odds are good that within the next few months, there could be some very happy announcements from Meghan Markle and Kate Middleton.
Kate Middleton could have another baby soon
Prince William and his wife of eight years, Kate Middleton, are the parents of three adorable children: Prince George, born in July 2013, Princess Charlotte, born in May 2015, and Prince Louis, born in April 2018. The couple clearly love being parents and are actively involved in their children's lives. Prince William and Kate Middleton are often photographed holding and cuddling their children, and many experts have compared their affectionate parenting style to that of Prince William's mother, Princess Diana.
There has been speculation in recent months the couple could be ready for baby number four. One source claims Prince William really wants to have four children in total, just like his grandmother, Queen Elizabeth II. Even though Kate Middleton suffered from severe morning sickness, known as hyperemesis gravidarum, with all of her children, and spent much of her early pregnancy in hospital or bed rest, it seems as though she could be ready for one more baby to complete their family. Since they already have two boys, they could possibly be hoping for one more daughter, a younger sister for Princess Charlotte.
Prince Harry reveals second baby plans
Prince Harry and Meghan Markle just welcomed their son, Archie Harrison, in May 2018, but they probably won't wait much longer to give their young son a new sibling. There are several factors that could contribute to the royal couple wanting to have another child quickly – first, Meghan Markle's age. She is 38 years old, which is considered to be an advanced maternal age. Waiting too much longer to get pregnant could leave her more susceptible to genetic problems and complications during pregnancy.
In addition, Prince Harry recently spoke out and said that he and Meghan Markle want "no more than two children" due to environmental concerns. Still, Markle did just have a baby less than a year ago, and many experts have stated that in order to give the body proper time to heal after childbirth, it is best to wait a total of 18 months in between pregnancies. Even though Meghan Markle does seem to be in great health, she might decide to wait a bit longer for the sake of a full recovery before trying to give Archie Harrison a baby brother or sister.
The palace won't reveal baby news early
The public is seemingly in agreement with the idea of two more royal babies in 2020. A brand-new report states that bookies in England have the odds of both Kate Middleton and Meghan Markle giving birth sometime next year at 3/1 odds.
Whether the predictions end up coming true, it's unlikely the palace will reveal anything until either Meghan Markle or Kate Middleton are several months along. Historically, they prefer to wait until the most dangerous time of pregnancy has passed, and that is around the 12-week mark. Royal fans should stay tuned to see if either Middleton or Markle appear in public with a baby bump anytime soon!