What Are 'The Real Housewives of Orange County' Season 14 Taglines?
The Real Housewives of Orange County returns for Season 14 on Bravo with a new housewife and with Vicki Gunvalson downgraded to a friend role. Die-hard fans live for the taglines the housewives say during the opening sequence with the intro becoming a signature feature of the franchise. The new phrases have been revealed ahead of their season debut and we can't choose which is our favorite one yet.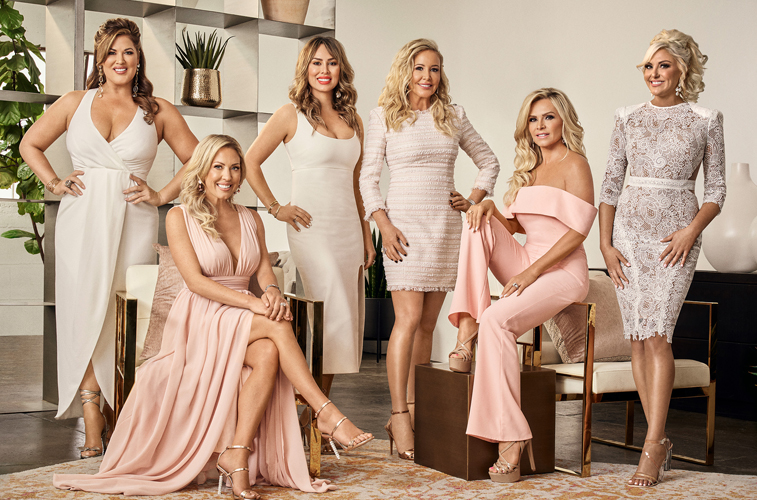 Why was Vicki Gunvalson demoted?
Fans of the Orange County ladies were surprised when rumors swirled that the OG of the OC was being demoted to a friend for Season 14 of the show. Gunvalson had been part of the reality show since its inception but in recent seasons had taken a backseat carefully not involving herself in the drama with the other women.
When promotional stills started getting leaked on social media, Gunvalson was not included in the main cast photo. Soon after she released a statement explaining that she's very much still involved with the show in a friend-capacity.
"For the past 14 years I've opened up my life, my loves, my ups and downs on The Real Housewives of Orange County and I am proud to be the 'OG of the OC'. I am back again this season right in the middle of the action in a different role. I hope you have as much fun watching the show as I did living it in front of the cameras. Stay tuned to Bravo August 6th for more of the Tres Amigas," she wrote on Instagram.
Who is the new housewife?
With an open spot in the RHOC cast, Bravo brought in Braunwyn Windham-Burke into the mix to change the dynamics of the group. The new housewife is a friend of Kelly Dodd from the Balboa Bay Club.
Windham-Burke is a wife and a mother of seven children – baby Hazel, toddler Koa, twins Caden and Curran and teenagers Jacob, Rowan and Bella. She is a full-time mother and pursuing a book deal based on her motherhood blog.
The 41-year-old Orange County native had been a stay-at-home mom for 19 years and didn't hesitate to join the show when she was initially approached; she reveals she even has connections to original cast members.
"Jeana Keough, in the original cast, was a really good friend of my grandparents," she told The Orange County Register. "So when I initially tuned in it was to watch her and her family, because I'd kind of grown up around them. And then I kind of got hooked."
"I was a stay-at-home mom at the time with three kids. I joke that these Bravo shows are my guilty pleasure. At the end of the day when I put my kids into bed I kind of crawl into bed, grab my ice cream. This has always been my 'me time.'"
What are the 'RHOC' Season 14 taglines?
With a brand new season, fans are treated to a new batch of taglines that give insight to what their storyline will be during the current season. For Season 14, Beador gets the first line while Todd is the one to round out the opening sequence.
Shannon Beador: "The tables have turned and this time I'm dancing on them."
Tamra Judge: "These days faith, family and fitness are the only F's I give."
Gina Kirschenheiter: "I've made mistakes in Orange County but I'll fix them in a New York minute."
Emily Simpson: "In a town full of blondes, I'm legally brunette."
Braunwyn Windham-Burke: "I've managed to wrangle a family of nine and still look like a ten."
Kelly Dodd: "If you don't want me to cross the line, don't draw one."
The Real Housewives of Orange County airs Tuesdays at 9 p.m. ET/PT on Bravo.