This Is What Camila Cabello Really Thinks About Normani's VMAs Performance
Camila Cabello and Normani absolutely killed with their performances at the 2019 MTV Video Music Awards. The former Fifth Harmony bandmates were at the musical event enjoying their respective successes as solo artists. However, there was a looking cloud over an apparent feud as they are now seen by fans as competition and they did not help the cause with what they were writing on Twitter.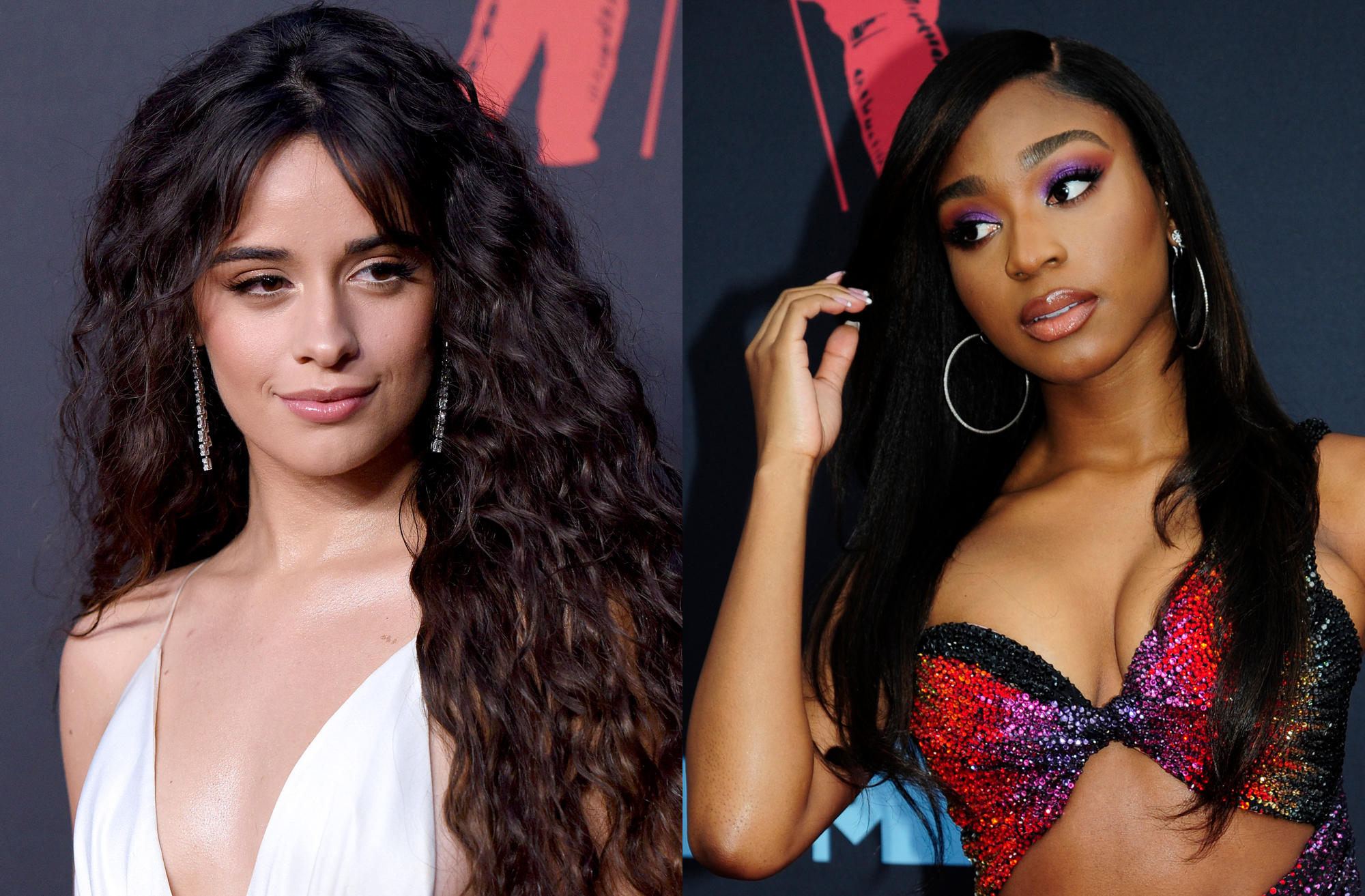 How was Camila Cabello's VMAs performance?
Cabello took the stage with Shawn Mendes to perform "Señorita" for the first time in front of a live audience. The sultry musical number left everyone hot and bothered watching how the performers teased and rubbed against each other.
The "Never Be The Same" crooner wore a see-through white dress that left nothing to the imagination as she danced around her boyfriend. Mendes wore a tight tank top with suspenders to show off his toned arms.
Although many fans were expecting the couple to kiss at the end of their performance, that did not happen and all viewers received was a nose nudge.
How was Normani's performance at the VMAs?
Normani also took the stage to perform her new hit single "Motivation." The "Love Lies" hitmaker dazzled the audience with her killer dance moves. As you know, Normani has a dance background and is an absolute complete artist giving everyone a great show.
The choreography around Normani and the way she moved so effortlessly to the music showcased her talent on the big VMAs platform for the world to discover if they had not done so yet.
Camila Cabello and Normani Stans fight on Twitter
Cabello and Normani's fans are not supportive of one another if you judge the Twitter comments that followed after each of their performances.
"Normani showing up to take the spotlight from Shawn and Camila's boring a** performance," one user tweeted with a video of Normani interrupting a Cabello and Mendes interview.
"Camila in the crowed knowing that Normani killed her performance," another fan wrote with a video of a woman extremely upset.
"Camila is mad that Normani is superior," another Normani fan tweeted.
"Normani to Camila tonight: "Yeah, well, some of [you] don't have to, you know, force storylines to get airtime." The previous meme referenced the alleged fake relationship Cabello and Mendes have.
"Yes Normani, show Camila how it's done," another fan tweeted.
"Normani to Camila after her performance," a viewer posted on Twitter along with a video of two girls seemingly disingenuous interaction.
What did Camila Cabello think of Normani's performance?
All the feuding was between the fans, but the ladies seem to be okay with each other. Cabello posted on her Instagram Stories a recap of the performances from the MTV VMAs and she had positive things to say about her former bandmate.
"Just watched the performances back from last night and WOW," Cabello posted. "So cool to see Taylor Swift, Normani (that backflip, holy sh**), Rosalía, Lizzo and obviously the legendary Missy Elliot [who] smashed it on that stage. Sending love and congrats to all of you ladies."
Cabello was just was impressed with Normani's dance moves as everyone else that witnessed her performances. The "Havana" songwriter used her platform to empower her fellow peers and that should send a clear message to all of the fans.
Are Normani and Camila Cabello friends?
When Cabello split from her Fifth Harmony bandmates, there was a big rift in the friendships they had established which trickled down to their fans. Now that the music group is no longer together and all the girls are pursuing a solo career, it seems that Cabello and Normani are in good terms.
In an interview for Marie Claire, Cabello talked about running into Normani at the 2018 Billboard Music Awards.
"I saw Normani at the Billboard [Music] Awards, and we kind of mutually came up to each other," Camila told the publication. "She'd performed that night, and so I was like, 'Oh, how was it?' She said, 'Oh, I was so nervous.' And I was like, 'By next year you'll be totally fine. You're killing it. I'm so happy for you. I'm so excited to see what you do with your music.' I told her, 'I just want you to know, I really hope we can all move on from everything, and I'm genuinely happy for the other girls, and I hope you tell them I wish you the best.' And she was like, 'I'm so proud of you.' It felt like everything is totally fine."