Here's What Could Happen to Jussie Smollett If He's Found Guilty of Staging His Alleged Attack
Jussie Smollett has been in the news daily since January 29, when he claimed he was allegedly attacked by two men in a homophobic and racist hate crime (Smollett is black and openly gay). But since the alleged attack, the story has been changed and things don't add up. Now, Smollett is facing felony charges for filing a false police report. Here's what could happen to the actor if he's found guilty.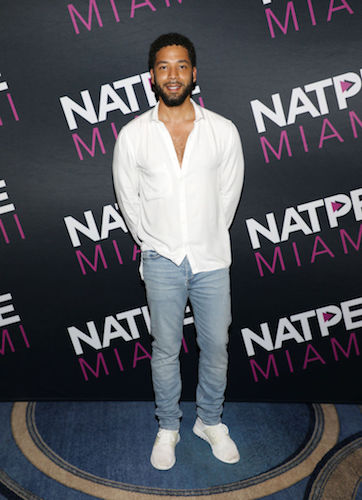 Smollett was allegedly attacked on January 29, and within two days, skepticism grew
Smollett publicly claimed that he was attacked by two men in a supposed hate crime on January 29. According to Smollett's story, he was walking back from a sandwich shop around 2 a.m. when two masked men approached him. They yelled racial and homophobic slurs at him and put a noose around his neck. Smollett alleged the men also said, "This is MAGA country." (MAGA stands for Make America Great Again, which was President Trump's campaign slogan.) In a matter of hours, the news broke about the attack, and plenty of high-profile celebrities and politicians offered support for Smollett.
The two men who were allegedly involved in the attack then said they were paid to take part
Once the police finally tracked down the two men, who are brothers, and brought them in for questioning, things changed. The men were no longer considered suspects because "new evidence" had emerged. The two men then said they were paid by Smollett to orchestrate the attack. Smollett and his lawyers stood firmly by his own story. Smollett even did an interview with Good Morning America to get rid of any doubts people were having about the story.  
On February 20, Smollett was charged with disorderly conduct for allegedly filing a false police report
Hours before his arrest, Chicago police officially classified Smollett as a suspect in the case. The details in Smollett's story didn't add up, and the evidence that the attack legitimately took place just wasn't there. Smollett surrendered to police on the morning of February 21. Smollett is also due in bond court on February 21.
Some scenes from 'Empire' on which Smollett is a cast member were reportedly cut
Since the attack was found to be inconsistent and potentially false, there have been reports that scenes featuring Smollett's character on Empire have been cut back. According to Entertainment Weekly, some scenes featuring the actor were cut in the wake of the controversy surrounding the attack. EW also said Fox did not comment on whether the supposed rewrites on the show were actually true. Empire showrunner Brett Mahoney took to Twitter on February 17 to say he stands by Smollett.
If convicted, Smollett could face anywhere from one to three years in prison
Right now, Smollett is being charged with filing a false police report, which is a Class 4 felony. According to CBS, if Smollett is found guilty of the charge, he could be looking at prison time. Filing a false police report can come with anywhere from one to three years in prison. Plus, Smollett would likely have to pay back the money spent by the police on the investigation. However, Smollett's legal team said in a statement that they would "mount an aggressive defense" in response to the charges.
Check out The Cheat Sheet on Facebook!