What Did the 'Below Deck Med' Crew Think of Travis Michalzik's Performance as a Bosun?
When bosun João Franco became ill on Below Deck Mediterranean, lead deckhand Travis Michalzik was asked to step into the role. Michalzik didn't hesitate to lead the team, using his understated charm and relaxed approach to successfully accomplish a myriad of tasks.
Although Franco was seriously ill in his bunk, he seemed pained listening to Michalzik making calls on the radio, that would normally be his calls. But he had no choice but to rest and avoid infecting the rest of the crew with his illness.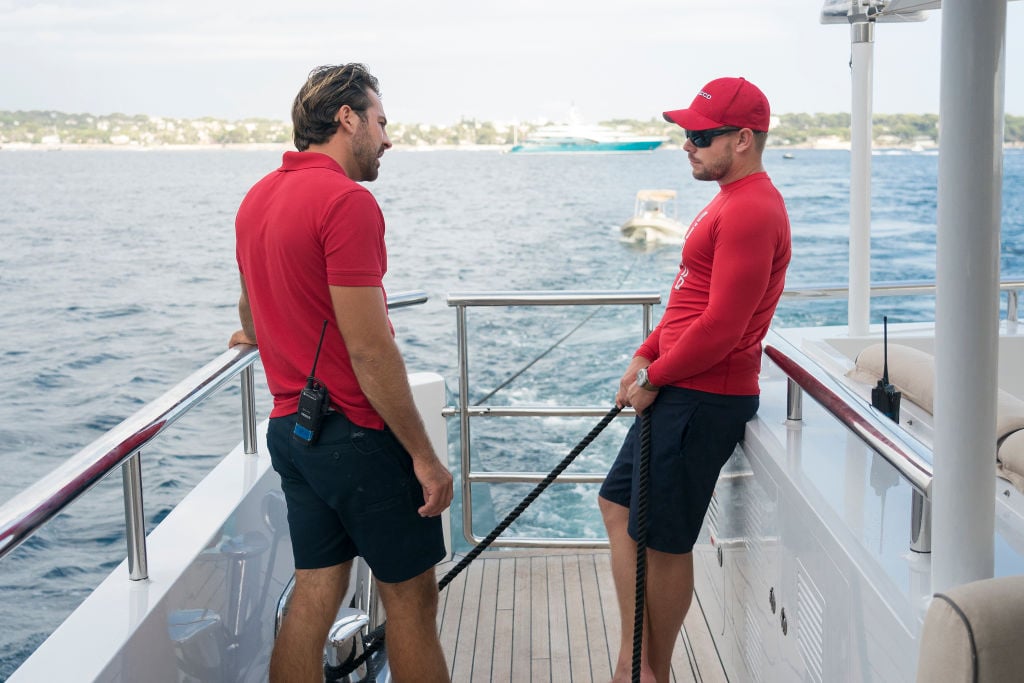 The deck team soared under Michalzik's direction. But what did the crew think of his performance? Plus, does Captain Sandy Yawn think Michalzik has what it takes to be a superyacht captain someday?
Michalzik nailed his performance as bosun
Yawn raves about Michalzik's delivery as bosun during the episode. Also, during a Below Deck Med After Show clip, the team offers their insight into how Michalzik stepped into the new role.
Michalzik said Yawn was always very supportive. "After every charter, she'd like say stuff, like when we had the tip meeting, pretty much like every single time, she'd be like, 'Ah Trav you've done really well.'" Deckhand Jack Stirrup agrees that Yawn seemed to respect Michalzik.
Yawn says, "Travis when he was bosun, he didn't need to be taught, he knew. Because Travis has a lot of experience. He's worked on a lot of sailing yachts. He has more experience than João." Deckhand Colin Macy-O'Toole echoed Yawn's remark about Michalzik's experience. Plus, "On the boat, he was a hard worker, outside of the drinking," he said. "He was João last year."
The two have different styles
Franco laughed when Macy-O'Toole recalled what a "trainwreck" Franco was last season. But Macy-O'Toole was happy to see Michalzik putting effort toward the job, plus he enjoyed his style. "João wants things done now," Macy-O'Toole remarks. "Travis is like, "I don't know, let's get the water toys out.' Because of that relaxed and because of it was the last charter, we were all like, "Alright let's just do this thing.' And the timing couldn't have been more perfect."
Michalzik agrees and says that everyone at that point were good friends. "It's not like you're a superior," he said. "'Oh there's Trav, my mate and trying to f**king organize stuff because João was absolutely f**ked in bed.'"
He adds that he was completely comfortable in the role. "I've done that, it's not a hard role," Michalzik says. "I've worked on boats for ages."
But does that mean he is captain material?
Even though Yawn was impressed with Michalzik's initiative she's not sure he's superyacht captain ready. One difference between Franco and Michalzik is that she sees Michalzik as having a chip on his shoulder whereas Franco is kinder.
"The great thing about João is you could treat him like s**t and the next day he's like a puppy," Yawn says. "He forgets it. Him and I are a lot alike in that area. I can reset like that. So can he because I witnessed that in the last season. Travis cannot."
But this is why Yawn doesn't think Michalzik is superyacht captain material. "Travis is from the sailing world, and not to take away from that, but the sailing mentality isn't like the yachting mentality," she observes. "Sailing is for the love of the ocean. Superyachts is for show. A lot of people want to be on our boat because they want to show off. Sailing? Truly a love for the water and drinking and smoking. The reason I say this is being an expert in your field isn't automatic. You have to know how to talk to people, treat people and reset with people. João has what it takes to be a captain. I'm not so sure about Travis."