What Did Whitey Bulger Hate Most About the Movie 'Black Mass?'
Notorious mob boss James "Whitey" Bulger spent five years in prison before he was killed, likely from a hit, The New York Times reports. Bulger was one of America's most wanted criminals. He spent years on the run before he was captured and sent to federal prison. Bulger, 89 was beaten to death by other inmates, possibly for snitching on enemies. He survived a few heart attacks and was stabbed years ago.
Bulger's crime life was featured on the silver screen in the 2015 film Black Mass. The story recounts Bulger's life as being the Winter Hill Gang mob boss, a group that terrorized South Boston in the 1970s. Rival mob groups and mass killings made for a wild cinematic experience. But the film honed in on how Bulger became a snitch. So did audiences like the movie? And furthermore, what did Bulger think? There is one thing he absolutely didn't like.
Black Mass received a respectable (but not great) rating
Movie rating site, Rotten Tomatoes awarded the film with a Tomatometer rating of 73% or a 6.7 out of 10. And while the film received more "fresh" (or good) reviews by critics than "rotten" (bad), audiences were not as receptive. Out of close to 56,000 viewers, Black Mass received a 3.6 out of 5 or 68%. The film debuted in December 2015 and grossed $48,786,443, Rotten Tomatoes reports.
This is what critics loved
Critics seemed somewhat unified in their observations about the film. Most agreed that not only did they enjoy seeing actor Johnny Depp portray Bulger, but they also viewed his performance as being extremely powerful. "Depp's performance as Bulger is as strong, and as energized, as anything he's done on screen for years," Slate reported.
"The role is Depp's best in many years, and a welcome respite from the parade of prancing pseudo-villains-Mortdecai, the Wolf, Barnabas Collins, Jack Sparrow, Willy Wonka-to which he has devoted far too much of his career," according to The Atlantic.
"Whitey Bulger is Depp's inner lion, roaring at any who dare challenge him, while cementing his position as blatantly and brashly as he can: He's not going anywhere," The Hollywood Outsider reviewed.
Bulger didn't agree with critics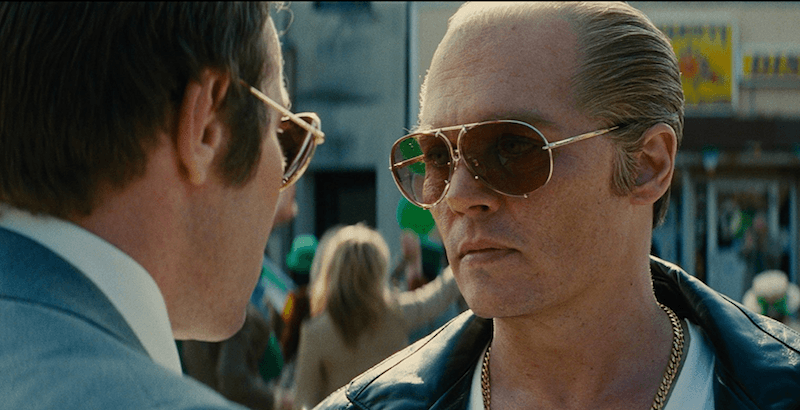 Bulger's take on the film came down to vanity. Depp often transforms his appearance to fit the character. This means adding prosthetics and makeup. For the film, Depp said he wanted to take the character further, rather than just playing a straight up mob boss. "It would have been easy to dive into this thing as if it were just simply a gangster film," Depp said, USA Today recounts. "Present the people, warts and all, and then allow their personality, their way of life, to reveal themselves."
Those "warts" are what annoyed Bulger most. Depp's normally attractive face aged. His hair thinned and he blackened a tooth Bulger never bothered to have fixed. "Yeah, I think Johnny nailed it. Johnny didn't back away from the fact that he's a monster," Black Mass co-author Dick Lehr said to People.
Depp's portrayal reportedly enraged Bulger. "Johnny Depp might as well have been playing the Mad Hatter all over again as far as James Bulger is concerned," Hank Brennan, Bolger's attorney told People.
Check out The Cheat Sheet on Facebook!