BTS is one of the biggest artists around today. They were recently revealed to be the most searched boy band in 2019 and the seven young men from South Korea are no doubt taking over the world by storm.
However, just because you have seen the name BTS around doesn't mean that you know what it stands for. The abbreviation typically is used for the phrase "behind the scenes," but you will be surprised to know that this is not the case at all when it comes to the K-pop group.
If you're curious about the meaning behind BTS's name, read on below to find out the answer.
BTS' name has two meanings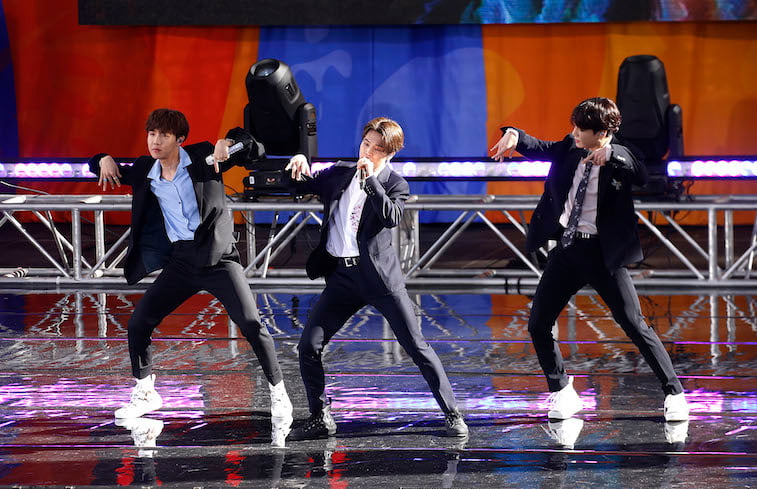 When BTS debuted in 2013, their name stands for "Bangtan Sonyeondan" in Korean, which literally translates to "bulletproof boy scouts." Most Koreans actually call them by this full name, though people in other countries simply refer to them as BTS.
The meaning of "Bangtan Sonyeondan" likens societal pressure and expectations to bullets, and the guys of BTS are fighting against them for both themselves and their young fan base.
They do this often through their songs that contain messages about problems faced by Korean youth.
In 2017, when BTS began to really make themselves known around the world, they unveiled a more international meaning for their name.
Aside from "Bangtan Sonyeondan," the name BTS would now come to also stand for "Beyond the Scenes," which represents the group always trying to go beyond what is expected of them.
Four BTS members have stage names
If you are familiar with the members of BTS, you might notice that some of them commonly use stage names. Jin, Jimin, and Jungkook are the only ones who are known by their real names. Meanwhile, RM, J-Hope, Suga, and V are all stage names.
These stage names have meanings as well, though they're a bit less deep than what BTS stands for.
Leader RM's old stage name is Rap Monster and fans who knew BTS before 2017 might remember this. He changed it to RM a few months after BTS added the "Beyond the Scenes" meaning to their name.
As for where Rap Monster came from, he revealed that it was from an old song he wrote:
"In 2011 I made a song by myself and at the very end of the song, there was a part when I had to yell out 'Rap Monster!' I don't know if that part was memorable or not but the company staff started calling me that and it eventually became my name."
However, Rap Monster shortened his name to RM to signify a change in his identity and music. These days, he says that RM could stand for many things and one meaning he has thrown out is "Real Me."
Suga's stage name has two meanings. He once said in 2013 that he is called Suga because he is pale and sweet. However, a few years later, he revealed that it is also short for "shooting guard," which was his position when he played basketball as a kid.
J-Hope's stage name is a bit deeper than everyone else's, although it is very self-explanatory. The "J" part came from his last name (Jung) and "hope" simply came from the fact that he wants to bring hope to the band and the world.
J-Hope is known among fans as a happy person who is always smiling, so his stage name clearly fits him very well.
And finally, V was the last person to pick his stage name. He once shared: "Six, Lex, V – those three names were suggested but the members and [producer] all said that 'V' fits me the best and so I picked 'V' to stand for 'victory'."