What Fans Are Saying About Billy Bush's Return to TV
Television personality Billy Bush made his return to entertainment news on on September 9 with the premiere of ExtraExtra. Bush has more or less been in exile since the infamous 2005 Access Hollywood tape of his highly inappropriate conversation with then-presidential candidate Donald Trump speaking of physically groping women was leaked to the public. After the recording was released, Bush was fired from his dream job on the Today Show after being there less than two months.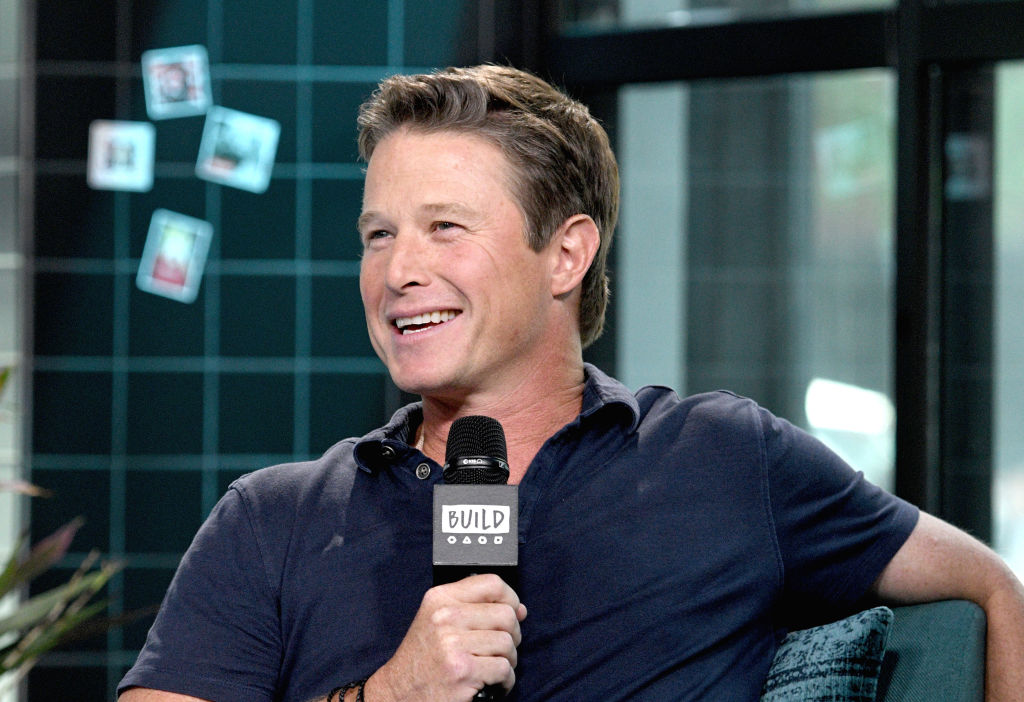 Now back at the news desk reporting on the latest happenings in showbiz, Bush is looking forward to interviewing Hollywood's hottest celebs, with a particular interest in those who may have faced a similar public ousting.
Backing from Baldwin
Bush seemed back in his element manning the desk at ExtraExtra, reporting on J-Lo, Lizzo, and other trending stars. Halfway through the program, Bush interviewed Alec Baldwin, and shared that the actor had reached out to him after his controversial firing. "About a year ago when I wasn't feeling so great, Alec Baldwin took me to lunch for a turkey club and some frank talk. I appreciated that," Bush said in the intro to the sit-down.
At the start of the interview, Baldwin shared some advice with Bush. "Try to remember what happens in the tabloid press. Everyone slips on the ice, so to speak," the actor told Bush. "Whether it's your fault or not, it's not who you are. It's really important to try to remember that… I just think it's onward and upward… You got a whole life ahead of you. You have work to do. You're good at what you do."
Fan reaction
Viewers of the revamped Extra weighed in on Bush now being at the helm, posting their thoughts on Twitter. For the most part, fans were willing to give the former Today Show co-host a second chance.
One fan tweeted, "So glad to see you back, Billy!! I missed you! Everybody did!!" Another posted, "Welcome back Billy as always still 1 of the best in the industry."
Some wished him luck in his new post, with one fan tweeting, "Welcome back! Just watched in Houston and loved the #ExtraTV premiere! I'll be tuned in everyday! Best wishes your way!" The host received encouragement, with one fan writing, "I couldn't be happier for your return! You're back! Everyone deserves a second chance! I'm glad you got yours!"
Others were not in support of Bush being hired. "Oh hell no I watched extra from the very beginning not anymore," one viewer posted.
Another tweeted, "I guess @extratv is okay with sexual harassment." Some were even more blunt, with one post saying, "BIG MISTAKE with BIlly Bush."
Closing statements
Bush apparently prepared to address the elephant in the room head on at some point during the show. He ended up closing out the first episode of ExtraExtra with a prepared statement on his 'hiatus' from the industry.
"I've learned a few things during my time off, or time out. Bad things happen to all of us. The ingredients of our disasters differ but the shock to the system and the struggle to overcome we share." Bush said as he looked into the camera. "Most of the time we can't control these events, we can only control how we react. I won't lie, I fell into a nasty rabbit hole for about a year and a half. But through faith, friendship, family, and the empathy of total strangers, I got going again. So here I am – I hope a better journalist, interviewer and man today than any version in the past."
He added that he is paying close attention to potential interviews of those who have been embroiled in controversy and are dealing with the fallout. "Importantly going forward, I will no doubt have to report on people who've had a bad moment. I'm especially interested in seeing them own it, and get back up," Bush concluded.
Viewers can see Billy Bush back in action on ExtraExtra!