What Fans Think of Halsey's New Song 'Graveyard'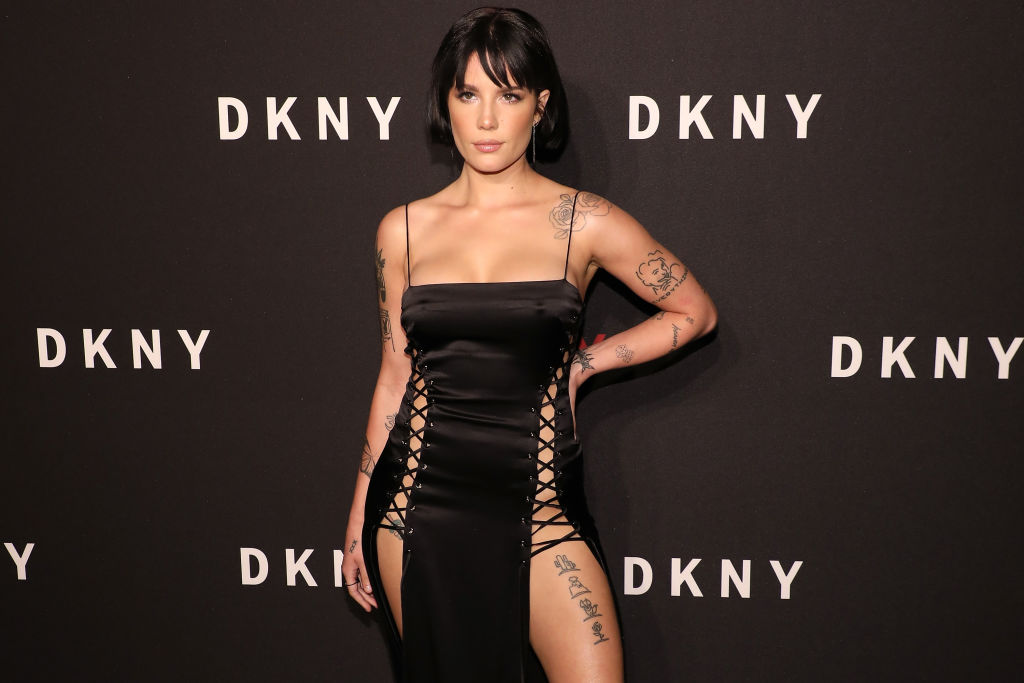 Halsey released her second single of 2019, "Graveyard," on Sept. 13. The song is part of her upcoming album, Manic. Halsey teased the release of the single earlier in September. After releasing the song, fans shared their reactions on social media.
Halsey announced the release of 'Graveyard' earlier in September
On Sept. 3, Halsey cryptically tweeted "1:17pm." She then posted the cover art for "Graveyard." Along with the photo, Halsey announced that Sept. 13 was the release date for the song.
The cover art featured a photo of Halsey covered with pink and orange filters. The photo also featured a blur overlay filter for almost the entirety of the image except for a rectangle that covers half of Halsey's face.
After releasing the image, fans looked for clues about the song. They noticed "Graveyard" written beside Halsey and "follow me" was written above her. The figures "(A)01" and "H3" are also written on the image. Based on those writings, fans assumed that Halsey's next album would be different than her previous concept albums.
"what if we're getting a two-sided record…. halsey's 3rd/ashley's 1st album," a fan speculated on Twitter.
The singer posted a YouTube livestream before releasing 'Graveyard'
Hours before the release of "Graveyard," Halsey posted a YouTube livestream. In the livestream, Halsey painted a large portrait of herself. The video lasted several hours and had no sound. Halsey posted the livestream along with the announcement about her third album, Manic.
Halsey later released a time-lapse video of her painting along with "Graveyard." The self-portrait in the video is also the cover art for Manic.
"I painted my album cover in 7.5 hours and a lot of you watched the entire thing. here's the whole process in 3 minutes. sorry for finessing you. I love u," Halsey tweeted.
Halsey's fans were impressed with her artistic talent.
One fan tweeted, "Halsey just painted this masterpiece live on YouTube for the past 7+ hours. I've always admired her art as well as her music, because I'm an artist myself. She's beyond talented…"
Halsey's fans love 'Graveyard'
After "Graveyard" dropped, fans expressed their love for the song and Halsey on social media. Fans also speculated about the meaning of the song and what Halsey's future album, Manic, will sound like.
"when I say that no one is doing what halsey does I mean it, NO ONE does what she does. halsey simply exceeds all expectations. graveyard is just one more proof that this woman can do ANYTHING. she is not just an artist. she is THE artist graveyard is excellency," a fan wrote on Twitter.
"halsey really said 'seems like i'm making a much different album than what you are expecting' and she wasn't lying. wow. graveyard is beautiful," a fan tweeted.
"Halsey ALWAYS DELIVERS. #GraveYard IS SO SO GOOD. THE VOCALS. SO RAW," another tweeted.
Fans loved "Graveyard" so much they cannot wait for Halsey's upcoming album, Manic.
"I NEED Halsey's new album to come out IMMEDIATELY, Graveyard is so so good and made me so hungry for more but we still gotta wait…," one fan tweeted.