What Is Former 'NCIS: New Orleans' Star Shalita Grant Doing Now?
For three seasons, Shalita Grant played Special Agent Sonja Percy on NCIS: New Orleans. In the time since she left the show, she's been up to a lot. Here's where you can transfer your NCIS fandom to show your support.
Shalita Grant left 'NCIS: New Orleans' in 2018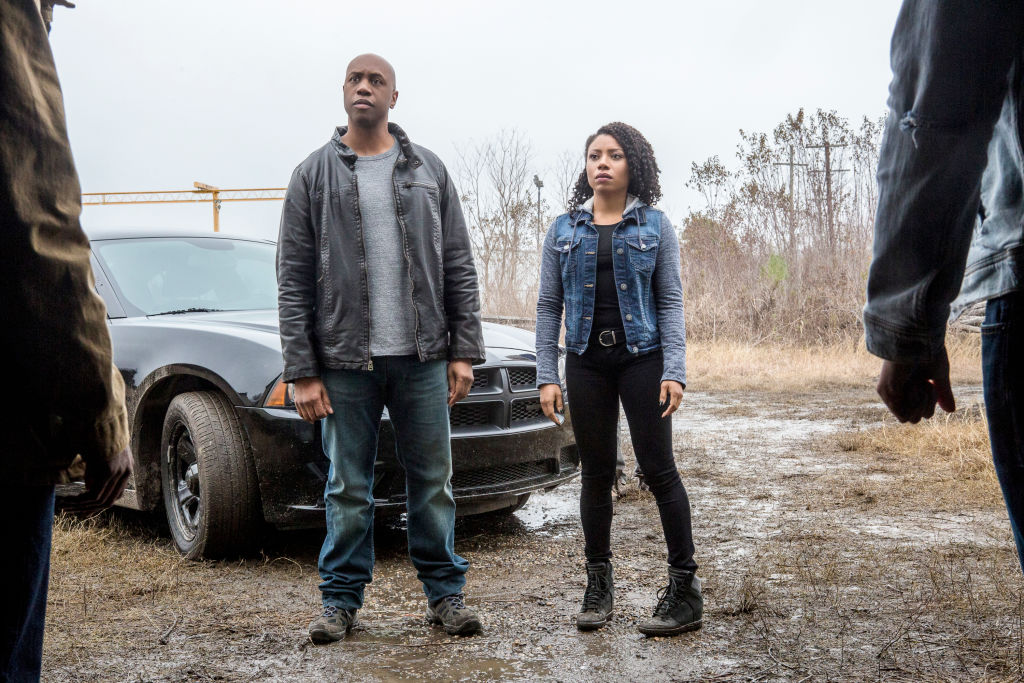 Shalita Grant played former ATF Special Agent turned NCIS Special Agent for three years on NCIS: New Orleans. Grant's debut of Sonja Percy came in Season 1 when she met agents, Meredith Brody (Zoe McLellan) and Christopher LaSalle (Lucas Black).
For three seasons, Percy and LaSalle teamed up as part of Dwayne Cassius "King" Pride's close-knit satellite team to protect NOLA and the whole southern region.
Unlike LaSalle's sudden exit, fans saw Percy's job offer with the FBI coming. Though she originally turned the offer down so not to disappoint Pride or the team, a near-death experience changed her mind.
Agent Percy took the job and turned in her badge without ever giving fans that long-awaited "City Mouse/Country Mouse" kiss with partner, LaSalle. Grant's rep stated at the time her decision to leave was mutual, but viewers are patiently awaiting some form of her return, even if only a small cameo.
Grant married partner, Sabrina Skau
In August of 2018, Grant married her girlfriend of two years, Sabrina Skau. According to People, the two met on a dating app in 2016 and continued their relationship long-distance while Grant filmed in New Orleans. In 2017, Skau proposed.
"I thought it was coming, but it was a surprise," Grant said. "We had bought matching onesies and she proposed while we were wearing our matching onesies. And then we played card games. It was sweet, intimate, joyful and playful."
Skau said Grant makes her feel safe. "She's so self-possessed and supportive and we can always be honest with each other."
Grant echoed the sentiment saying, "This is the first relationship that I've felt where I've felt really seen and really heard. I feel so loved. And I feel like we can do anything."
She owns a hair spa
Acting in shows like Santa Clarita Diet aside, Grant is the owner and creator of Four Natural Hair Spa in Hollywood, California. The salon is dedicated to caring for Type 4 hair.
Grant says on the website, "Four Naturals began as a response to a traumatizing job experience and eventually became a mission to set every black woman with Type 4 hair, free."
She then explains that hair is her "family's business," with her mother, aunt, and grandmother having been in the industry. Grant adds that Four Naturals is more than hairstyling, it's about hair care, which she admits she, like many others, was never taught.
Her mission, she says, is a revolution.
Grant posts inspirational messages
One glance at Grant's social media pages and you'll get your daily dose of inspiration. Through Twitter posts and Instagram videos, Grant says things like "May your choices reflect your hopes, not your fears," and "Stay close to people who feel like sunshine."
The actress isn't afraid to give it to her fans straight. Such is the case in one of her recent videos where she mimes along with the words "work it out." Clearly, Grant has things to say and she's intent on sharing them with the world (and we thank you for it).
She models for different lines
The former NCIS: New Orleans star models for a few different lines. You might catch her dancing in Beyoncé's Ivy Park one-piece. Or, check out her random bathroom shoot to show off those Nike's.
No matter what Grant is doing, she's doing it full-out. Fans might miss seeing Agent Percy on NCIS: New Orleans, but the good news is, you can find her on many other platforms to fill the void. The real question is, what would Christopher LaSalle (Black) think?