What 'Grey's Anatomy's' Giacomo Gianniotti Says About the MerLuca Relationship
Some Grey's Anatomy diehard MerDer fans are still mourning the death of Dr. Derek 'McDreamy' Shepherd, played by Patrick Dempsey, who left the show in 2015. The iconic relationship between Derek and the show's focal character, Meredith Grey (played by Ellen Pompeo) will live in infamy. But now it seems that a new love has blossomed in Meredith's life, and with someone 20 years her junior.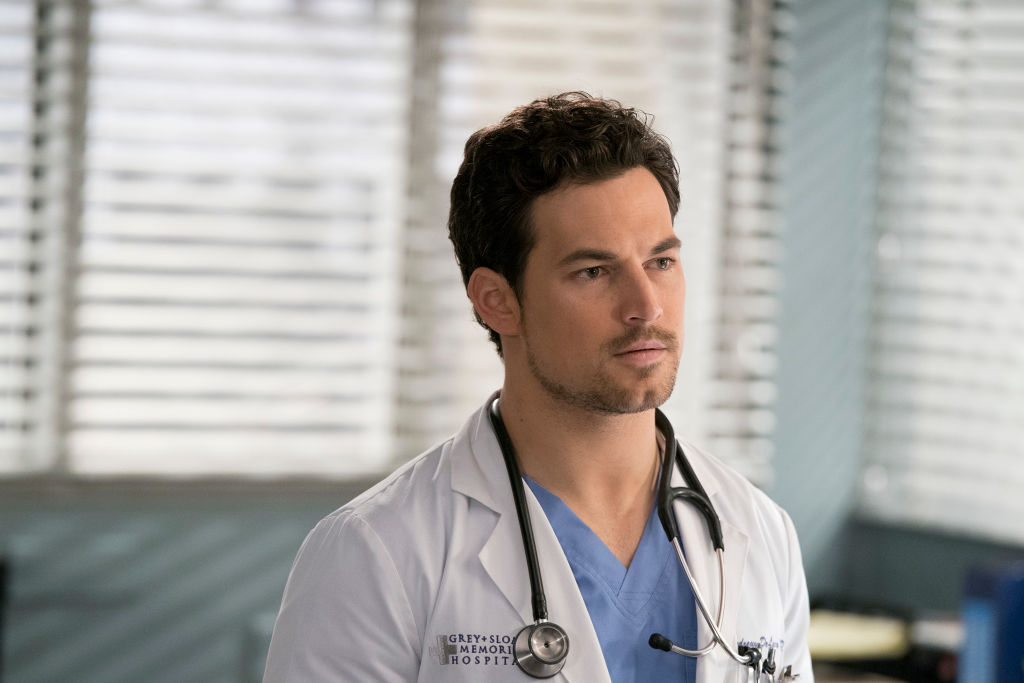 The young resident
Dr. Andrew DeLuca, played by Giacomo Gianniotti, has made quite a name for himself at Grey Sloan Memorial hospital. Now in a steamy relationship with Meredith, Dr. DeLuca has become part of the show's main storyline. In the season 15 finale, Meredith tells Andrew that she loves him, which is the first time she's used the 'L' word to any man since Derek's death.
So what's it like being the man after McDreamy? Gianniotti recently spoke to E! Online on preparing himself for fan reaction. "If you don't have haters, you're not doing it right. I think Biggie Smalls said that," Gianniotti said. "There's always division in everything, you know what I mean? And I think for anyone who truly loves her character should definitely understand that someone who is widowed also deserves to have a companion and to experience love again and to have that fulfilling experience, and that no one could ever hold a candle to her husband or that love story, but that person certainly deserves to have a love and companionship in their life. I hope people can kind of just understand that, and I would dare them to wait and see and try. There's a lot more storytelling that we have to do."
Gianniotti also addressed that with Pompeo's character being a single mom, he wants to portray DeLuca's commitment to Meredith and her kids. "He's definitely ready to take that on. That's something that we're sort of exploring mildly in the next coming episodes. It's a very real issue," he told E! Online. "She's a mother, that's not going anywhere, so if he's going to be with her, he's got to be able to take that on in a big way, in a real way."
The age difference
Prior to introducing the romance to viewers, showrunner Krista Vernoff had discussed with Pompeo and Gianniotti why she wanted the series to showcase a relationship where the woman is the older one of the couple.
"She was like, 'I want to flip that on its head. Why is it always the men that are always with these young women?' It's like nobody questions it, but when a woman is with a younger man, 'Oh, it's gross!' Weird labels are attached to it. So, she was said, 'I would like to explore that, that it can be empowering and sexy to be with someone younger. They can rejuvenate you,'" Gianniotti told E! Online of the conversation with Vernoff.
Vernoff noted that with Derek and Meredith's relationship, age was never brought up. "All the time on television you see older men with younger women and it is so common that it isn't even a thing that people notice," Vernoff told the Hollywood Reporter. "It was not a conversation that Derek was so much older than Meredith. It was just that he was the senior surgeon… I find it delightful to have the opportunity to flip that script."
Gianniotti, who happens to be married to a woman nine years his senior, said they are not deliberately trying to call attention to the two-decade age gap between the couple on the show. "The age difference between Meredith and Andrew is something that we're trying not to talk about because we've been preaching that love is love — and that includes age." he told the Hollywood Reporter.
On landing the 'Grey's' gig
Before becoming a major character on television's longest-running medical drama in broadcasting history, Gianniotti had some roles on short-lived shows, including the CW's Reign and ABC's Selfie. The actor is clearly appreciative of the opportunity to be on a hit show like Grey's Anatomy, telling E! Online, "I'm very grateful. I don't come from a lot of money or anything like that, my life has changed immensely,".
Gianniotti also believes in giving back, where he is active in the homeless organization My Friend's Place. He expressed his gratitude for being able to use some of his recent notoriety to benefit the charity.  "When I was much younger before I had success in my career as an actor, I would ring that bell and I would ask people to donate, show up with blankets or this or that. We would be lucky if we raised like $300 or $400," Gianniotti said. "But what's been so rewarding about the growth in my career and my following growing is that now when I ring that bell, I'm raising $20, 30, 40, 50,000 for campaigns and things like that," he said. "That's been extremely gratifying that I can provide that for people and causes and I hope to continue to do that."
Fans of Grey's Anatomy are eager to see what happens with MerLuca in season 16!