What Had 'Counting On' Star Jeremy Vuolo Gushing About Kanye West?
After making the big move to Los Angeles, Counting On stars Jinger Duggar and her husband, Jeremy Vuolo, are officially one step closer to hanging out with Kanye West. The Duggars are pretty much on the opposite side of the spectrum as the Kardashians, but it turns out they actually have more in common than meets the eye. After watching West's Jesus Is King film, the couple attended the rapper's show, Sunday Service — and Vuolo cannot stop gushing about it.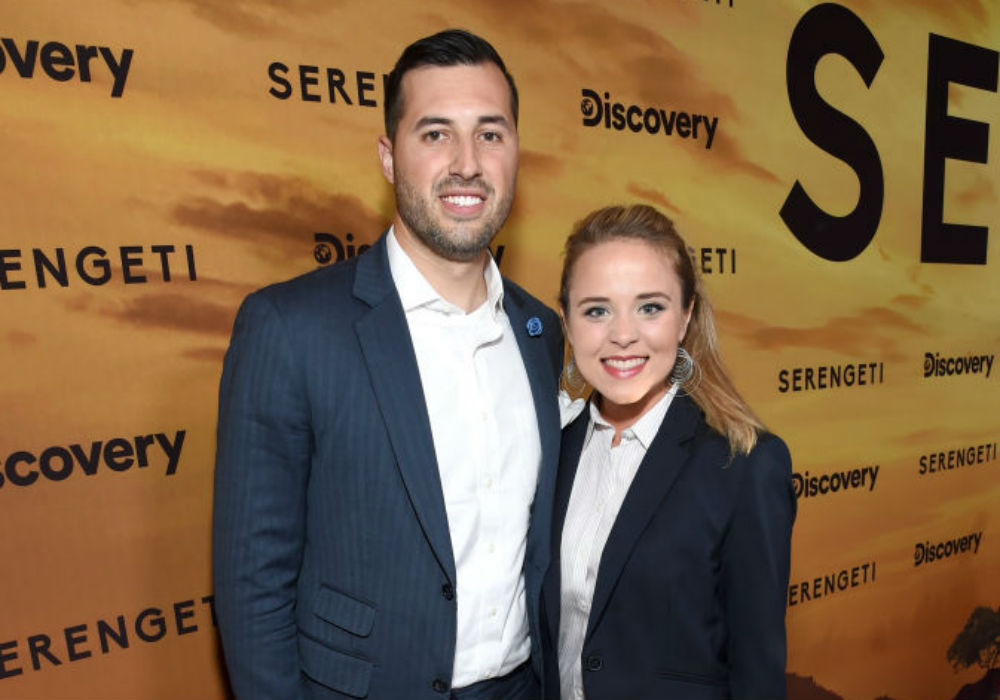 Vuolo gives West a shout out on Instagram
Taking to Instagram, Vuolo told his followers that he and Duggar were planning on attending West's show at The Forum.
The Counting On star expressed his excitement about seeing Sunday Service, despite some of the controversies surrounding the event.
"[We are] looking forward to seeing what it's like. I know there's been a lot of thoughts, a lot of opinions about it, about the new album, about the movie, about the Sunday Service, so [I'm] looking forward to seeing it, and I'll give you some thoughts afterward," Jeremy Vuolo wrote.
Vuolo later shared photos of the service on social media and offered his thoughts on what happened.
The reality star explained how West has basically invaded his life this past week. Not only did he listen to the rapper's new album, but he and Duggar watched Jesus Is King at the local IMAX.
With that context in mind, Vuolo revealed that he actually loved the service and everything that West has been doing in recent months.
"I enjoyed it," Vuolo shared. "I think, honestly, from an artistic, from a musical perspective, it was one of the greatest pieces of art, pieces of musical art that I've ever witnessed live."
When it comes to all of the negative reception West has been getting, Jeremy Vuolo revealed that the rapper's new pastor went to the same seminary that he is attending in Los Angeles. He also assured his followers that West is preaching the "true gospel."
He then told his fans that they shouldn't judge West on his past behavior and to enjoy what he is doing in the present.
West faces backlash for recent behavior
While Vuolo gushed about West on social media, the rapper has angered a lot of people over the past few weeks — and some of his comments have nothing to do with his newfound faith.
According to The Hollywood Gossip, West recently declared that his medications have been holding him back and were being used to keep him quiet.
He then turned around and blamed his doctors for using prescription drugs just to make him gain weight.  West, who has been diagnosed with a bipolar disorder, has lashed out in the past, so his recent comments are nothing new to anyone who has been following him over the years.
It is unclear if Jeremy Vuolo is aware of the extent of West's behavior, but his praises for the rapper have not gone over well with Counting On fans.
In fact, some fans have accused Vuolo of using West to gain more fame. There is no telling if this is actually a motivation, but it is possible that Vuolo is using the opportunity to jump into the spotlight.
Jeremy Vuolo's comments could also be chalked up to him genuinely liking the sermon, which would not be out of the ordinary.
The Duggars go Hollywood
Vuolo's recent commentary, of course, would not have been possible if the couple had not moved to Los Angeles earlier this year.
The couple has already adjusted nicely to living in the city, but last week's episode of Counting On proved that the rest of the Duggars had a harder time adjusting.
The majority of Duggar's family came out to Los Angeles to visit her and Jeremy Vuolo, who welcomed their first child, Felicity, last year.
But not all of them shared her love for the hustle and bustle of the City of Angels.
In one segment, Jessa Duggar revealed that she would much rather live in the country than a big city any day of the week.  While Ben Seewald disagreed, Joy-Anna Duggar and her hubby, Austin Forsyth, agreed that country life suited them a whole lot more.
Jim Bob and Michelle Duggar also made the trip to California and were absolutely thrilled to see their daughter living somewhere she has always dreamed.
The Duggars have not said anything about Jeremy Vuolo's comments regarding West — though we are sure we have not heard the last of it.
Fans can watch more of the family when new episodes of Counting On air Tuesday nights on TLC.