What Happened to Jackie Warner from Bravo's 'Workout?'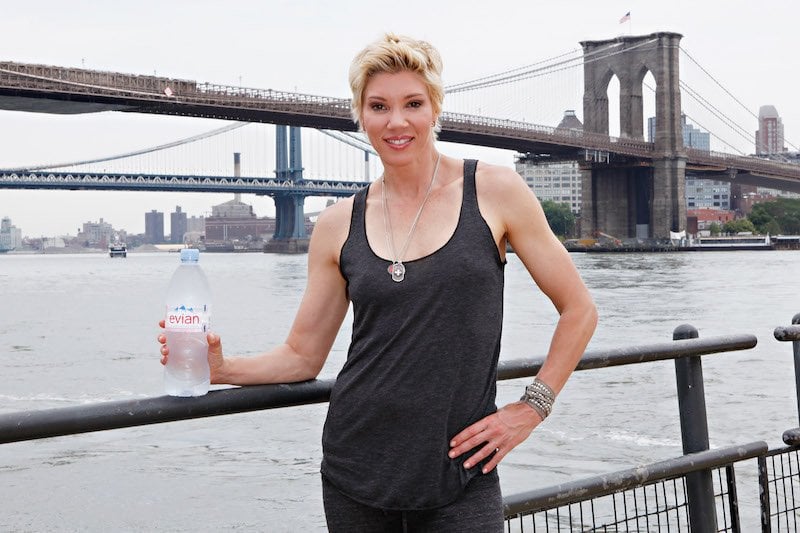 Fabulous fitness star, Jackie Warner was in the center of it all during the dawn of reality show mania. The tough-talking trainer with a sweet side from the hit Bravo show Workout dominated the network from 2006 to 2008.
Workout may have created the blueprint for just about every subsequent Bravo show to come. Include a strong, alluring leader, (Warner) and add in a cast of characters (trainers and clients) to deliver the perfect blend of drama and sex appeal. The show exploded and carried an enormous fan base. Warner even launched a workout video that featured four cast member trainers.
Warner's business seemed boundless, as she opened a specialty boutique fitness center, Sky Sport and Spa. However, Warner's glitter faded after she talked smack about a client who was a breast cancer survivor. Gatorade dropped the show as a sponsor and Bravo ditched her after three seasons, The Globe and Mail reports. Bravo struggled with season four, only including one of Warner's trainers and it flopped.  Clearly, Warner was the secret sauce that kept Workout sizzling.
Warner insists this was really going on
She was indignant and protective about her reputation after Bravo canceled Workout. "My image is not damaged," she told The Globe and Mail. "I'm the top third trainer. I'm working with Sears right now. I had a bestselling book. Fifteen weeks on The New York Times bestseller list."
"I have another two-book deal now. I've got four DVDs that are No. 1 wherever they sell," she added. I am in magazines four times a month every single month consecutively. My image is not damaged."
Warner says the Bravo executive who she trusted most went on maternity leave and the producer left in charge "disliked me very much." She had no control over the editing.
Warner tried another fitness show
Bravo canceled Workout but cast Warner a new show that closely resembled another show gaining traction called The Biggest Loser. Warner's show, Thintervention would film on one condition. "I said if I ever do another show with you I have to executive produce it and edit it," Warner told The Globe and Mail.
The show, debuted in September 2010, featured a number of people hoping to drop some pounds. Even Jeanna Keogh from The Real Housewives of Orange County was a contestant. PopSugar featured the gist from a Bravo press release about the show: "Each episode of the one hour series will feature a grueling workout with Warner pushing her clients to their emotional and physical limits, a therapy session to get to the root of their weight issues, and a life lesson in nutrition such as grocery shopping or surprise raids of their home kitchens."
Although fitness reality shows were ramping up, Thintervention only lasted one season and averaged 810,000 viewers.
But then she walked away for good
Bravo reported on  Warner in 2015 after she experienced a lengthy hiatus from reality TV. She updated fans on her (now defunct) website. She sold her tony gym, Sky Sport and Spa and was raw and open about the past few years. "To be honest, I felt a bit lost and started partying a lot. It felt like I was taking a few steps backward in life and I started making bad decisions."
She quit drinking and dating for a year, plus she cut out a just about everyone in her life. She also stuck to her workouts. "My new mantra is 'when in doubt, go workout,'" she wrote. "When I was super lonely, I went to the gym. When I wanted to drink, I went to the gym." She also revealed in 2015 she was undergoing fertility treatments and hoped to have a baby someday.  She also dealt with tragedy as one of her former trainers, Greg Plitt was killed when he was hit by a train.
Then life took a darker turn
Warner was arrested in February 2017 for felony assault with a deadly weapon, Hollywood Life reports. She went out to lunch, had a martini and took an Uber home. However, she got into her car and drove it into a pole in West Hollywood. Apparently, she tried to reverse the vehicle, almost hitting an LA County Sheriff's Deputy. She was arrested at 5:45 pm, wearing no pants and only underwear. Her blood alcohol registered at 08, which is just at the legal limit for California.
Warner claims she woke up in the hospital and remembers nothing, according to Hollywood Life. She also asserts after she returned home from lunch, she took an Ambien and woke up in the hospital, TMZ reports.
Her attorney managed to score a great plea deal and Warner swore off all sleep mediation for good, TMZ reports. She says she takes responsibility for being on the sleep medication and it was a wake-up call to get off all meds. Also, she feels better and thankful to be alive. She acknowledged the aggressiveness coming from the police. And said while in her jail cell she thinks if she were a young black man, she would have been shot instead.
Where is Warner today?
Warner seems to be enjoying life. She turned 50 in August and celebrated with friends. "Turned 50 on Sunday! 🎉 Don't be fooled by my RBF 😜 I am so happy and ready for all the amazing blessings already coming my way this year," she wrote on Instagram. She also became an aunt to Avery the same month.
Warner also hinted that more books and videos were forthcoming. "Get ready to find your strong, find your sexy and find yourself!!!!! Preorder will be coming soon!" she posted on Instagram. She replied to comments and said, "I have four super big projects I was working on last year. I can now focus fully on books, workouts and teaching people how a positive body/mind connection is quickly and effectively life changing x"
When a fan asked when the book would be ready, she replied, "Can you wait til sept 2? My new 20/20 diet/exercise/supplement program is coming! If not than my first book This is Why You're Fat. Is amazing all around food and fitness)."
Check out The Cheat Sheet on Facebook!