What Is Aaron Carter Doing Now?
It's been a minute since Aaron Carter made major headlines. Find out what he's up to now.
Aaron Carter had some success when he was young, but at 31, Carter has had a troubled adulthood. His sister, Leslie, tragically died of an overdose back in 2012, and it seems like Carter has spent a lot of his adult life battling many of the same demons she did.
On top of that, he has had to deal with some mental health issues that go beyond the pale compared to most people. So what is Carter up to these days, is he doing okay, and what exactly has he been dealing with for the past decade or so?
Aaron Carter admits he has struggled with drug addiction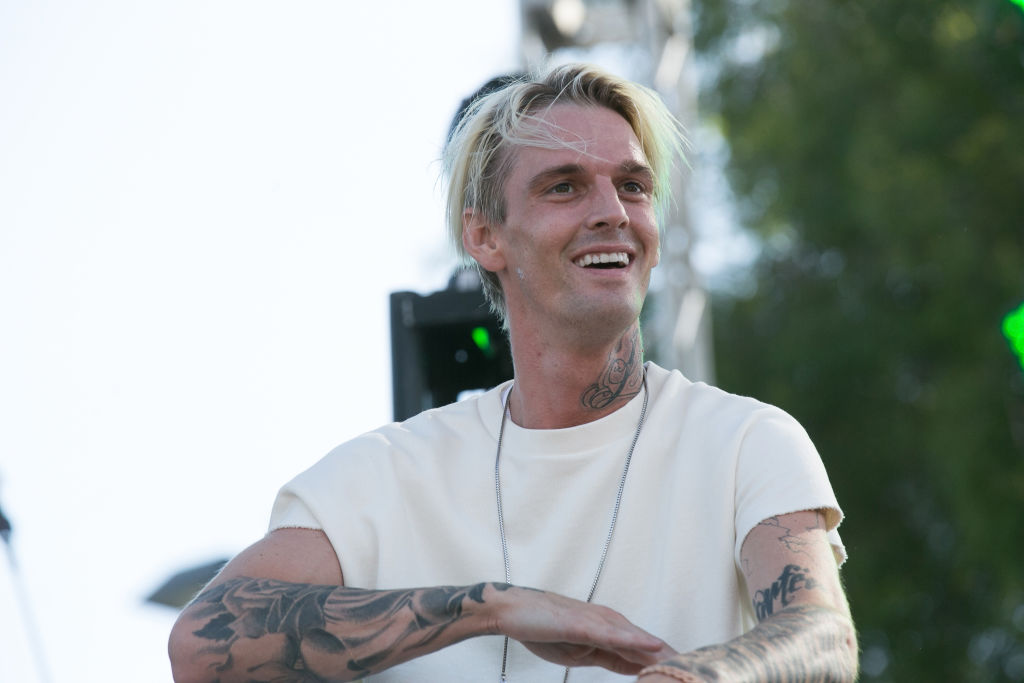 In the past, Carter wouldn't necessarily own up to all aspects of his drug addiction. That changed recently when he appeared on The Doctors and confessed that he's been struggling with various forms of addiction for years now. When talking about his huffing, he said: "It's something that I've kept secret from the whole world until now."
The results of a urine test he did for the show tested positive for marijuana, opiates, and benzodiazepines.
Carter admitted that his sister Leslie had got him hooked on huffing before her tragic death and that it's something he did for years thereafter. It got so bad that he said he now has to take fish oil and gabapentin "to repair the serotonin receptors in [his] brain." He said it started when he was 16 but that it got way worse after he appeared on Dancing With The Stars when he was 23.
"I was huffing because I was really f— stupid and sad but this is really no excuse, I was huffing because I'm a drug addict." Luckily, he got rehab (twice) in 2017 and hasn't done it since, saying "I can say I've been through hell and back and I'm here to stay."
Aaron Carter has also been battling some pretty serious mental health issues
At least some of what appeared in Carter's system for the test on The Doctors can be explained by his mental health situation, which is pretty rough, to be honest. He not only suffers from acute anxiety but also multiple personality disorder and schizophrenia, which explains the benzodiazepines he was prescribed to take.
On the show, he claimed that the opiates were only in his system due to some hydrocodone he took after some dental work. However, he did say he took opiates in the past before he went to rehab back in 2017.
As for the marijuana, he claimed that while he does use it, he is trying to quit because it messes with the medications he actually needs to take for mental health reasons.
There's a lot of drama in the Carter family dynamic
On top of everything Carter has been going through, there's all the stuff going on with his family. Most people know that his brother Nick was in The Backstreet Boys, but a lot of people don't know that the two brothers have been estranged for a long time.
As recently as September, Nick and his sister Angel requested a restraining order against Aaron because Nick claimed that his brother had threatened him, his wife, and even their unborn child. They even had to increase security. Since then, Nick and his wife have had the baby and they seem to be keeping their distance for obvious reasons.
Meanwhile, to add fuel to the firestorm in the Carter family, Aaron recently accused his late sister Leslie of sexually abusing him when they were growing up. Aaron may be doing better on the drugs front, and a lot of his struggles are understandable, but it seems like his family still wants him to get more help dealing with his trauma if he wants to be around them.