In the past few years, BTS has become one of the biggest boy bands in the world. Their albums have sold millions of copies and they have played shows in countless countries, going from just another act in South Korea to a household name on every continent.
With such a successful career, many people are no doubt wondering just how much BTS has earned throughout the years. Do they have a high net worth to match their worldwide fame? Read on below to find out the answer.
BTS is the most successful K-pop group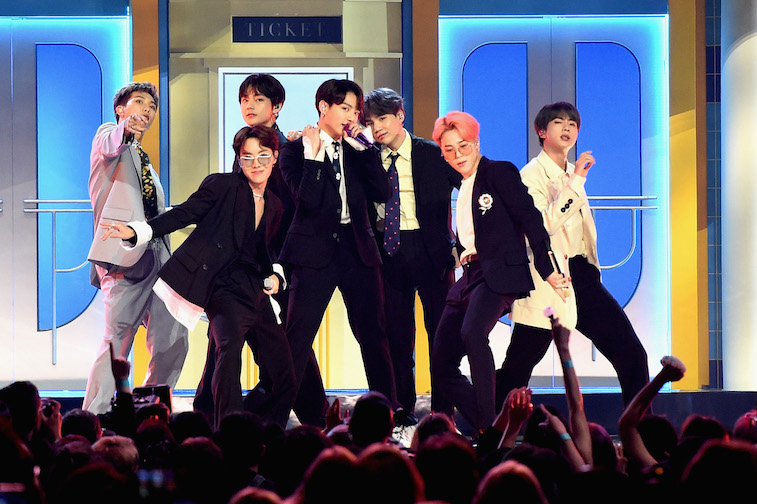 BTS debuted in the South Korean music industry (called K-pop) in 2013. Back then, however, they were far from being the superstars that we know them as today. Their debut single, "No More Dreams," was hardly a hit and charted only at No. 124 in South Korea.
With numerous boy bands debuting in South Korea every year, competition was fierce. It also didn't help that BTS came from Big Hit Entertainment, a small company with little money and resources, and were going up against groups backed by big, wealthy labels.
However, BTS decided to stand out by being different. They wanted to connect with fans and be authentic, so the guys wrote a lot of their own songs that contain lyrics about teenage life and social issues faced by young people. The members of BTS also were very active on social media, where they frequently posted pictures and talked to fans via live streams.
In 2015, BTS' single "I Need You" charted at No. 5 in South Korea and the group's popularity took off. International success for BTS came two years later after they won an award at the Billboard Music Awards.
Since then, they have won four Billboard awards, four People's Choice Awards, and hundreds of others around the world.
BTS has also appeared often on American TV shows and even made history for being the first K-pop group on Saturday Night Live.
What is BTS's net worth?
According to various sources, BTS has a combined net worth of between $45 million and $60 million. The group makes most of their money from selling albums, touring, and being brand ambassadors for numerous companies around the world.
It's also important to note that each of the seven BTS members also has his own individual net worth. For example, they all have songwriting credits for their music, but the three rappers (RM, Suga, and J-Hope) have done the most work in the production of their songs.
Additionally, RM, Suga, and J-Hope have each released their own solo music, so there's no doubt that their bank accounts look different than the other members'.
The oldest member of BTS, Jin, also has his own restaurant in Seoul, South Korea, that he opened in 2018 with his brother.
And another member, V, is an actor. He appeared on a popular Korean drama in 2016.
What does BTS spend their money on?
Although BTS has a lot of money, the guys are often humble about it and do not live ultra-extravagant lifestyles.
Their biggest splurge seems to have been their houses. Last year, they bought a huge apartment complex together that is worth $6.3 million. It is also located in one of the most exclusive areas of Seoul and has a lot of security for the world-famous boy band. The seven members of BTS actually used to all live in one room together when they first started out, so the new home is no doubt a big upgrade.
While BTS continue to room with each other, four of the members (Jin, Suga, J-Hope, and Jungkook) have bought their own places as well – all very luxurious and worth millions of dollars.
BTS also put a lot of their earnings towards charity causes. Between the members themselves, they have donated large amounts of money to support UNICEF, schools and hospitals in South Korea, and those affected by the 2014 Sewol tragedy.