What is Conor McGregor's Net Worth?
Conor McGregor is one of the most well-known mixed martial arts (MMA) fighters in the world right now (he is also a boxer), but his unbelievable skill is only part of the reason. He also has an attitude that's gotten him into trouble on several occasions. But at the same time, it also adds to his fame. McGregor is in the midst of a likely historical career — but what is the MMA star's net worth?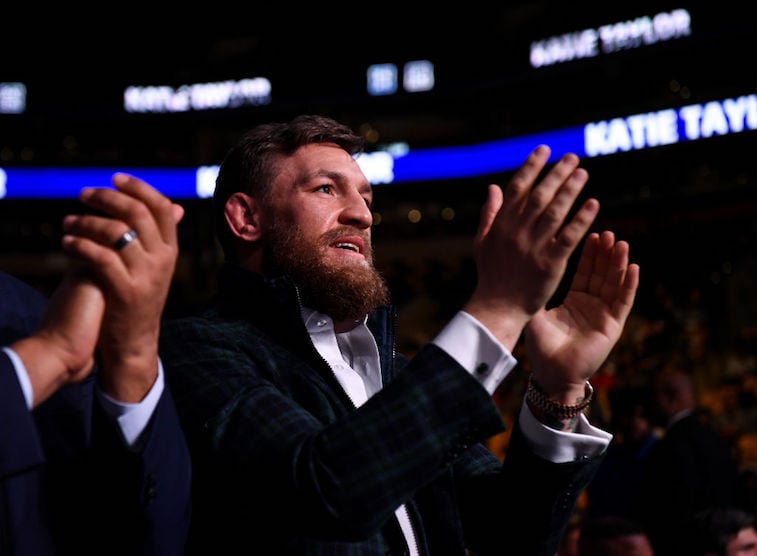 McGregor didn't start MMA training until he was out of school
Although it seems as if McGregor has been practicing MMA since the day he was born, it's actually quite the opposite. He was born in Crumlin, Dublin, Ireland, and actually played soccer growing up. He was a huge Manchester United fan and had dreams of becoming a professional soccer player, as nearly everyone in Ireland did as a child. Although he didn't stick with the sport, it did ignite his passion for sports overall — and his passion to have a crowd cheering for him. But he didn't get involved with UFC until after he was out of school; he had taken a plumbing apprenticeship in Lucan, Dublin, where he met Tom Egan, who would also become a well-known UFC fighter. The two began training together, and the rest is history.
He is the former UFC lightweight and featherweight champion
McGregor has seen massive success as a MMA fighter and has arguably become the most well-known MMA fighter in the world. He's made millions of dollars from the sport and has won both Lightweight and Featherweight Championships throughout his career. In October 2018, he fought Khabib Nurmagomedov in a highly anticipated matchup. McGregor lost the fight but still made $1 million more than Nurmagomedov, which shows how important McGregor is to MMA and UFC.
His first professional boxing match was against Floyd Mayweather Jr.
McGregor was a professional MMA fighter, but he had also trained in boxing when he was young. Despite not having a professional career in the sport, he talked a big game and wanted to box retired champion Floyd Mayweather Jr. Mayweather finally entertained the idea, and the two agreed to a match — with an unbelievable amount of money on the line. Before the fight even happened, Mayweather was guaranteed $100 million, and McGregor was guaranteed $30 million. When all was said and done, McGregor lost but ended up making around $100 million (Mayweather took home about $275 million).
As of 2018, McGregor was worth an estimated $99 million
According to Forbes, McGregor's net worth was estimated at $99 million in 2018. But his fame and money has also come with a few issues. McGregor has gotten in trouble on several occasions for acting out. In April 2018, McGregor threw a chair through a bus window and was sentenced to community service and anger management. Then, in 2019, he allegedly took a fan's cell phone and stomped on it in a fit of anger. He's had a few run-ins with the law in his professional career and has narrowly escaped felony charges. But at least he has plenty of money to bail himself out.
Check out The Cheat Sheet on Facebook!