What is DaBaby's Net Worth and How Did the Rapper Become Famous?
Musicians come and go. Some are just one-time sensations while others become household names. Depending on the type of music you listen to, the name DaBaby may ring a bell.
He's a famous rapper with a pretty hefty net worth, some significant connections, and a big personality who's gone from viral interest to one of the biggest hip-hop stars practically overnight. So exactly who is DaBaby?
Who is DaBaby?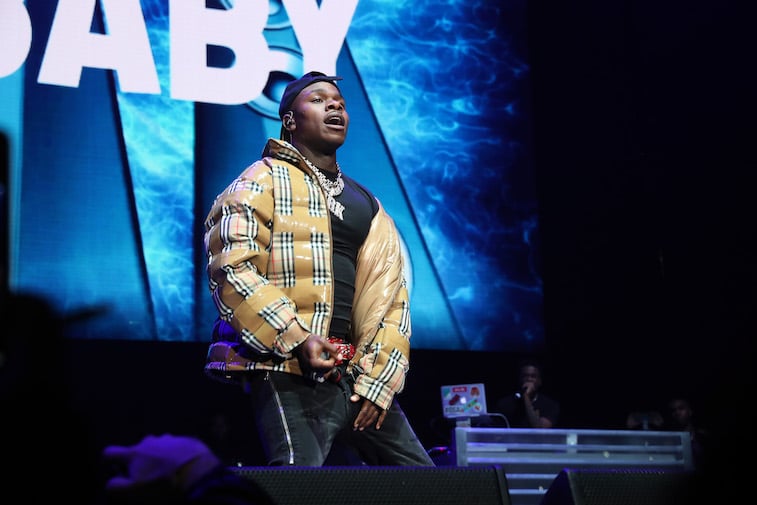 Johnathon "DaBaby" Kirk was born in 1991 in Cleveland, Ohio, and raised in Charlotte, North Carolina. His younger years were filled with brushes with the law, and he sought out rap music when he allegedly turned his life around in 2014.
He started out as the rapper Baby Jesus with the desire to help others in the same situations he'd been in. He's had a few viral moments, like the time he famously wore a diaper to SXSW in 2017. He's got a strong work ethic and hasn't let his newfound fame slow him down or distract him. He has paid for all the videos he's been in and in many ways, has made his own path to success.
His signature style is a syllable-crushing force that is distinct among his peers. But he's perhaps best known for his freestyling. In fact, he claims he's the greatest rapper that's ever lived. That may seem a little over-the-top, but it shouldn't be surprising. Especially since he also claims that only Denzel Washington is worthy of playing him in a movie about his life. 
A rap sheet and a record deal
DaBaby first signed a contract with Jay-Z's Roc Nation, but that was short-lived and likely because his name became associated with a shooting. In 2018, he was shopping with his daughter and her mom when two men threatened him with a gun.
He responded with a shot that killed one of the 19-year-old suspects and was eventually found guilty of a misdemeanor for carrying a concealed weapon.
He's had other legal issues too. He's beaten an aspiring artist that was harassing him, punched a fan who got a bit too handsy with him, and has been involved in other violent incidents. So while he did desire to change his life from his earlier years of legal woes, he's still been involved in plenty of them. 
At the beginning of 2019, he inked a deal with Interscope Records, which put him on the map officially. He even snagged the best new hip hop artist award at the 2019 BET Awards. His second record features Migos, Chance the Rapper, and Gucci Mane, and he's continued to partner with big names in the industry.
It's already been called one of the best hip-hop albums of the year. He's also been on Saturday Night Live as one of their musical guests, which is pretty impressive in and of itself. 
Here's how much DaBaby is worth
According to Celebrity Net Worth, DaBaby is worth $3 million. Other sites have listed him between $3 and $5 million. Either way, he's been on the rapper scene since 2014 and hit fame pretty quickly by music industry standards. His net worth is due in part to releasing two albums in 2019 alone.
His debut album reached #2 on the US Rap chart and #3 on the US R&B/Hip-Hop chart, and his second album reached #1 on both. He's also already accumulated a nice list of features with famous artists like Post Malone and has an upcoming song due out with Camila Cabello.
Follow along with DaBaby
You can find DaBaby's music in various places, including Google, Spotify, Apple Music, and YouTube. You can buy his debut album Baby on Baby or his second album Kirk in stores.
Some of his songs before his official label-released records are also online. You can follow Cheat Sheet for the latest on DaBaby, as he's always up to something.