What Is Former Child Star Hilary Duff's Net Worth Today, and What Was Her Biggest Role After 'Lizzie McGuire'?
One of the best-known child stars of the early 2000s, Hilary Duff has remained popular even well after the Lizzie McGuire series ended in 2004. The beautiful blonde star has a solid family life, red-hot career, and a lot on her calendar in 2019.
How Hilary Duff got her start
Hilary Duff is a Texas girl, born in Houston in 1987 to parents Robert Erhard Duff and Susan Colleen. Along with her older sister Haylie, Hilary Duff participated in acting, dancing, and singing lessons from the time she was very young. When Duff was six, her mother took her and her sister to California in order to pursue the girls' interests in the performing arts. Duff got her start acting on screen in various television commercials, and modeled for several kid's clothing brands next to her older sister.
She had several small roles in films such as Playing by Heart, Casper Meets Wendy, and The Soul Collector. Duff started receiving attention for her talent and presence around this time and even received the Best Performance in a TV Movie or Pilot (Supporting Young Actress) Young Artist Award for her role in The Soul Collector. It was Duff's next role, however, that was to define her career and propel her to Disney Channel stardom.
Hilary Duff in 'Lizzie McGuire'
In 2001, Duff was cast in the title role in The Disney Channel's brand-new series, Lizzie McGuire. The show centered around the adventures of teenage Lizzie McGuire, whose emotions are acted out on screen in the form of her animated alter ego. The show featured a fun mix of comedy and drama as Lizzie, along with her best friends Miranda and Gordon, known as "Gordo," navigated the trials and tribulations of high school life.
The show became an instant hit, and Duff was catapulted to fame as a teen idol. She made many appearances on behalf of Disney Channel and was featured on the covers of teen magazines, her style, habits, and favorite things highlighted and scrutinized. Lizzie McGuire ran for four years, and fans of the show have been clamoring for a reboot ever since.
What is Hilary Duff's net worth?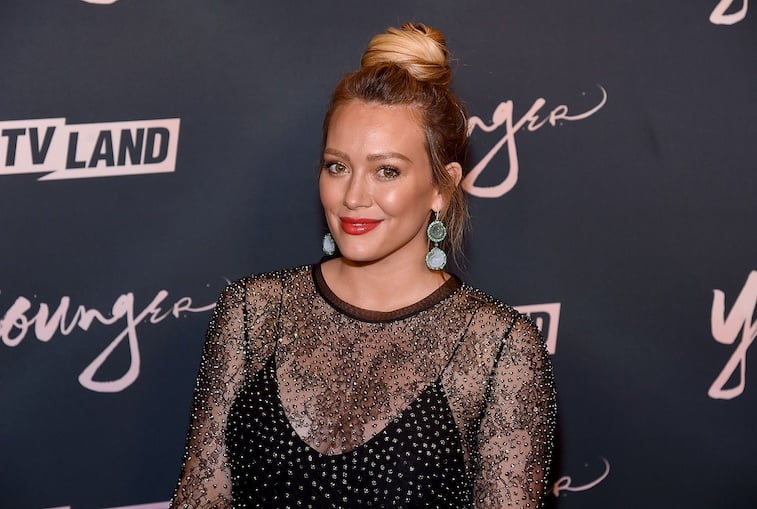 Duff stayed very busy after her TV series ended it's run. With her interest in music, she turned her attention to a recording career. Her album Metamorphosis was released in 2003 and was incredibly popular, prompting Duff to release her self-titled album in 2004. Combining her new success as a recording artist with a vibrant acting career, Duff's net worth has risen over the years to $25 million.
Duff is also a clothing designer and released a line with Target and a very successful perfume called 'With Love…Hilary Duff' in 2006. All these other projects don't mean that Duff has left acting behind, however – her TV appearances include roles in Gossip Girl, The Chase, Raising Hope, Two and a Half Men, and a recurring role on the popular show Younger.
What's next for Hilary Duff?
In 2019, Hilary Duff will be starring in her first movie role in seven years, acting in the independent film The Haunting of Sharon Tate. Based on the infamous Manson murders, the film will let Duff put her dramatic acting skills to the test, as she acts alongside Lydia Hearst and Jonathan Bennett. The film might prove to be Duff's biggest project of the past decade.
Of course, Duff also has plenty happening on the home front as well. She recently welcomed her second child, a baby girl named Banks Violet. Duff has been refreshingly open and honest about parenthood on social media, revealing that celebrities are human too, and taking a stand against Photoshopped images. Duff's relatability is yet another reason why she continues to earn new fans year after year!