What Is Glenn Close's Net Worth?
For whatever reason, we frequently take many of the very best actors for granted. You can name at least half-a-dozen actresses (and actors) who are always good in everything, yet don't get enough recognition for it. Glenn Close is certainly in the Top Five, if maybe #1 now.
She's long been one of the most diverse actresses, but also takes on many neglected women character roles.
Right now, she's a long way from her old Fatal Attraction days in playing characters with far more depth (i.e. The Wife). Currently nominated again for Best Actress at the Oscars, what is Close's net worth at the age of 71?
The stage (and cults) nurture more insight into the human condition
We've been writing a lot about celebrities lately who started on the stage first. It's truly a breeding ground for understanding character depth and communicating this compellingly to an audience.
Glenn Close worked on the stage a little longer than some actors have before transitioning to movies. However, she also had a particular life experience perhaps dictating her deeper understanding of her characters' psyches.
When her family joined the Moral Re-Armament movement during the 1950s, her overly strict upbringing gave her the desire to want to become an actress. You also have to wonder if Close saw what this cult did to women, hence her stunning portrayals of those who've had to suffer through repression.
By the time Close found her way out of the MRA cult, she worked on the stage seven years before being discovered for the big screen.
Working with Robin Williams in her first film
While it abstractly seems like Glenn Close has been in film longer than just 37 years, we forget it wasn't until 1982 when she appeared in her first movie. Not ironically, it was playing a strong and independent female who happens to have a child out of wedlock.
In The World According to Garp, you could say Close's performance as Robin Williams' mother was a mostly dramatic performance, despite the film being a satire.
Her standout performance earned her an Academy Award nomination while still working on the New York stage where director George Roy Hill discovered her for Garp. A year later, she was nominated again for The Big Chill while subsequently winning a Tony and Emmy. Back then, they could have called her a TEO as an alternate to an EGOT.
Dozens of unique character portrayals
Just take a look at the long list of movies Close has made in the last 37 years and you'll see one unique female character portrayal after another. The same goes for her many TV and stage performances, with repressed and depressed Norma Desmond in the musical Sunset Boulevard being a recurring favorite.
This is why it's halfway criminal she hasn't won an Oscar by now. Despite recent wins for The Wife at the Golden Globes and the SAG Awards, Close is still 0-6 at the Academy Awards. She simply has to win finally, and all bets are on she will.
If she wins, it'll take us out of our complacency of not appreciating Close enough. How much money has she made, though, during an acting career we've never seen wane?
Could Close double her earnings if she wins an Oscar?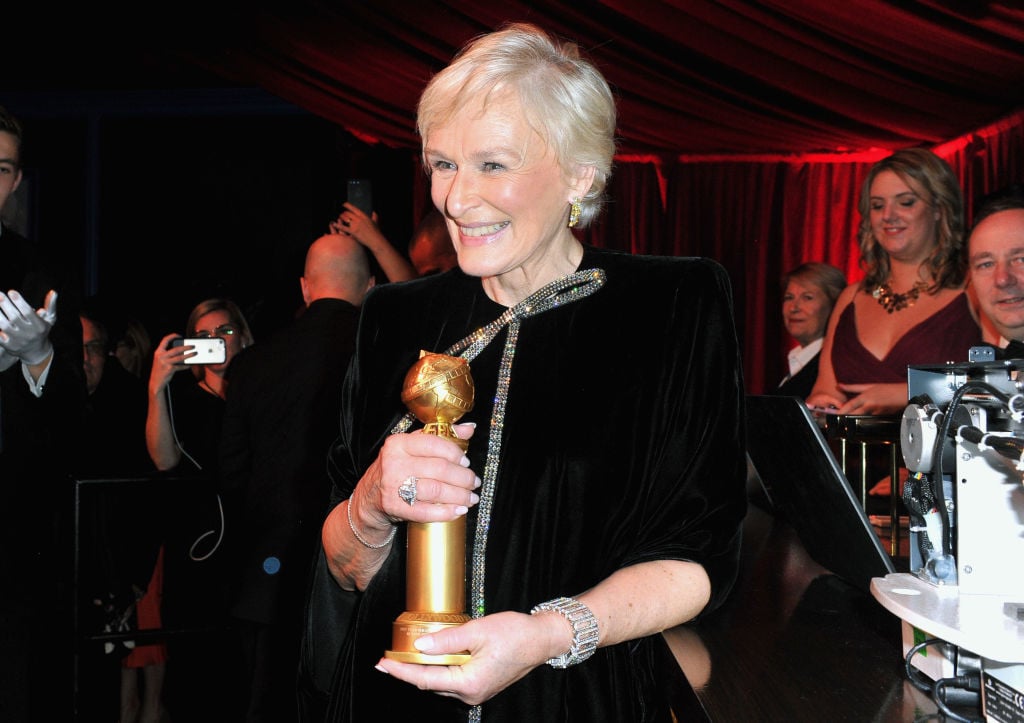 According to official sources, Close is worth $50 million, which is very substantial. Still, it's arguably less than other actresses of her caliber should be worth.
After 45 years of being a hardworking actress with limitless vision for how she portrays her characters, it's about time Close moves to an even higher rank. Let's hope we see her rise to $100 million by 2020 when she can once and for all place a shiny Oscar on her mantle and resume.