What Is Jerry Springer's Net Worth In 2018?
During the '90s, Jerry Springer was a staple on our television screens. The England native was the host of one of the raunchiest and most exploitative tabloid shows ever. The Jerry Springer Show began in 1991, and initially, it was supposed to be a political commentary program. Meant to mimic The Phil Donahue Show, the Tulane alum spoke out about gun violence, homelessness, and other things that significantly affected the American public.
However, as the ratings struggled and cancelation was looming, Springer and his producers decided to shift gears drastically. By 1994, The Jerry Springer Show was a tabloid sensation — inviting guests on who were dealing with salacious family scandals, infidelities, and everything in between. It was so popular that it beat The Oprah Winfrey Show in ratings in some cities. After airing for 27 seasons, The Jerry Springer Show finally said goodbye in July 2018. So what is the famed tabloid host worth these days?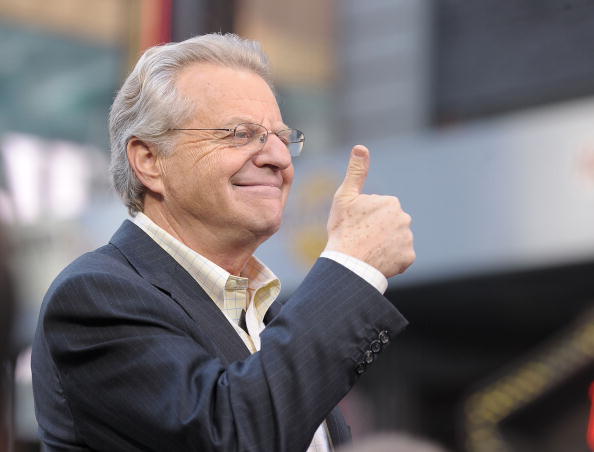 Jerry Springer's net worth
It certainly pays to be the king of trash TV. According to Celebrity Net Worth, Jerry Springer is worth a massive, $60 million. At the peak of The Jerry Springer Show, he was bringing home an enormous salary of $8 mullion per year. The series brought in a massive 6.7 million viewers per day and become iconic in popular culture getting referenced in everything from Austin Powers to The Simpsons. Though none were as well-known as the show itself, the series also had spin-offs.
In 2005, The U.K. aired their own version of the show called, The Springer Show. There was a VH1 series called The Springer Hustle which aired in 2007 and took audiences behind the scenes of the program, and Springer also hosted The Jerry Springer Podcast.  After 27 years in the TV game, we'd say $60 million isn't too shabby.
Judge Jerry
You might not know it, but Jerry Springer has a law degree which he earned from Northwestern University in 1968, he was also a political advisor to the late Robert F. Kennedy, and he was mayor the mayor of Cincinnati from 1977-1978. Therefore, it might not seem too shocking that Springer is set to return to TV on a new NBC series titled, Judge Jerry.
https://www.youtube.com/watch?v=SObDuqJDxnA
The series is set to be in the same vein as Judge Judy or Judge Mathis. Springer said of the new series, "For the first time in my life, I am going to be called honorable. My career is coming full circle, and I finally get to put my law degree to use after all these years."
Judge Jerry is set to premiere in 2019, and it will be an hour-long format where Springer will hear real-life cases and make a final judgment at the end of the program. Tracie Wilson, a creative-affairs exec at NBC Universal TV Distribution said of the show, "Judge Jerry will merge Jerry's talent for connecting with people, his incredibly relatable and funny personality and his legal training and governing experience to bring viewers a more entertaining court show. We are so happy to continue our fantastic partnership with Jerry, who is a proven TV icon with a dedicated and broad fan base."
If the show is successful, one thing is for sure, it will only help the notorious host's net worth.