What Is Jessica Capshaw up to Since Arizona Robbins Was Unexpectedly Written off of 'Grey's Anatomy' in Season 14?
Fans still miss Arizona Robbins (Jessica Capshaw) and her bubbly personality. She was a staple of Grey's Anatomy for ten seasons, and we were heartbroken when she left.
Robbins' move to New York to be with her daughter was a happy ending for the character, so at least we can still imagine her there. What has Capshaw been up to since leaving Grey's Anatomy?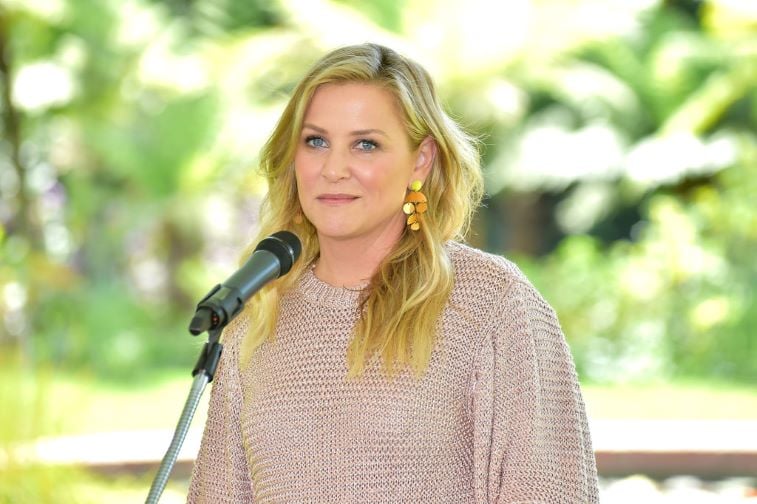 Like her ex-costar, Sarah Drew, Capshaw is making a 2019 holiday movie
It looks like Grey's Anatomy fans will have to get their Arizona and April (Sarah Drew) fill from Christmas movies this holiday season. Drew is starring in a Lifetime movie called Twinkle All the Way. While Capshaw is starring in a Netflix holiday movie titled Holidate. Capshaw announced on her Instagram account in May that she would be joining the crew. 
Capshaw wrote, "This just in…thrilled to join this massively talented (and hilarious) group of lovely people to bring you a profoundly charming and funny new movie called Holidate. Netflix had me at hello with this one, and I couldn't be more excited to get back to the business of bringing joy and laughter to a screen near you."
The movie, written by Tiffany Paulsen, also stars Kristen Chenoweth, Emma Roberts, and Luke Bracey. Roberts and Bracey are the two single holiday-haters who team up to be each other's plus-ones at all of their family functions to avoid the constant ridicule of being the only singles.
Capshaw is excited to act with a large group of big-name stars. We look forward to seeing the movie on Netflix this holiday season.
Capshaw is busy teaching her four children to be kind and love everyone
Capshaw is a working mom of four children. She and her husband, Christopher, have one boy, Luke Hudson Gavigan and three girls, Eve Augusta Gavigan, Poppy James Gavigan, and Josephine Kate Gavigan.
She recently posted a photo of her daughter, Poppy, in front of a beautiful rainbow with the caption, "Poppy and I found this beautiful wall art on the street when we were taking a walk. She stopped in front of it, and we talked and talked about what the rainbow represents for #lgbtq and why it's so important to have pride month. I was most grateful that to her people being proud of who they are, in whatever form they are, should never be questioned. Love is love is love is."
Capshaw's Instagram account is full of testaments like this one, "Stepping up every time that you see someone in need. Giving everyone the benefit of the doubt because you simply cannot know what struggles people endure. Empathy. Curiosity. Kindness. Courage."
She is raising her children to love and be kind to everyone.
Capshaw loves to travel the world and attend charity events
Recently, Capshaw posted photos of herself and her daughter, Poppy traveling through Europe. They visited the Louvre in Paris. They also celebrated Capshaw's birthday in Nerano, Campania, Italy.
They also spent time in New Amsterdam as well as Old Amsterdam. Capshaw wrote a special little note to each city the duo visited. She wrote, Peace out, Amsterdam. You were a joy to behold. Thank you for your kindness and hospitality; we appreciated it deeply. We feel super lucky to have spent some time with you."
Capshaw attends various charity and benefit events. In April, she attended The annual Heart of VIP event to raise funds to Help Ease Abuse Related Trauma.
Capshaw wrote that it "is an event that I look forward to each and every year. I'm so grateful to be on the board whose main goal is to promote GIVING to people whose lives depend on that GENEROSITY. And to provide necessities to people in need because of that generosity. Dr. Astrid Heger runs the program and lives every day amongst those who have suffered at great cost (physical and emotional) at the hand of another human being. As we all struggle to make sense of that, let us all also struggle to find a way to give as much as we can to one another on any and every level. 
While she's not busy acting, Capshaw is spending time with her family and trying to make the world a better place.