What Is Khloe Kardashian's Morning Routine?
Khloe Kardashian is known for loving the gym. She's referred to it as her "sanctuary," and it's fitting that her day begins with a visit to the gym. Keep reading to learn what the youngest Kardashian sister does on any given morning.

Her alarms goes off at 5 a.m.

Kardashian is clearly a morning person.

"I wash my face and put sunscreen on. Sometimes I'll even do a little glam for the gym, but nothing takes a lot of time in the morning," she said on her app, according to The Daily Mail.

She fuels up for her workout

By 5:13 a.m. she's already got her hair up in a ponytail and is eating a packet of Justin's almond butter.

"At that hour no one wants to eat, but I need a little something to fuel my workout."

She's out of the house in 20 minutes

Between 5: 20 a.m. and 5:30 a.m., she's getting ready to leave the house for a training session with celebrity trainer, Gunnar Peterson.  

In an interview with Women's Health in 2015, Kardashian talked about why she trains with Peterson.

"I've known Gunnar since I was 15. My mom would take me to school, but I would have to go early for her training session, and I'd see Puff Daddy, Jennifer Lopez, and Cameron Diaz. So when I was like, 'I'm going to [start] a fitness routine,' that's who I called," Kardashian said.

She's said before that she likes to switch up her workouts.

"I love SoulCycle, hot yoga, circuit training, obstacle-type things," Kardashian told USA Today. "I don't like to do the same workout all the time."

She does affirmations with True

On her now shutdown app, Kardashian said she does daily affirmations with her baby, True Thompson.

"She's only a few months old, but we stand in the mirror, and I say something to her reflection, and I pretend she's saying it back to herself. Social media is a gift and a curse, but I really want to make my daughter feel beautiful and teach her that makeup is fun but, at the end of the day, none of us need it. Let it just be something you enjoy."

Kardashian loves a routine

When True was born, Kardashian was OK with the newborn baby routine. "The truth is, all babies do is eat, sleep, potty, REPEAT for weeks," she wrote on her app according to Us Weekly.

"I love a routine, so not going to lie, this works for me," Kardashian wrote.

When she was in Cleveland living with Tristan Thompson, True's father, she would regularly take walks with True in their neighborhood.

It's all True, all the time

"[Khloé] is very hands-on with her baby daughter, and although she "has help" with the newborn, it's more as support and company. Khloé seems to like having someone with experience help her, but she still spends most hours of the day with her daughter," a source told People.
She drinks water

All while taking care of True and hosting her fitness show, Revenge Body, Kardashian is drinking water. You can see her on an episode of Keeping Up with the Kardashians carrying around a gallon of water.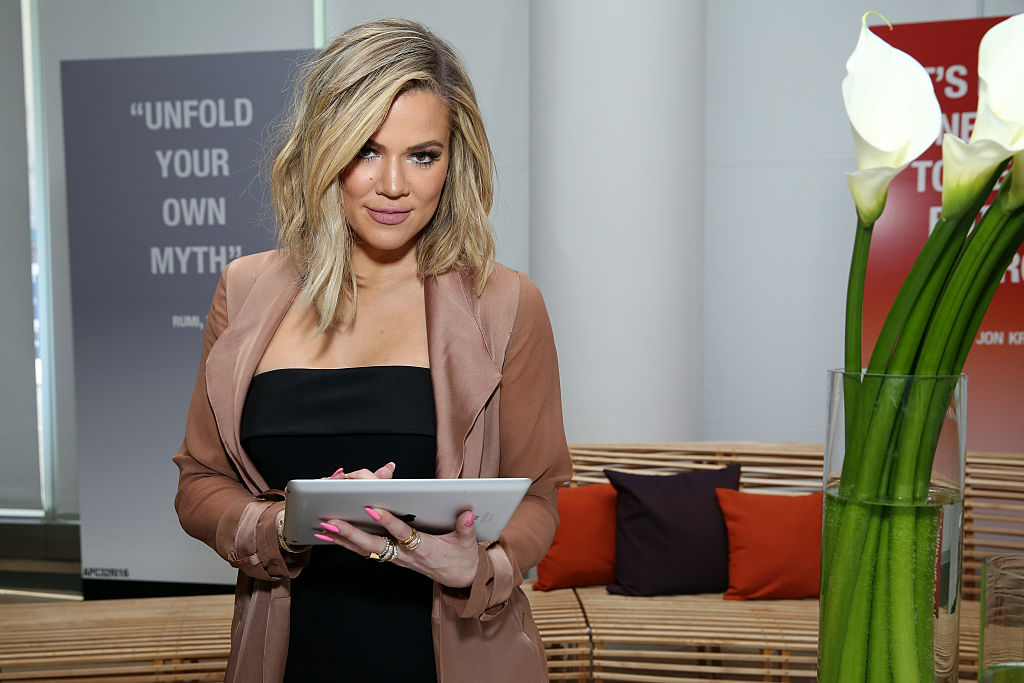 "I had to train myself to drink more water. I drink like 5 liters of water a day," Kardashian told People. "I yell at [Kylie] and Kendall [Jenner] to drink more water."