What Is Michael Strahan's Net Worth?
Michael Strahan is a retired football player who played the defensive end position for the New York Giants Since his retirement from professional football, Strahan hasn't just been sitting back and enjoying the money he made. Most prominently, he has worked as a talk show host for several different talk shows, and has a few other revenue streams as well.
With so many different careers and projects under his belt, fans wonder how much Michael Strahan's net worth is. Where does his money come from, and how much does he get paid? Here's what we know.
What is Michael Strahan's Net worth?
According to Celebrity Net Worth, the 41-year-old Michael Strahan is worth an estimated $65 million. Most of this is thought to have come from his football career, where his total accumulative salary is thought to be approximately $60 million. His highest paid season was the 2002-2003 one, where it is reported he earned $20.6 million from his contract alone.
Talk show hosting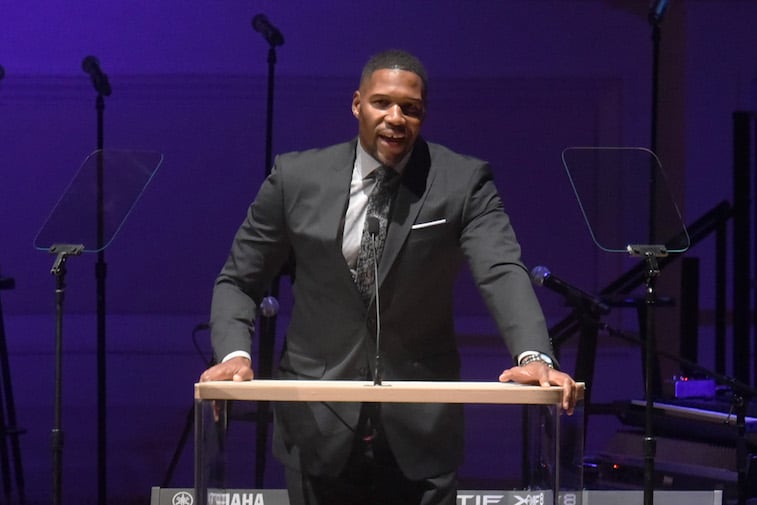 After his retirement from football in 2008, Strahan developed a new (and highly prosperous) career for himself in talk show hosting. Most notably, he co-starred with Kelly Ripa for four years in Live! with Kelly and Michael. Strahan ended this specific talk show stint around one year before it was announced that Ryan Seacrest would be taking over the position.
Michael Strahan has also appeared as a talk show host on other shows, for varying periods of time. This includes the shows Fox NFL Sunday, Pros vs Joes, Good Morning America, and $100,000 Pyramid.
Celebrity Net Worth estimates that Michael Strahan's current salary for his talk show hosting positions is around $17 million annually. It should be noted, however, that Strahan does a few small side projects which may contribute additional annual income.
Acting
Michael Strahan has appeared in a few small part in movies, besides his talk show hosting. This includes roles in Ice Age: Collision Course, Magic Mike XXL, Entourage, Charged, Are We There Yet?, and Black-ish. According to IMDB, Strahan also has 14 producer credits to his name, and has produced three songs for the soundtrack of The Tonight Show with Jimmy Fallon.
Other revenue streams
While his professional football career and television hosting career are where he earns most of his income, Strahan has taken on some small side projects that contribute to his annual income. There is no information on just how much money he earns from them, however.
In 2015, Michael Strahan launched his own men's clothing line through JC Penny. The line, dubbed MSX, features a range of clothing items that are both professional wear and casual wear. This includes suit jackets, slacks, and dress shirts with included ties, as well as short-sleeved tees and jogging pants. Undergarments are also featured as part of his line.
Also in 2015, Strahan released a book entitled Wake Up Happy: The Dream Big, Win Big Guide to Transforming Your Life. The book was written with the help of Veronica Chambers, and appears to have been mildly popular. On Amazon, Strahan's book has accumulated 246 reviews with an average rating of 4.6. The print version is also ranked #389 in football-genre books on the mass retailer's website.
In 2007, Michael Strahan released a book entitled Inside the Helmet: My Life as a Sunday Warrior, with the help of Jay Glazer. This book did not do nearly as well as it's successor, having only accumulated 15 customer reviews on Amazon over the last 10+ years. It is, however, ranked #303 in football memoirs, showing that it was only underwhelming and not a complete flop.