What Is Mike 'The Situation' Sorrentino's Wife Lauren Pesce Doing While He's in Prison?
Mike "The Situation" Sorrentino has spent the past few months behind bars. Since surrendering himself on January 15, he's been incarcerated at the Federal Correctional Institution in Otisville, New York, where he's serving an eight-month sentence for tax evasion.

Sorrentino is not letting prison life get him down, his Jersey Shore co-star Pauly "DJ Pauly D" DelVecchio, told Jenny McCarthy during an interview on The Jenny McCarthy Show. He's spending time in the gym and can communicate with friends and family via email. Oh, and he has a new friend: Fyre Festival founder Billy McFarland, who is serving a six-year sentence for wire fraud.

"He is in there with the guy from the Fyre Festival," DevVecchio said. "They play Scrabble together!"

Is prison putting a strain on his marriage?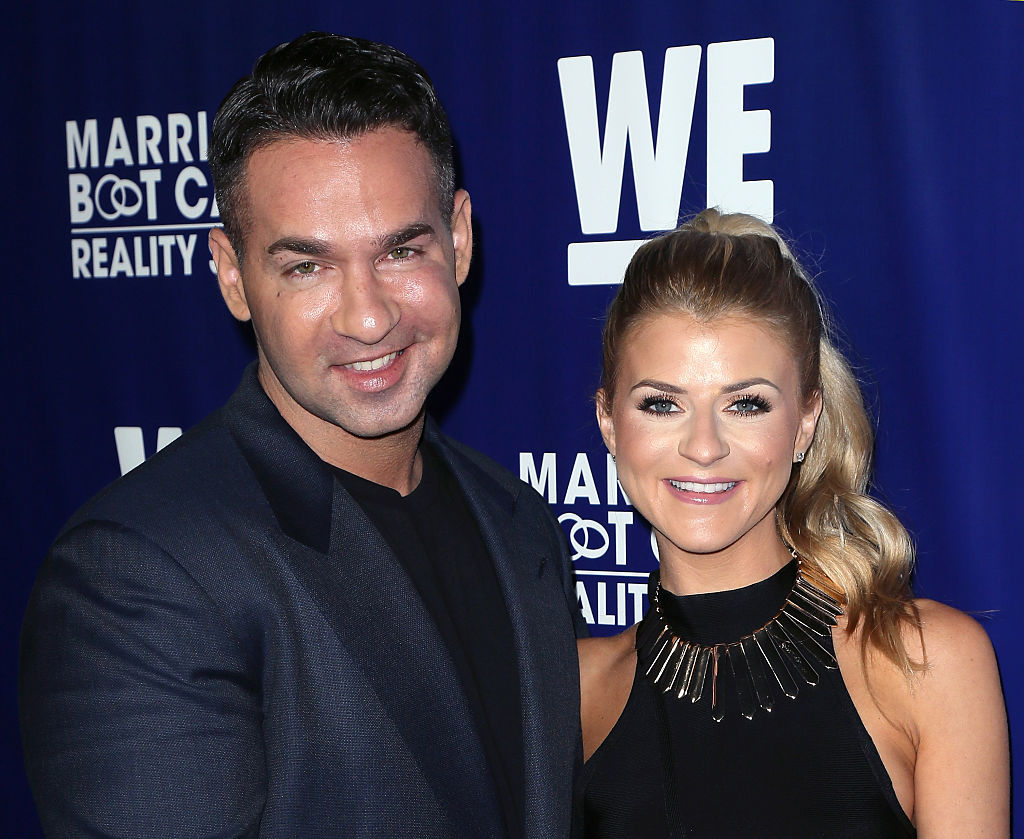 While Sorrentino is bonding with his fellow inmates over board games, his wife Lauren Pesce is keeping busy while she waits for her husband's release. The two have only been married since November 2018, but they dated on and off for years after first getting together in college. And neither seems to be concerned that Sorrentino's stint in prison will affect their relationship.

"We don't necessarily have a plan for [when I go to prison]. I don't know if you can actually plan for such a thing, Sorrentino told US Weekly shortly after their wedding. "But it's gonna be a blip in the radar and, you know, we're happy to start a family now."

Pesce added that after seeing Sorrentino beat his drug addiction, she wasn't worried about him surviving prison. "[If] you come out on the other side of [recovery] successfully and in a positive way, anything is possible," she said.

Apparently, Pesce and Sorrentino are keeping in close contact while he's behind bars. "He's in such good spirits because he sees Lauren once a day, and he has so much to come home to … so he just wants to get it over with and do his time. He's happy," DelVecchio said.

Pesce is keeping busy while her husband is away

Pesce has been sharing updates on Twitter, Instagram, and YouTube since her husband began his sentence. The couple's shared YouTube account, The Situations, features some videos the couple filmed before Sorrentino went to prison, like one of them discussing how they met. There's also a wedding hair and makeup tutorial and a video of Pesce trying emsculpting.

She's also hosting wedding makeup classes with makeup artist Lauren D'Amelio. The upcoming April 22 class at the Oyster Point Hotel in Red Bank, New Jersey, costs $250 to $300 to attend. And for fans who love Pesce's sense of fashion, she's been sharing posts that let people shop her favorite looks.

But it's not all work for Pesce. She got away to Las Vegas in late March with Jersey Shore stars Angelina Pivarnick and Jenni "JWoww" Fairley. She's also been helping her sister prepare for her wedding and tweeting her thoughts on the "Puppygate" drama on Real Housewives of Beverly Hills.
While having a husband in prison can't be easy, Pesce seems to be drawing strength from Joel Osteen. She frequently re-tweets messages from the megachurch pastor and best-selling author, like this one from March 13, when Osteen wrote: "What we watch and listen to, the people we're around, the thoughts we dwell on, that's what feeds up. Whatever you feed is going to grow. Don't feed the wrong thing."
Check out The Cheat Sheet on Facebook!