What Is Nancy Pelosi's Net Worth?
Nancy Pelosi has been a member of the United States Congress since 1987. She is known for her no-nonsense approach on important American issues. There may be some Americans, and other politicians, that that don't like her very much. However, due to her intellectual prowess and her vast amount of political experience, whether people love her or hate her, they are they are still eager to hear what she has to say.
With all of her experience and accomplishments that she has accumulated over the years, does she make more money than other politicians? To answer that, here is what we know about the current Democratic Speaker of the House's net worth and her career that lead her to where she is today.
 She revolutionized a female's role in politics
Nancy Pelosi has held many jobs in the political arena that have never been done by a woman before. In 2002, she became the first woman ever to be elected as the house minority whip. In 2007, she made history again by becoming the first woman to ever be appointed the position of Speaker of the United States House of Representatives.
During her inauguration speech, she said "This is a historic moment for the Congress and for the women of this country. It is a moment in which we have waited more than 200 years. Never losing faith, we waited through the many years of struggle to achieve our rights. But women weren't just waiting; women were working. Never losing faith, we worked to redeem the promise of America: that all men and women are created equal."
She held the position until 2011. And in 2019, she regained the Speaker of the United States of Representatives position, making her not only the first but the only women to have ever held that position.
She wants President Trump to reopen the Government
In case you have missed the news recently, there is currently a heated battle between President Trump, Pelosi, and other members of the  Democratic Party to find funding for "The Wall." Due to this battle, the government is undergoing a temporary shutdown until a resolution for the funding can be found. Even though Pelosi is reportedly still getting paid during the shutdown, she is taking a very proactive approach on trying to get over 80,000 government employees their paychecks back.
Nancy Pelosi's net worth and salary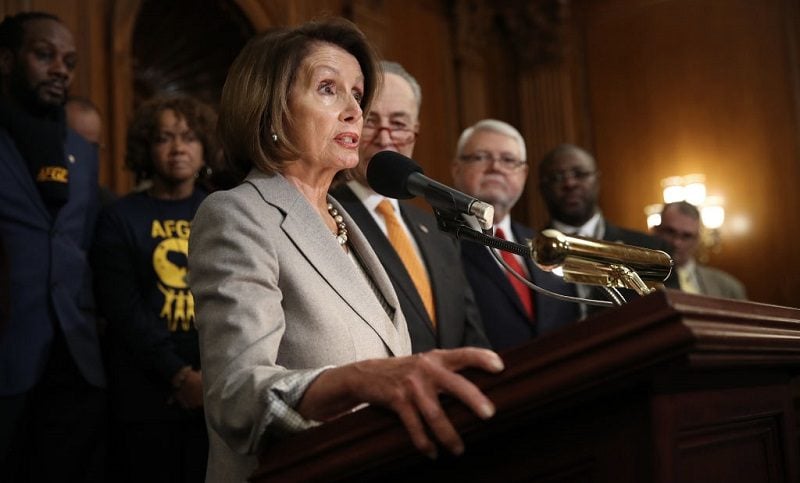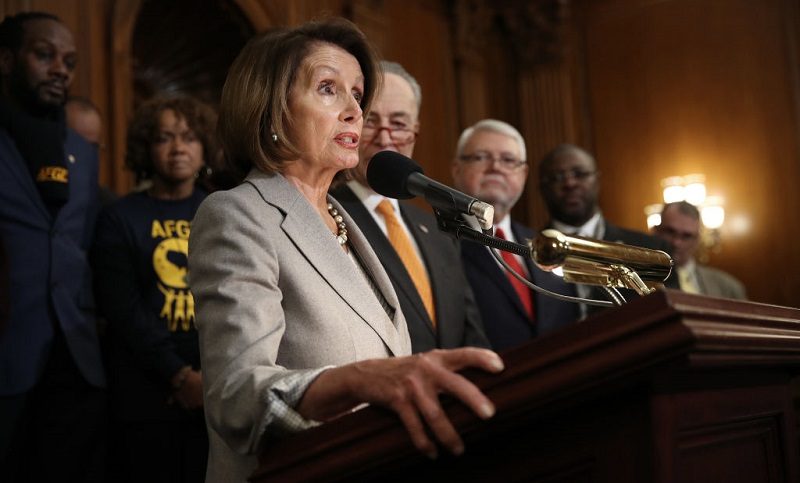 Since Nancy Pelosi has been appointed her prestigious position of Speaker of the House, she has been reported of having a net worth of $29 million. That may seem like quite a lot of money for any government official that gets paid $223,500 a year, however, it is not just her political positions that have earned her such an impressive income. Nancy, along with her husband, Paul Pelosi, hhasspent many years investing in high-end commercial real estate. They own several different properties together that they rent out to other companies for a hefty price each year.
In addition to their commercial properties, the Pelosi's also own quite a few residential properties that Nancy and her family can either use as a vacation home or rent to other residents as she sees fit. So, it is unclear exactly just how much money the two are making from their properties. Although the $29 million evaluation is a close estimation, it is safe to assume that she and her husband will not have to worry about money troubles any time soon.
Whether you like her or not, it is hard to argue with the fact that she is a hard-working woman that is not afraid to stand up for what she believes in. With convictions like that, it is no wonder that Nancy Pelosi has become a role model for many women and young girls across the country.