What Is Paris Hilton and Kim Kardashian's Secret Project?
Paris Hilton and Kim Kardashian West have a long and complicated history. They've been best friends, they've been enemies — it's hard to keep up. Recently, Paris surprised the world by tweeting about a secret project with Kim. Keep reading to learn more about the project, but before we discuss what this secret could be, let's dive into the history of the Hilton- Kardashian relationship.
How did Paris Hilton and Kim Kardashian Meet?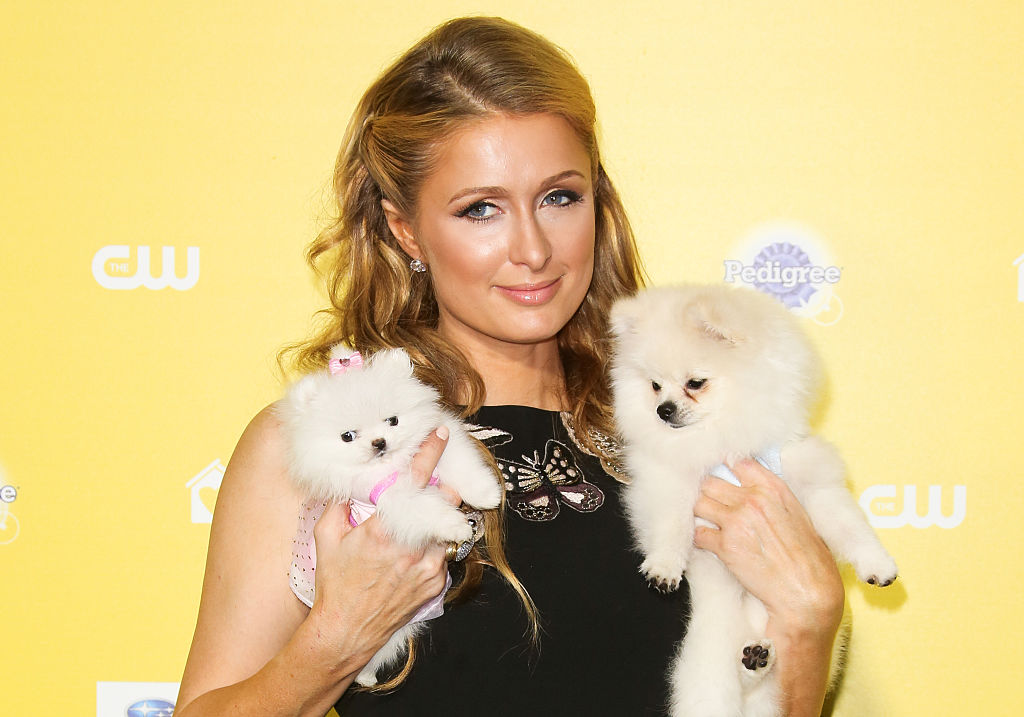 The pair of beautiful socialites had similar upbringings, both rich and in the public eye. No one can say for sure how Paris and Kim met, but Paris did tell Yahoo Lifestyle: "We've known each other since we were little girls, we've always been friends." They probably just met running in the same affluent social circles, although at one point, Kim worked for Paris as an organizer and stylist. Kim made frequent appearances on Paris' show, The Simple Life, where she was seen being ordered to clean Paris' closet.
In the early 2000s, the pair could often be seen together. Kim spoke with Rolling Stone about this time period, saying: "We'd go anywhere and everywhere just to be seen. We knew exactly where to go, where to be seen, how to have something written about you. All you had to do is go to this restaurant, or this party, talk about whatever you want to talk about, and it would be in the paper the next day."
Why did Paris Hilton and Kim Kardashian have a falling out?
The details around the Paris-Kim feud are fuzzy, but considering how much Paris loves being the center of attention, it's probably fair to say that she wasn't happy when Kim started to overtake her in popularity. In 2008, Paris called into a radio show and said that Kim's butt was "disgusting." She continued by saying that her butt, "looks like cottage cheese stuffed in a trash bag." Ouch! Although it's reported that Paris later called Kim to apologize, we can hardly blame the two for not getting along after a comment like that.
In addition to the butt comment, Paris has repeatedly taken credit for Kim's fame. It's probably true, to some extent. Paris did take Kim around and introduced her to the world during the height of Paris' fame. But, you have to wonder how this makes Kim feel, considering it also took hard work on her part to make fame happen. Regarding Kim, Paris made the following comment, as reported by ET: "It's nice to inspire people, so yeah, I'm really proud of her and what she's done though."
What is the 'secret project' Kim Kardashian is working on with Paris Hilton?
In the last few years, the women have reportedly been on better terms. In 2015, Hilton confirmed to E! News that the two are still friends. She even commented on Kim's relationship with Kanye West, saying, "They're so cute together, they're the perfect couple."
As far as the secret project, on May 3rd, Hilton tweeted, "#Secretproject with @KimKardashian. I can't stop looking at my #BestFriendsAss," along with a video of the women, both wearing Hilton's famous silver party dress. It's reported that the secret project is a new music video for Hilton's song, My Best Friend's Ass, which is a joint effort with Dimitri Vegas and Like Mike. The video will apparently feature Kim, along with some of Hilton's most iconic moments and outfits. A Britney Spears impersonator was also spotted on the music video set, dressed in the singer's I'm a Slave 4 U outfit.
Considering Paris' past comments about Kim's butt, the title of the song is rather amusing. People reported a line from Paris new song: "All I see is f-boys everywhere trying to make a pass, but I can't stop looking at my best friend's ass."
It sounds like the video will be a fun look back at the early 2000s, and the era that brought us the first socialites as celebrities. We can't wait.