What Is Ruth Bader Ginsburg's Net Worth, and Did She Get Paid for 'On the Basis of Sex'?
Ruth Bader Ginsburg is having a moment. The 85-year-old Supreme Court Justice was the subject of not one but two critically acclaimed movies about her life in 2018. The first, RBG, became one of the top-grossing documentaries of all time after it was released in May. The second, On the Basis of Sex, stars Oscar nominee Felicity Jones as the young Ginsburg fighting for equal rights.
Ginsburg is a brilliant legal mind and a pop culture icon. She's also one of the wealthiest people on the Supreme Court – and it's not because she's a big box office draw.
Ginsburg is worth an estimated $4 million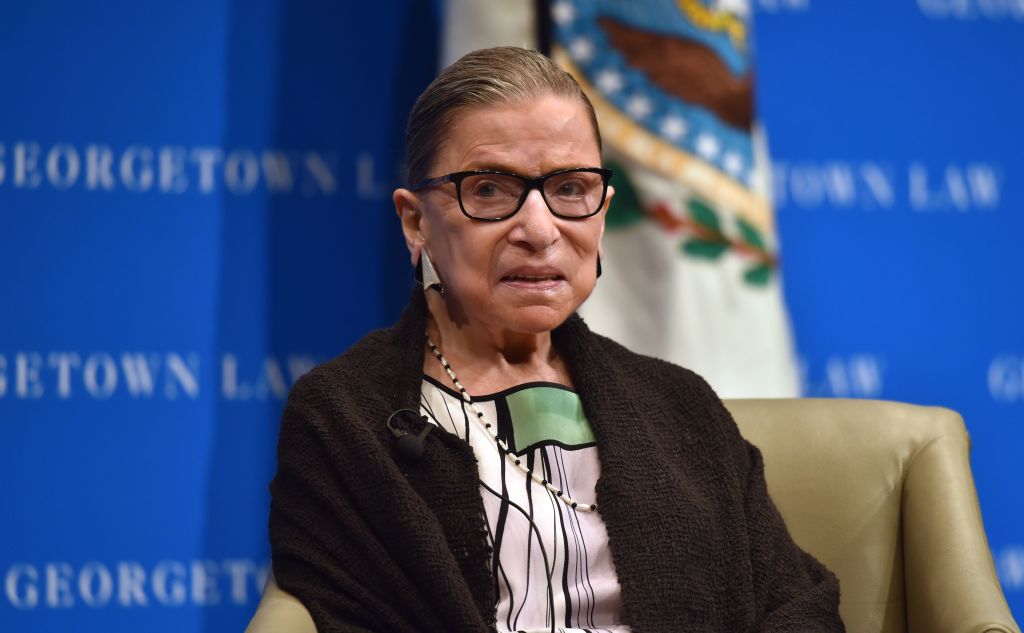 Justice Ginsburg had a minimum estimated net worth of more than $4 million in 2016, according to an analysis of disclosure forms by The Center for Public Integrity. That makes her one of the richest Supreme Court justices after Stephen Breyer, who is estimated to be worth between $6.15 million and $16 million, and John Roberts, who is worth between $5 million and $11 million. Clarence Thomas and Anthony Kennedy (who has since retired) were the only justice who were potentially worth less than $1 million.
Her Supreme Court salary is $255,300
In 2018, associate justices of the Supreme Court earn $255,300 a year, up $3,500 from 2017. (Chief Justice Roberts earns $267,000). Ginsburg has seen her salary rise nearly $100,000 since she was appointed to the bench by President Bill Clinton in 1993. In that year, associate justices earned $164,100 annually.
Her other sources of income
Most Supreme Court justices earn additional income outside of their yearly salary. They may earn book royalties, speaking fees, or be paid for teaching gigs at various law schools. Ginsburg is no exception. In 2016, she reported $204,534 in royalties from her book My Own Words. She was also reimbursed for travel to events in Barcelona, Venice, Chicago, and South Bend, Indiana, among other locations. Ginsburg also has a number of investments.
Did she get paid for On the Basis of Sex?
Ginsburg's financial disclosure forms for 2018 won't be out until next summer, so we'll have to wait a bit to find out if she made any money from either of the movies about her life.
RBG's real-life nephew Daniel Stiepleman wrote the script for On the Basis of Sex. (Ginsburg's husband Martin was the brother of Stiepleman's mother.) Sometimes, when a still-living person is the subject of a biopic, they will sell their rights to their life story to filmmakers, but it's not clear whether Stiepleman had to jump through those hoops to tell his aunt's story.
In an interview with the New Yorker, he did reveal that he asked Ginsburg early on for her blessing. He told her he wanted to write a movie about a groundbreaking tax law case she argued alongside Martin in 1972. She gave him the go ahead but was initially skeptical, replying, "Well, if that's how you think you'd like to spend your time."
But once Stiepleman started on the project, Ginsburg was an active participant, giving him access to her files and providing notes on his drafts. But she's keen to emphasize that a few details in the movie are fictional — particularly the scene where she flubs her opening argument in a big case.
"I didn't stumble," she said at a screening of the film. We believe it.