What Is 'Buffy the Vampire Slayer' Star Sarah Michelle Gellar up to Now?
As they say on the 1997 hit-show, Buffy the Vampire Slayer, "In every generation, there is a chosen one …" and for the late 90s, Sarah Michelle Gellar was that one. She ushered in an entire pop-culture of television and movies surrounding vampires and other mythical creatures.
Gellar is also known for her roles in I Know What You Did Last Summer (1997), Scream 2 (1997), and Cruel Intentions (1999). She married Freddie Prinze Jr. in 2002 and then the duo played each other's love interests in Scooby-Doo and Scooby-Doo 2: Monsters Unleashed. 
What has Gellar been up to since the early 2000s when we last saw her on the big screen? Let's take a look at how she is slaying at home, in the kitchen and with two new possible TV roles this year.
Gellar's family keeps her busy
Prinze and Gellar have two children together. Their daughter, Charlotte just turned ten and their son, Rocky recently turned 7. They celebrated the two big birthdays at The Adventure Dome where the kids won a huge pile of stuffed animals. 
Gellar posted a photo of her and Prinze on Instagram with an array of kids toys and a public service announcement, "Parents, a warning, this is what you will look like if you take your kids to @theadventuredome (bring extra suitcases)" 
They also had a Bernese Mountain Dog, Bella who warmed their hearts, but recently passed away after six short years. 
From making DIY 100 days of school Up themed shirts for her kids to dressing up as Harry Potter for the kindergarten sleepover, Gellar's family certainly keeps her on her toes. Its a wonder she has time for everything else she is working on.
Gellar co-founded an organic baking company and published a cookbook
In 2015, Gellar launched a new baking company called Foodstirs with her friend, Galit Laibow and their third co-owner, Greg Fleishman, who they met at an industry event. 
The brand uses all organic ingredients to create various baking kits and mixes that help customers to easily and quickly make picture-perfect cookies, brownies and cupcakes. 
Gellar told Forbes, "Being an entrepreneur is like shooting a movie that films 24 hours a day, 7 days a week. It's definitely a constant learning curve." 
It sounds like Gellar finds owning a business even more taxing than filming, but she helped to create the company out of a desire to find healthier mixes and recipes for her children. She learned to cook right along with her family and continues to love teaching her kids about crafting with food.
She also wrote a cookbook in 2017 titled Stirring Up Fun with Food to share various kid-friendly recipes to encourage others to get involved with their children in the kitchen.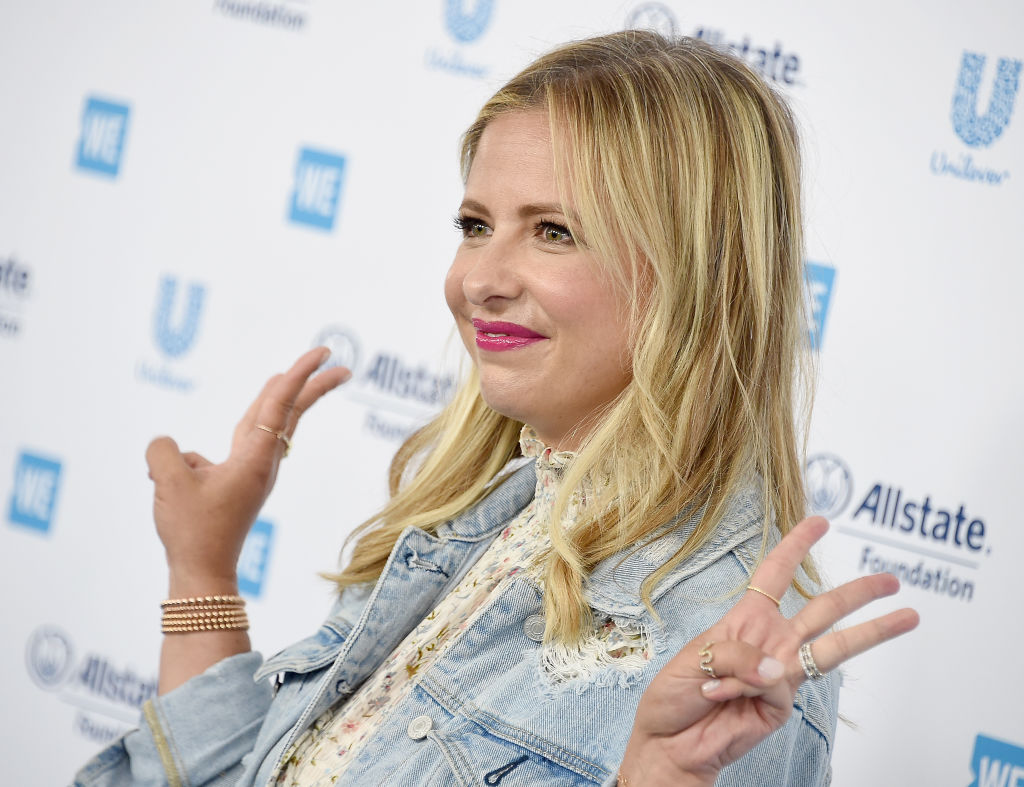 She might be making a comeback with 2 new TV shows this year
When Gellar isn't in the kitchen or picking her kids up from the bus stop, she has continued to pursue her career in acting. 
She is lined up for a return to TV with the show Other People's Houses, based on the book by Abbi Waxman. The book — which has been described as a cross between Big Little Lies and Catastrophe — follows the stories of nine people who are trying to figure out their lives as partners, parents, friends, and neighbors living in an affluent neighborhood in Los Angeles. 
Gellar is also working on the limited series, Sometimes I Life, which is currently in development by Warner Bros. TV as well as Ellen DeGeneres' A Very Good Production.
Hopefully, we will be seeing Gellar back on the small screen sometime soon.