What Is Sean McVay's Net Worth?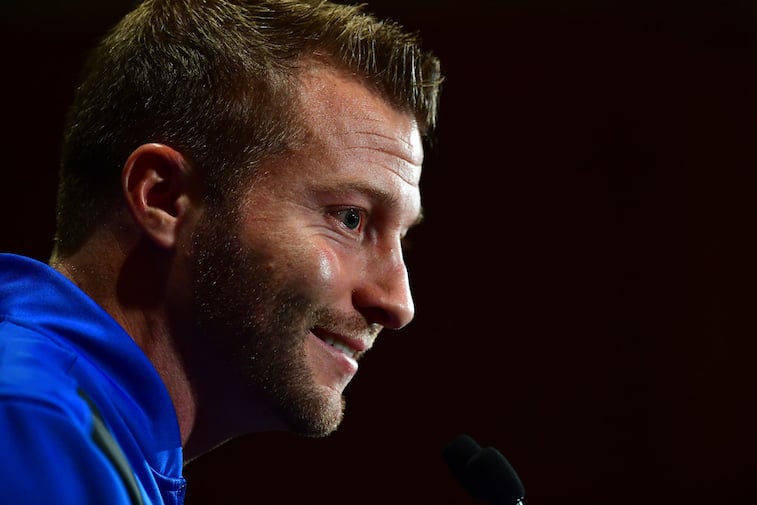 When he was just 30 years old, Sean McVay made history by becoming one of the youngest people to ever coach an NFL team. Due to his age, a lot of fans had their doubts about his performance as a head coach. However, he quickly won over the fans by leading the Rams into victory after victory. In fact, the Rams were expected to head to the Super Bowl this year before the playoffs had even started. After winning the NFC Championship this season, McVay's name has been the topic of conversation for football fans all over the country.
Being that he has seen such success in his professional and personal life, it's no wonder that many people are envious of the young and talented coach's life. But just how successful has his life in the NFL been? Here is what we know about his career and net worth.
Football is in Sean McVay's blood
With both his father and grandfather were heavily involved in football, Sean spent all of his life fully immersed in the sport. His father played as a defensive back in college. His grandfather, however, played football at Miami University, was the head coach of a few different college teams, and even later moved on to become the 49ers director of football operations during the 1980s.
Growing up in a family where football was such an important part of life, it is no surprise that Sean grew up to play football in high school and in college. His love of the game continued into adulthood. From 2014 to 2016, he worked various coaching jobs for the Washington Redskins, including his last promotion as the offensive coordinator. He had a prosperous career with the Redskins but ultimately left to become the Los Angeles Rams' head coach in 2017.
He has accomplished a lot in just two years
When McVay was brought on as head coach in January of 2017, the Rams had not been to the playoffs in 14 years. Since he has been the coach, this underdog NFL team has not only been to the playoffs but they have won the NFC Championship this season. That means that Sean McVay will be the youngest coach to ever go to a Super Bowl.
In an ironic turn of events, it turns out that McVay was actually in attendance at Super Bowl XXXIV in 2000 and watched the Rams tackle and tear their way to their first and only Super Bowl win. So, if the Rams win the Super Bowl this year, Sean McVay will have been there in person on the only two occasions that the Rams have ever received a Super Bowl ring. Maybe the Rams hired him because they secretly know that he is actually a good luck charm.
What is Sean McVay's salary and net worth?
Even though his NFL career is just really getting started, Sean McVay is already doing very well for himself, financially speaking. It has been reported that in the five years that McVay has been with the NFL, he as has accumulated an estimated net worth of $7 million. He also has signed a five-year contract with the Rams and will make around $1.2 million a year. With that kind of money, he is able to relax in style when he is not hard at work.
He often takes lavish vacations with his family and his girlfriend, Veronika Khomyn. He even just bought a stunning multi-million dollar home for him and Veronika to enjoy their downtime together in peace.
Sean McVay has found a way to make the most out of his short time with the NFL. He may be the youngest coach that the modern NFL has ever seen, but that has not stopped him from becoming one of the most influential coaches of our time.