What Is Selena Gomez's Net Worth?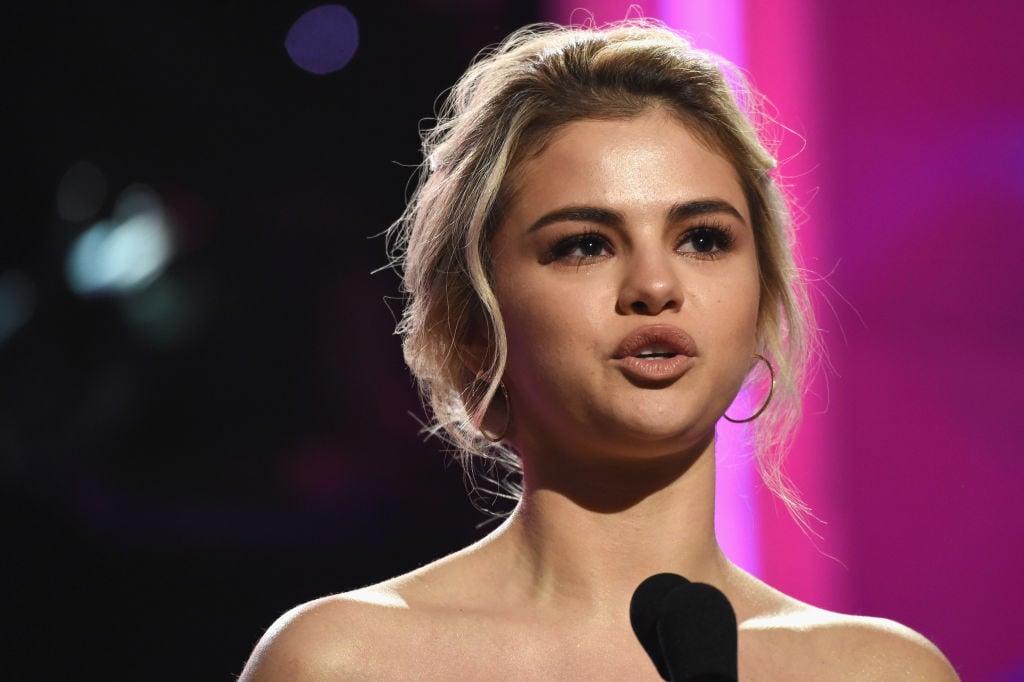 Selena Gomez has come a long way since her days on the Disney Channel. The 26-year-old star has released two studio albums, toured around the world, and produced a wildly successful Netflix series. Over the years, fans have seen the actress and singer grow and produce impressive projects. Let's take a look at some of the singer's most notable projects, her net worth, and what she has in the works.
Gomez got her start alongside a famous dinosaur
Yes, that dinosaur. When Gomez was ten-years-old, the actress auditioned for and landed a gig on the popular kid's television show, Barney and Friends. It was there that she met future Disney star and best friend Demi Lovato. Gomez played Gianna on the show, while Lovato played Angela. Both actresses stayed on the show for two years.
The actresses stayed friends after Barney and would go on to work a similar path, both landing roles on the Disney Channel shortly after their time on Barney ended. Lovato's mother, Dianna De La Garza told People Magazine in 2018, "They started out together! We had some great times together. They will always will love each other. There's nothing that will ever come between them."
Her next big role was as a wizard
If you thought being a teenager was hard, try being a teenage wizard. That's exactly what Alex Russo and her siblings had to do on the Disney Channel series, Wizards of Waverly Place. Gomez played Alex Russo, a teenage wizard who is trying to balance her regular life with her more magical one. Gomez played starred in the series from 2007 to 2012 and reprised the role in the TV movie, The Wizards Return: Alex vs Alex.
Gomez got her start on the Disney channel on another popular show, The Suite Life on Deck playing a character named Gwen for one episode. Ironically, Gomez would return to the show in 2009, this time as the character she had created, Alex Russo. In addition to The Suite Life and Wizards of Waverly Place, Gomez also appeared in the Disney hit Hannah Montana and the Disney Original Movie Princess Protection Program.
Gomez moved on to more mature roles
After her time on the Disney Channel, Gomez moved away from the squeaky clean roles that she had been playing. In 2012, she played Faith in the movie Spring Breakers opposite fellow Disney star Vanessa Hudgens. She also went on to appear in Behaving Badly in 2014 and The Fundamentals of Caring in 2016.
Though she has had a successful acting career, her role behind the camera is arguably her best television role to date. Gomez worked as executive producer for the second season of the controversial Netflix show, 13 Reasons Why. She also recorded the song "Back to You" for the show.
She can act and sing
Nowadays, Gomez is known more for her singing career than her acting career. The artist has sold 3.4 million albums and 24.3 songs and has had 20 Top 40 hits. In 2018 she broke a record for the "longest active run of any artist." This means that over the past seven years, every song that she has released has become a Top 100 hit.
What is Selena Gomez's net worth?
Gomez just recently reappeared on the scene after taking a hiatus from social media. She told fans that she is looking forward to the projects she has in the works. According to IMDB The Dead Don't Die and The Voyage of Doctor Dolittle are both in post productions. Fans are also hoping that new music will be released sometime soon.
Gomez has garnered an impressive net worth for her age. According to Celebrity Net Worth, the actress/singer is worth $60 million. This can be accredited to her acting, singing, writing, and producing jobs.