What Is 'Sons Of Anarchy' Star Charlie Hunnam's Net Worth?
Hollywood heartthrob Charlie Hunnam has amassed quite the fortune over years. From starring on shows like Sons of Anarchy to landing lead roles in blockbuster movies, Hunnam has come a long way since his humble beginnings in the UK. But just how much is Hunnam really worth when it's all said and done?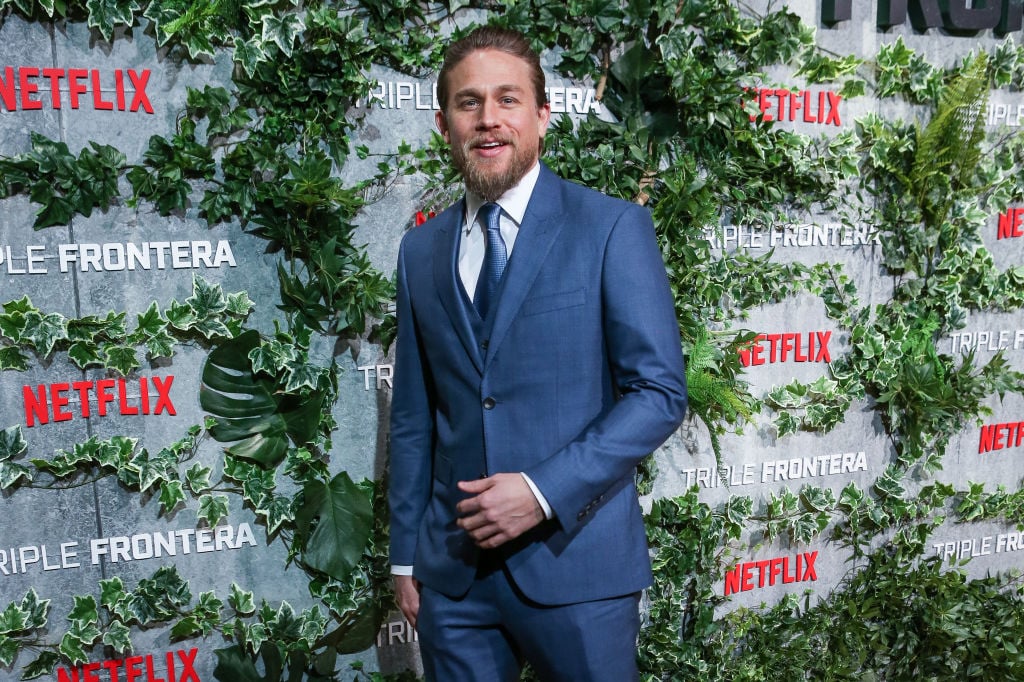 What is Charlie Hunnam's net worth?
The vast majority of Hunnam's fortune stems from his work in Hollywood. According to The Richest, the most recent calculations put Hunnam's net worth at around $16 million. With Hunnam's career on the rise, that figure will likely change in the coming years, but it is still impressive for someone who was discovered in a small-town shoe store.
Hunnam has been a part of a slew of projects over the years, both on television and film. In his early days, Hunnam gained fame for his part in the series, Queer as Folk, and in the film, Green Street Hooligans, where he portrayed the character Pete Dunham.
His career really took off when he landed the lead role in Kurt Sutter's biker drama, Sons of Anarchy, which aired on FX for seven seasons. Since the conclusion of SOA, Hunnam has been a part of several movie projects, including Pacific Rim, The Lost City of Z, King Arthur: Legend of the Sword, Papillon, and Triple Frontier.
Hunnam is worth millions, but he still takes time for fans
While Hunnam continues to make a name for himself in Hollywood, he still enjoys mingling with fans whenever he gets a chance. Some admirers even stopped by his home in Hollywood Hills recently, where they caught the actor working outside. Hunnam, who was dressed casually in a beanie and sweats, did not hesitate to interact with the lucky fans and even snapped a few photos with them.
Hunnam's longtime girlfriend, Morgana McNelis, was not home at the time. The two have been dating for well over a decade, though they have yet to tie the knot. McNelis and Hunnam have made a few public appearances together, but their outings are rare.
Prior to McNelis, Hunnam tied the knot with Katharine Towne, his co-star on the series, Undeclared. The two separated after three years of marriage.
Hunnam's life-changing role with Guy Ritchie
Hunnam's dream of working with Guy Ritchie came true a few years ago when the pair teamed up for King Arthur. Ritchie cast Hunnam during a Sons of Anarchy hiatus, despite not being interested in him for the part.
As Hunnam explained, Ritchie had his mind set on casting somebody else when he decided to fly out and force a meeting. Once Hunnam and Ritchie sat down together, the acclaimed director knew Hunnam was perfect for the role.
Although the movie disappointed in the box office, Hunnam and Ritchie are set to collaborate once again on a new project called The Gentlemen. Details about the film remain scant, but we do know that it features plenty of drugs, drug kingpins, and violence.
Apart from Hunnam, the film stars Hugh Grant, Colin Farrell, Matthew McConaughey, Jeremy Strong, and Michelle Dockery. The film has yet to get a release date, though filming is expected to begin soon.
Triple Frontier is Hunnam's first real blockbuster
Netflix just revealed that director J.C. Chandor's film, Triple Frontier, was streamed in 52 million homes during its opening month. The movie, which stars Hunnam, Ben Affleck, Oscar Isaac, Pedro Pascal, and Garrett Hedlund, centers on the story of a group of military veterans who attempt to steal millions from a drug lord in South America. Despite a solid plan and plenty of experience, not everything goes to plan for the would-be thieves.
The ratings are compiled by Netflix and only take into account homes that watched over 70 percent of the film, which is a pretty high standard.
For comparison, the hit Netflix film, Bird Box, starring Sandra Bullock, received 80 million views in its first month. Kevin Costner and Woody Harrelson's movie, The Highwaymen, meanwhile, drew 40 million households. No word yet on how much Charlie Hunnam earned for his part in the movie.