What Is Spinal Tap Doing Today? The Cast of 'This Is Spinal Tap' Answers at Their 35th Anniversary
The 1984 mockumentary, This Is Spinal Tap told the fictional story of the band, Spinal Tap going on their American tour. The movie was almost fully improvised and it even tricked some people like Ozzy Osbourne to think the band was real.
Christopher Guest, Michael McKean, Harry Shearer, and Rob Reiner reunited to celebrate the 35th anniversary of This Is Spinal Tap on April 27 at the Tribeca Film Festival. The Cheat Sheet talked to them about what they think their characters are up to today.
Michael McKean says David St. Hubbins is still a soccer coach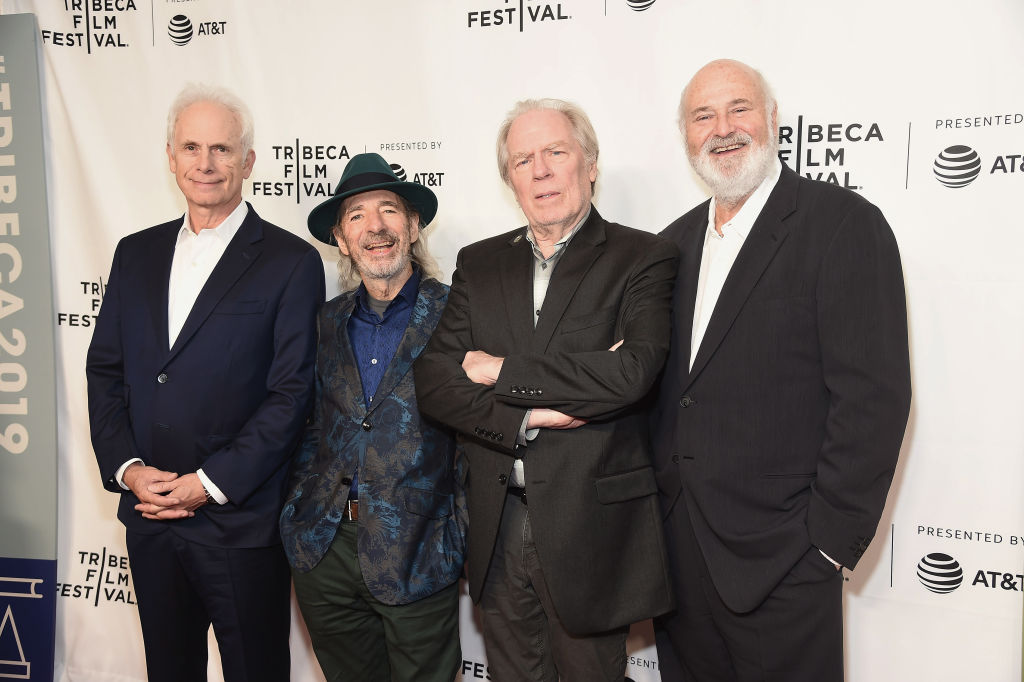 The lead singer is probably sporting his quality footwear at a very different setting now. McKean relied on his last appearance as the character to take a guess on what he is doing today.
"Well the last time we saw them, David St. Hubbins was working as a soccer coach in Ramona California," Michael McKean told The Cheat Sheet. "No more music."
The actor also revealed that he still has some of his character's fabulous clothes. "I have a leprechaun jacket revealed McKean.
He continued, "I still have a shirt that's just a big pair of lips on it. I have my boxing shoes. I wore boxing shoes and whenever I've been this character playing a gig or whatever. I would wear these boxing shoes because they're really light and springy."
Harry Shearer said Derek Smalls is solo
Harry Shearer didn't just give an update on his own character but the rest of the band. It sounds like Derek Smalls is the only one who would be continuing music today.
"Well, my character has actually gone solo. So he's coming out with a solo record and doing a tour thanks to the British Fund for Aging Rockers, which is giving money to aging rockers to get them out of their homes," Shearer told The Cheat Sheet.
He also thinks Nigel Tufnel is breeding miniature livestock
"Nigel is, I happen to know, is raising miniature livestock breeding miniature livestock," Shearer continued. "He started with miniature horses and they got so small they couldn't find jockeys small enough to ride them. And last time I heard he was working on miniature goats. But again, he ran into an obstacle because they're too small to milk at this point."
But what about David? Well, Derek isn't sure what he's doing for a funny reason. "David, I know Derek hears from David every once in a while, but it's only in Chinese pictograms so he doesn't know what David's up to," said Shearer.
Rob Reiner said Marty DiBergi left film behind for video games
Most of the members of Spinal Tap aren't the only ones to make career changes. Rob Reiner said his character also is doing something different today.
"Well he tried to launch a film career but it didn't work," Reiner told The Cheat Sheet. "So now what he is doing is he works for a tech company that does video games."
He went on to say Marty's work doesn't really make the final cut in the games. "And he occasionally does like filmed things like film noir, L.A. Noir, or Halo, those type of things," continued Reiner. "But he doesn't actually do them. He just like shoots them and then they copy that. So he's not even getting to do in the final thing."
It sounds like the Spinal Tap characters would be leading interesting lives today with their new hobbies and careers.
Read more: Now on Netflix: 5 Must-See Mockumentary Movies
Check out The Cheat Sheet on Facebook!