What Is The Net Worth Of The 'Sister Wives'? Why The Polygamist Family Is Struggling Financially
Since Sister Wives first premiered in 2010, we've all been fascinated by the Brown family. Patriarch Kody Brown and his wives Meri, Christine, Janelle, and Robyn have let us have an intimate view into their lives as polygamists. The husband and four wives have 18 children collectively, and though they get paid handsomely for their appearances on Sister Wives as well as various other ventures — with a massive family of 23, we were all scratching our heads trying to figure out how they make ends meet.
In fact, despite their success, the Brown family isn't as financially well-off as you might think. Unfortunately, like many Americans, they have faced hardship and financial strain. The Browns' net worth might actually shock you.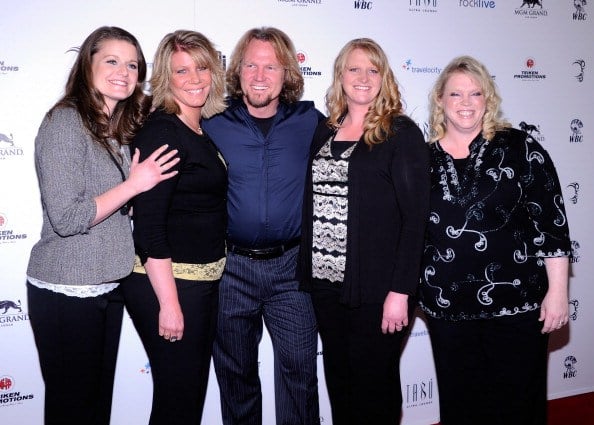 The Brown family's net worth
According to Celebrity Net Worth, Kody Brown is worth $800,000. Though that might seem like a hefty sum, unfortunately, that amount of money doesn't go very far when you have over twenty people to clothe, house, and feed. Before Sister Wives began in 2010, Kody worked at an ad sales job. It appears that he's been done with that job for some time, and most of his income comes from Sister Wives. Since reality families earn about 10 percent of a show's per-episode budget and TLC spends about $250,000 and $400,000 per episode, the Browns have made somewhere around $3 million from filming alone since 2010 which is about $375,000 anually.
Obviously, that six-figure sum is modest for the Brown families size, so the wives also work. Fourth wife Robyn has an online jewelry and clothing boutique, and first wife Meri opened a bed and breakfast in 2017. Meri also began selling LuLaRoe products in 2016, which allows her to travel all over the country. By herself, Meri is worth $400,000.
Meanwhile, second wife Janelle has a real estate business. Like her sister wife, Meri, Janelle is also worth $400,000. All of the wives including Kody wrote the book Becoming Sister Wives: The Story of an Unconventional Marriage which was published back in 2013.  Altogether the Brown family is worth $1.6 million.
Financial struggles
Though the Browns are reality stars, they have had a ton of financial strain. They have filed for bankruptcy three times. Kody and Meri first filed jointly in 2005. According to Radar Online, the couple claimed they only had  $15 to their name and $229,873 in debt from mortgages, car loans, and credit card bills. Janelle also filled in 1997, as did third wife Christine in 2010.
Though Sister Wives helped the Browns climbed out of debt, they again faced another financial battle in 2014 when Robyn's son Dayton was involved in a terrible ATV accident. The Browns chose not to speak about the crash on Sister Wives. However, according to a "family friend," a lien was placed on Robyn's Las Vegas home as a result of unpaid hospital bills. Luckily, Dayton is doing well, and the lien on Robyn's home was settled in August 2015.
Things seem to be going smoothly for the Browns these days, and with more episodes of Sister Wives debuting on TLC, we can expect their net worth to collectively increase.
Check out The Cheat Sheet on Facebook!