'The Umbrella Academy:' What Is Netflix's New Show Based On?
Netflix's new superhero-themed original, The Umbrella Academy, opens with the birth of 43 superhuman children, all born on the same day, to mothers spanning the globe. The weird part: None of these women had been pregnant when the day first began.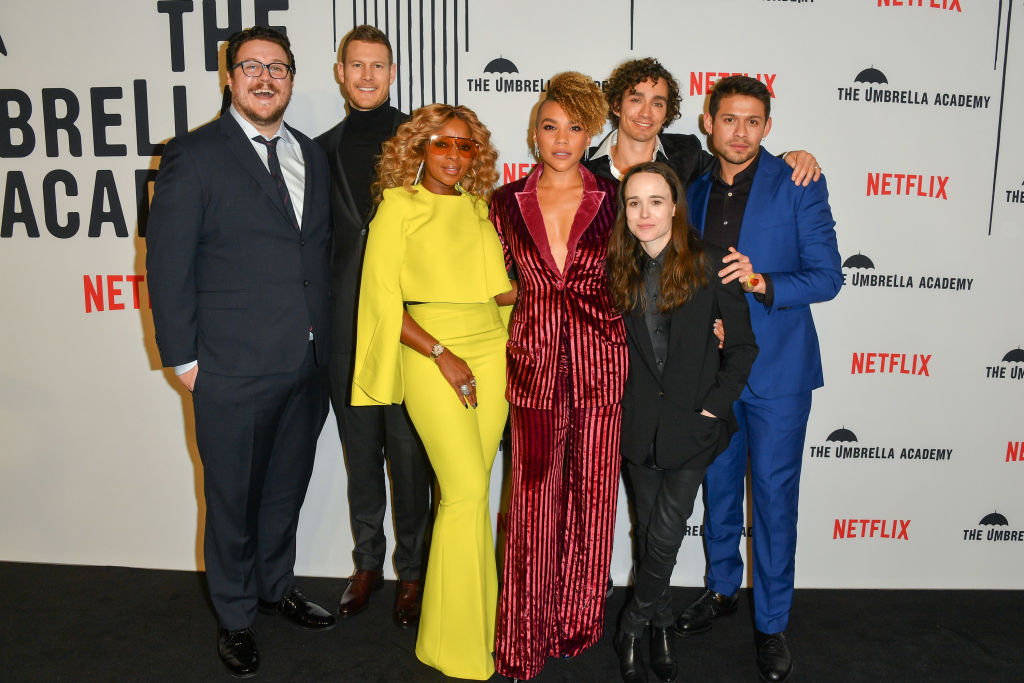 Starring the acclaimed pregnant teen from Juno herself, Ellen Page, the show also features Mary J. Blige – who brings her soulful sound to the 'super' series – as well as 13 Reasons Why's Kate Walsh. Ellen Page stars as one of the 43 gifted children, Blige plays criminal assassin Cha-Cha, and Walsh portrays "The Handler."

The series hones in on seven of the superhuman children, previously adopted by the same billionaire industrialist, who have since grown apart and must reunite to prevent an impending apocalypse.
'The Umbrella Academy' is based on a graphic novel

While the show may be a Netflix original, it is by no means Netflix's 'original' content. Based on a graphic novel series of the same name, this story of a disbanded group of dysfunctional saviors comes from visionaries Gerard Way and Gabriel Ba. According to IGN.com, two other famous comic books – Grendel Tales and Doom Patrol – inspired Gerard Way's narrative.

Considering both Doom Patrol and The Umbrella Academy feature a wealthy benefactor who collects superhuman individuals, it should come as no surprise that Way has cited Doom Patrol as a great source of inspiration.
The original Umbrella Academy miniseries first appeared on shelves under the title Apocalypse Suite in 2007. After success with the first miniseries, Way and Ba released two more: Umbrella Academy: Dallas in 2008 and Hotel Oblivion more recently in 2018. Way and Ba plan to close out the final comic book installation by the end of 2019.

Who are Gerard Way and Gabriel Ba?

To those of you unfamiliar with the world of pop punk, punk rock, emo pop, or any other similar combination of the aforementioned genres, the name Gerard Way probably doesn't ring any bells. However, fans are likely to know him as the lead singer of My Chemical Romance.

The rock band from Newark, New Jersey, though most famous from 2001 to 2013, still boasts a rather loyal following of "killjoys," as their fans so delightfully call themselves.

When accounting for the band's musical history and the frontman's overall outward persona, the show's tendency to lean in the darkly gothic direction makes a bit more sense.
As for Gabriel Ba, he is a Brazilian comic book artist best known for his work on Casanova, Daytripper, and of course, The Umbrella Academy.

Writing comics for the past 15 years, Gabriel Ba has been published across the world – from Spain and France to the US and Brazil – however, he first started his comic book career alongside his brother in 1993. Together, they self-published their first comic book series, Sunflower and the Moon, in 1997.

Who are the seven superhero siblings in the show, and what are their powers?

As mentioned above, Ellen Page plays one of the seven chosen ones; however, as the last child selected, she is the only one without a superhuman gift. Starring as Vanya, AKA 'The White Violon,' what Page lacks in superhuman ability, she makes up for in instrumental talent.

Number 1, Luther Hargreeves, played by Tom Hopper, is born with super strength. Albeit a bit typical, there always needs to be one Mr. Incredible-esque character, except this one comes with a daddy complex.

Number 2, Diego Hargreeves, affectionately called 'The Kraken,' can hold his breath indefinitely and boasts some pretty impressive combat skills. However, it is Emmy Raver-Lampman's character Allison Hargreeves, who may just be the most powerful of them all, as she can transform reality merely by starting a sentence with "I heard a rumor…" according to IGN.com.

Robert Sheehan and Aiden Gallagher star as Number 4 and Number 5 respectively. The former, known as the Seance, can levitate and commune with the dead, while the latter is a time traveler trapped in his ten-year-old body. As for number six, he passed before the show's story begins.

From a powerless hero to a super strong kid desperate to please his father, The Umbrella Academy brings a whole new perspective to a genre that previously seemed fixed in its approach.

Check out The Sheet Cheat on Facebook!