What Is Tomi Lahren's Net Worth?
While a lot of Fox News hosts are controversial nowadays, Tomi Lahren is at the top of the list. If you thought Sean Hannity was the only one who ruffled feathers, you could almost place Lahren above him now when it comes to her brazen political opinions.
No matter whether you support Lahren's commentaries or condemn them, she's making fairly good money in the process. Even though she faced a major job loss not long ago, working at Fox News seems like a new protective fortress for her far-right views. Despite Sean Hannity being one of the highest earners at Fox News, let's see where Lahren stands in comparison.
Lahren is well-educated in politics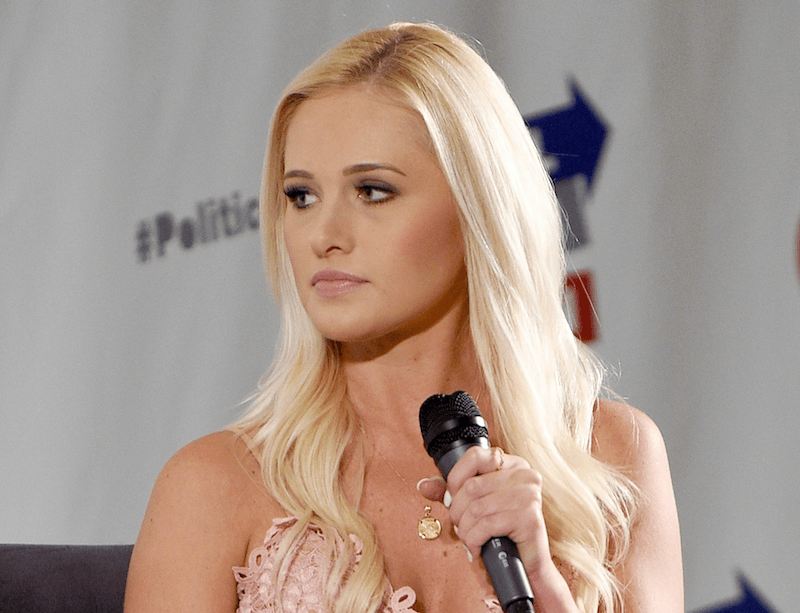 In case some of you think Tomi Lahren just blathers about politics without anything to back it up, consider she earned a B.A. in political science and broadcast journalism through the University of Nevada earlier this decade. It does give her license to talk about politics, even if some of her views aren't in concert with the majority.
She still considers herself more a commentator rather than a journalist, regardless of her educational credentials. This admittance is somewhat similar to Sean Hannity saying he was just a talk show host and not a real journalist.
Her earliest media work was at One America News Network in 2014 where she managed to land her own show called On Point with Tomi Lahren. At the end of each show, she created fast-talking rants that became her trademark. She came out of the chute swinging on her very first rant in 2015 when she criticized President Obama's response to a military base shooting in Chattanooga.
Going viral for attention
No doubt Lahren understood saying shocking things would bring stronger potential of her video rants going viral. Sure enough, the above 2015 video did and made her a major media talking point.
Some might suggest lambasting respected people (like Beyonce) and institutions in your first batch of commentaries is just an arrogant ploy for attention. Others may argue Lahren has valid points to her arguments.
Then again, her OANN rants were often pointed toward seemingly racist viewpoints, including some of her arguments not holding up under research scrutiny. It soon made her one of the most hated media pundits in America.
Switching one political position
One thing we discovered about Lahren is she isn't completely radicalized to one extreme political side. When she left OANN to work for Glenn Beck's The Blaze in 2015, she made one bold statement about abortion that shocked her supporters and foes alike.
While appearing on The View, she noted she thought women should have access to abortion in dire circumstances. Her comment defied the typical far-right view of being completely pro-life with no in-between. Glenn Beck fired her from her The Blaze job, putting her career in jeopardy.
Most people at the time figured she'd end up at Fox News afterward, which was the most logical place. Still, her view on abortion proved she can flip on any issue if giving it a more deep-dive think and making it personal.
Lahren's salary at Fox News
According to most reports, Lahren is paid $60,330 for her Fox News contributor duties. It's apparently a standard fee all contributors make each month. Overall, though, she reportedly has a $3 million net worth thanks to her media work and popularity on places like Facebook.
Don't be surprised to see her win her own show at Fox News eventually, especially because she's already racked up numerous controversial commentaries in her year and a half being a contributor on Hannity.
Her feud with Cardi B
Looks like @iamcardib is the latest genius political mind to endorse the Democrats. HA! Keep it up, guys! #MAGA2020

— Tomi Lahren (@TomiLahren) January 17, 2019
I'm sure you would. Still doesn't make your political rambling any less moronic. #BuildthatWall https://t.co/pcFJ6jrgqv

— Tomi Lahren (@TomiLahren) January 20, 2019
Look up "dog walk you," and tell me what you find.

This whole thing is textbook Democrat. You whine about violence and do PSAs about bullying but applaud, encourage & laugh at threats towards people who think differently than you. THEN you justify it with labels like "racist."

— Tomi Lahren (@TomiLahren) January 20, 2019
If you follow Lahren on Twitter, then you probably noticed the major feud she started with Cardi B the week of January 16. Lahren made a disparaging comment against Cardi B after the latter bemoaned our President for letting federal workers become bargaining chips.
Cardi B said afterward she'd "dog walk" Lahren for her comment. As usual, Lahren didn't let this faze her and tried to rebut with typical pungency. The whole incident just made Lahren look bad again, even if she's transparent about it without many repercussions.
At Fox News, she can probably get away with this for years to come until the views of journalism change, or if our political divisiveness ever repairs itself.