A Rare Look at What It's Really Like to Work For Melania Trump
Melania Trump is unlike any modern first lady. Since she took office, she has earned the reputation of being one of the most low-key first ladies in modern times, despite being married to a man who makes headlines several times each day for one reason or another. But in a rare interview with CNN, Trump's communications director, Stephanie Grisham, opened up about what it's really like to work for the first lady.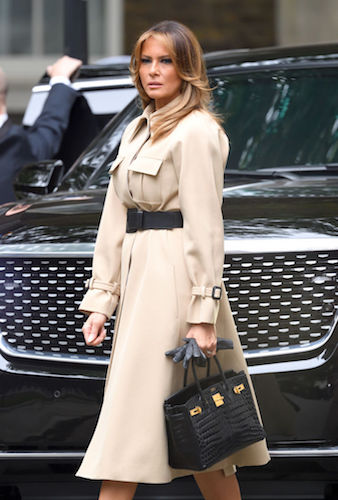 Trump has subtly redefined the role of first lady
… To some, Trump has redefined the role in a positive way, but to others, it's been negative. Ever since Trump took office beside her husband, people have been wanting to learn more about her. She's done things differently than previous first ladies from the start. When her husband won the election, she opted not to move to Washington, D.C. with him but rather chose to stay in New York so her son, Barron Trump, could finish out his school year. The move got mixed reviews, though from a motherly standpoint, people understood why she did it. Since moving into the White House, Trump has had far fewer solo appearances, speeches, and public stances than previous ladies such as Michelle Obama or Laura Bush.
Trump has one of the smallest teams of any modern first lady
When it comes to the way Trump runs her office, there is one stark difference between her and the others: She runs a team nearly half the size of Michelle Obama and Laura Bush's teams. There are only 12 employees who work under her, including her communications director, Stephanie Grisham, who often makes remarks on behalf of the first lady. Trump has always been a very private woman — a drastically different take from her husband – but the smaller team hasn't gone over well with everyone. Some have suggested that it's a sign that Trump has no desire to take on the same roles as former first ladies. "I think [a small East Wing staff] puts you at a tremendous disadvantage and also sends a message about how much you're willing to do and how much you want to do," Kate Anderson Bower, a CNN contributor who wrote a book about Trump, told CNN.
Trump has personally hired every one of her staff members
The team might be small, but that could be in part because Trump values personal relationships with every one of her staff members. Stephanie Grisham told CNN that Trump gets to know her employees personally, both during the hiring process and beyond. Grisham said Trump learns about their personal lives and families outside of the work they do for her. "…Being so small, we are a tight knit team," Grisham said. She also remarked that, though Trump seems extremely quiet to the public, she is actually very fun and engaged with her employees. Although Grisham shows some bias when it comes to discussing the first lady, she seemed to get across that Trump loves the people she works with and cares about them on a personal level.
Trump has spoken out against her husband a handful of times, including when she made it clear she doesn't always agree with the way he tweets. However, it hasn't been enough to win over much of the public. Perhaps a deeper look inside the first lady's office clarifies a few more things about her.
Check out Showbiz Cheat Sheet on Facebook!